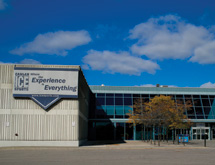 Employees at Canlan Ice Sports Corp. share a passion for their work, Director of Facility Operations David Stewart says. The Burnaby, British Columbia-based company operates multiple locations in North America where people can go for recreation and sports entertainment, including hockey.
"All our passion is about hockey and sport," Stewart says, noting that this enthusiasm is felt across its staff, from its Zamboni drivers to its largest shareholder. "They have a lot of faith in us as a business."
For instance, "We make every effort to provide clean and safe recreational facilities for the public," he adds. "If something isn't to our standard, we take the time to make it right."
Canlan started operations in the 1980s as a real estate holding company, Stewart says. But in the mid-1990s, the firm chose to focus on the ice rink business and divest itself of its other properties. "The management of the company realized that the ice rink business was unique and needed greater focus in order for it to flourish," he explains, noting that it had a profound impact on Canlan.
Today, Canlan is the largest private-sector owner and operator of recreational ice sports facilities in North America. It has 21 locations with 64 surfaces for recreation and entertainment, including full-size National Hockey League ice rinks and indoor soccer fields.
Additionally, the company offers several branded programs, including its Hockey Academy, Skating Academy and its Adult-Safe Hockey League, which has more than 70,000 members. "By owning the facilities, we are able to [allocate] prime ice times to our hockey league and programs," Stewart says.
Creating Standards
Stewart, who has a background in supply chain management, joined Canlan nearly two years ago after working for BC Hydro. "I had the opportunity to work in the energy management division before I came to Canlan," he recalls.
"[Canlan] is a dynamic company," Stewart says, explaining that its environment is different from a utility like BC Hydro. "It's constantly changing to customer needs, wants and demands."
Some of the changes Stewart has implemented include a system of standard practices for the supply chain across its multiple locations. To deliver a high level of customer satisfaction, "We need to have a standard approach," he says.
Already, the company has given each location many standards to follow, including a restricted list of products they are allowed to purchase and approved vendors they are allowed to order from. With these in place, Canlan can maintain consistency among its locations. It also helps to bundle orders together and take advantage of discounts from suppliers.
"We're in a competitive industry, [and] we need to be smart with how we spend," Stewart says, noting that the company had long wanted to implement internal operating standards. "I've been down that road with other companies, and it is a lot of work."
So far, the reaction inside the company to the new standards has been positive, Stewart says. "Once we dig down a little deeper, my expectation is there's going to be some questions about adding rigor and discipline to the procurement cycle," he predicts.
"[We'll need to explain] the benefits and show the benefits of what we're doing," he says. "We expect to see greater consistency of quality and service from our suppliers as well as lower prices through strategic relationships and volume purchases."
He admits that implementing these measures can be difficult at an organization with locations spread out across North America. "Each facility is a separate profit center," he says. "There's always reluctance and sometimes pushback when you go to a national strategy."
The strategy also requires training for employees in a new version of its accounting system that supports procurement management. The new system will help Canlan be more strategic with its purchasing and help manage relationships with key suppliers.
Setting the Bar
Canlan's supply department will have its new system implemented by the end of 2013, but Stewart already is proud of the company's work. Accomplishments such as the approved product listing and standard operating procedures have allowed it to "set the bar about how each facility is measured," he says.
Several of Canlan's other departments have followed the supply department's lead and started implementing standard practices of their own, Stewart says. "They're taking the concept of standardization to food and beverage, sport stores, and marketing," he says.
Stewart predicts strong growth in Canlan's future, beyond ice rinks. Recently, "We opened up an indoor multisport facility in Toronto called Canlan Sportsplex," he says. It has no ice surfaces at all, which is unique for Canlan.
Spanning 55,000 square feet, it features two boarded soccer turfs, a ball hockey court and three volleyball courts. "The facility is doing very well and we are excited to see it grow so quickly," he says. ­­­