Carmeuse's purchasing department is leveraging technology to provide its internal stakeholders with better service and results.
By Bianca Herron
With more than 150 years in the mining industry, Carmeuse Lime & Stone is one of the leading manufacturers of high-calcium and dolomitic quicklime and hydrated lime, chemical-grade limestone and crushed limestone aggregate milled limestone, also known as ground calcium carbonate.
Carmeuse is a fifth-generation family-owned business located in Louvain la Neuve, Belgium, that maintains an international presence in North America, South America, Europe, Africa, the Middle East and Asia. In North America, its headquarters in Pittsburgh oversees 28 production facilities in the eastern United States and Canada, which employ more than 1,800 people.
Since its inception, a core strategy of Carmeuse has been to provide its clients with reliable products in terms of quality, technical expertise, and on-time delivery, according to Director of Purchasing Daniel Taylor.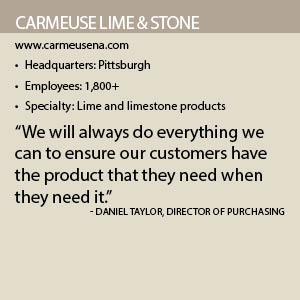 "We have a large network and offer our clients a very high level of reliability on deliveries," Taylor says. "If one of our plants has a production issue then we can ship from a different plant. We will always do everything we can to ensure our customers have the product that they need when they need it."
Carmeuse is actively developing additional value-added services and products for its existing clients. Traditionally, the company has supplied its customers with lime and limestone. Recently, Carmeuse developed a capability to provide storage and handling equipment for its clients.
"Some of our clients are new and they don't have the infrastructure to receive our product," Taylor says. "So we can now work with them to design a solution and provide the product handling system they need. We can do that in conjunction with a supply contract where they can either pay for those services separately, or we can build that into a long-term contract. When our clients need these additional things, we are positioned to provide it."
In addition, Carmeuse also seeks to diversify into new markets. "We have always been a major player in several markets, including steel, water treatment, agriculture, and power generation," Taylor explains. "Over the last few years we've expanded our customer base into construction, particularly soil stabilization."
Working Together
Taylor joined Carmeuse in 2004 as a capex purchasing manager. His responsibilities have gradually expanded since. In 2016, the company's purchasing department was restructured and Taylor was promoted to director of purchasing. Since then, Taylor and his team have worked hard to adopt a more service-oriented mentality with its internal customers.
"Rather than simply being the purchasing system they were forced to use, we want to get out to the sites and try to work with our stakeholders to make their lives easier, and drive better results at the same time," Taylor explains.
One of the ways Carmeuse is doing that is by adopting procedures such as the procurement card, which will reduce its purchase order count by at least 10 percent, notes Taylor.
"That's a lot of man-hours our plant personnel don't have to spend writing requisitions, doing receipts and processing invoices for small dollar purchases," he says. "We're trying to reduce the bureaucracy that the rest of the organization, and us, have to experience. This frees up time for more strategic approaches."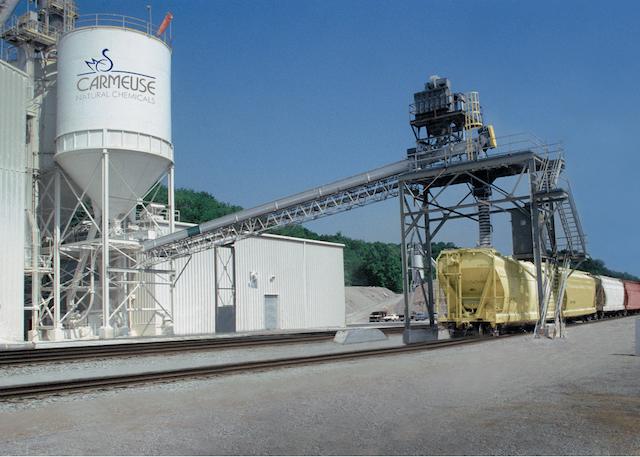 This includes choosing the best suppliers for its various categories. "One of our basic philosophies is that we engage in category management," Taylor says. "So we look at our spend patterns and decide where our money is going. We try to align ourselves with suppliers that provide us with the best value. That value can take the form of pricing, delivery arrangements and value-added services."
Carmeuse buys hundreds of various products and it is impossible for its employees to be experts on all of them, Taylor notes. This is why Carmeuse relies on its supplier partners.
"We expect them to provide that expertise and help us in specifying what we do, choosing options, exploring various opportunities, and getting things done that we can't often get done ourselves," he says.
He cites one of the company's longtime partners, Fenner Dunlop – a conveyor belt manufacturer – as an example. "They conducted an on-site conveyor belt survey of every conveyor belt in all of our plants," Taylor says. "This helped us determine if we had the correct specifications for every conveyor belt. They cataloged all of that information from the survey, which our maintenance personnel have access to. So we now have a tremendous informational improvement at our fingertips."
Improvement Efforts
Carmeuse has implemented a third-party freight provider (PLS) to help ensure its operations remain cost-efficient. "Until recently, our freight, would be handled by our suppliers' carrier and we would reimburse them," Taylor says. "Unfortunately, there is no incentive for many suppliers to actively manage the freight in that situation."
Carmeuse has tapped PLS to manage all of its inbound freight for parts. "We are instructing our suppliers to use them," Taylor says. "This program was competitively bid, and PLS was chosen because it had the best costs and service capabilities. Now we have a more actively managed program, which is a multimillion-dollar spend for us. We're expecting a considerable amount of cost savings from this partnership."
He adds that an additional benefit from its new partnership is that Carmeuse can easily access information regarding its in-bound freight.
"For anything we wanted to know about inbound freight previously, we would have to talk to a couple thousand freight companies," Taylor says. "Now we only have to talk to one. Our site personnel can get access to that system to check on deliveries."
Looking Ahead
Having been with Carmeuse for 14 years, Taylor says that he is most proud of the dedication and energy of his team, which spends more than $500 million annually. "It's a large, important workload that is handled by a relatively small group," Taylor says. "With controlling the vast majority of the company's expenditures, it's very important to us to be able to reduce costs and extract value from our suppliers to make the business run better."
So far, Carmeuse's purchasing department has received "very good" feedback from its stakeholders. "They appreciate the efforts we are conducting to reduce the administrative burden," Taylor says, noting that in the past, the company's buyers spent up to 50 percent of their time correcting administrative issues.
"Stakeholders get pulled into that as well," Taylor notes. "That's not a value-added function, nor is it fun. We want to try to save them that time so they can do things that bring real value to the business."
Taylor also credits the success of the purchasing department's efforts to his team of two-dozen employees, who include managers, buyers and warehousers. "I think it's a really good team and I wouldn't trade them for anyone," he says. "In addition, our internal customers and upper management have been very welcoming regarding the directional changes. We also have good suppliers that are very solid and perform well."
Ultimately, as Carmeuse streamlines its efficiencies to enable its employees to perform more added-value work, it also looking into more processes to continue improving value for the company, including reducing costs.
"We cannot do that when we are tied up with administrative work," Taylor concludes. "We want to be free to drive more value-added contributions to the company. From there, we can go anywhere."
People Passionate
As a family-owned business, Carmeuse Lime & Stone goes above and beyond to do what it "believes are the right things to do," Director of Purchasing Daniel Taylor says. "Carmeuse is a great company that way."
To celebrate its 150th anniversary in 2010, the company established the North American-based Carmeuse Foundation. Its No. 1 goal is to fund and support agencies that serve and equip our youth to have what it takes to become the individuals who will bring about a brighter tomorrow.
Since its inception, the foundation has donated more than $1 million to its partner agencies, and has built a reputation of impactful and enduring relationships between Carmeuse and its communities.
"Currently, the foundation partners with 25 nonprofit agencies across the U.S. and Canada that holistically serve the needs of children, primarily those at risk, in the communities that are located in close proximity to our Carmeuse facilities," Taylor explains.
Carmeuse provides financial support and opportunities for its employees to volunteer at the agencies looking to establish strong, committed relationships. Its list of agencies includes area schools, family counseling and therapy centers, summer camps and afterschool programs, multiple local chapters of the Boys & Girls Club, and multiple local chapters of Big Brothers and Big Sisters.
In 2018, the foundation made a significant difference in the lives of nearly 9,000 children, ranging in ages from three to 18, and their families. "Our partner agencies made a measurable difference in the lives of children through a wide range of programs and services including academic and educational, career development, basic life skills, and mentoring and building relationships," Taylor says.