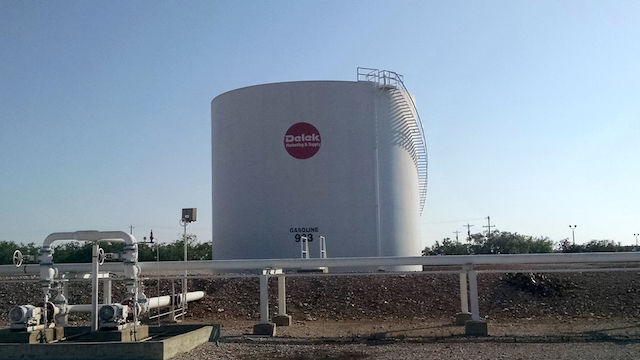 Delek Logistics focuses on expanding its assets organically through customer commitment and acquisitions.
By Janice Hoppe-Spiers
Delek Logistics Partners is investing in and acquiring assets that will expand its ability to transport and store crude oil and refined products for its parent company and external customers. Delek US Holdings, Inc. formed the master limited partnership (MLP) in 2012 to be the "logistics arm" of its growing refining and marketing business.
Based in Brentwood, Tenn., Delek Logistics specializes in gathering, transporting and storing crude oil, as well as marketing, distributing, transporting and storing refined products in the southeast United States and west Texas. "We have 805 miles of crude oil and product transportation pipelines," President Alan Moret says. "In addition to these pipelines, we have a 600-mile crude oil gathering system, storage tanks with 8.5 million barrels of active shell capacity and product distribution terminals. These operations support Delek US refining assets as well as third-party customers."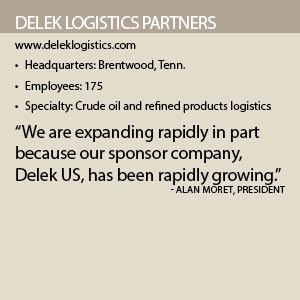 Delek Logistics is involved in virtually every aspect of the petroleum transportation supply chain and operates its business in two segments: pipelines and transportation, and wholesale marketing and terminalling. The company's wholesale marketing and terminalling segment markets 100 percent of the refined product output for Delek US Holdings' Tyler, Texas-based refinery and owns and operates nine light product terminals.
"We solve the transportation need by gathering, transporting and storing crude oil for refiners until it is refined into products"." Moret explains. "At that point we provide storage and transportation of the products to distribution terminals where it is then delivered into customers' trucks."
Profitable Investment
Delek US Holdings and its affiliates own about 63 percent – including the two percent general partner interest – of Delek Logistics. "The MLP is a tax-efficient structure for our unit holders to own these types of assets," Moret says. "The tax code has favorable elements to MLPs that are in the business of transporting and storing natural resources, such as petroleum products."
Delek Logistics' MLP business model centers on predictable, stable cash flow generation for its investors who own units of the company. "Our owners are looking to get the same or growing distribution from quarter to quarter," Moret explains. "When we invest in projects, we are looking at those that have a high potential to return ratable cash flow. We are primarily a fee-based business, meaning we provide logistics capacity for use by our customers and our customers make contractual commitments to use this capacity, which makes cash flow more stable."
Approximately 85 percent of Delek Logistics' business falls into a fee-based structure. "For example, as we acquired assets from Delek US, we entered into long-term commercial arrangements under which we provide services relating to our storage tanks, pipelines and product truck racks for a fee," Moret says. "Our Paline Pipeline, which transports crude oil from East Texas to refiners in in the Gulf Coast, has the same structure with third-party customers. We collect the revenue stream from them, which enables us to build or expand the assets. "
The Right Assets
Delek Logistics continuously analyzes the assets it has and how to optimize them. Pipeline technology plays an important role in this optimization. By adding drag-reducing agents (DRAs) – which are polymers injected into the oil that improve the flow characteristics – Delek Logistics can increase the throughput of a pipeline in a more cost effective way as compared to adding pumping capacity or otherwise expanding a pipeline.
"When we have a pipeline in high use, we look at DRAs or pump additions to increase the flow," Moret says. "We routinely do hydraulic studies on the pipelines to see how we could change operations and get more capacity out of the pipeline."
The company also continuously evaluates whether the demand for its assets is growing or is on the decline, rationalizing the amount of assets used to meet the demand. "When the crude production in Arkansas was growing we put more gathering lines in service and built more tanks to gather into," Moret says. "As production changes or declines, we make decisions that take certain parts of the network offline. We can go to a truck gathering system when the volumes are low because it becomes more efficient to use trucks than pipelines under those conditions. Today, we look at opportunities to grow crude gathering in high growth areas such as the Permian Basin."
Delek Logistics' Paline Pipeline is an example of a system that had been underutilized in the past. As US crude production has grown and crude oil price differentials have changed, the market demand for a system like Paline has increased. In March, this pipeline was expanded by adding 15 percent more pumping capacity. "Demand continues to grow for the pipeline's services," Moret notes. "We are currently completing our engineering hydraulic studies for more putting capacity and will evaluate adding capacity where it makes sense."
The company is evaluating the option to expand the Paline Pipeline again in the near future to increase its shipping capacity, mainly through the use of DRA. "We test the market first to ensure there is enough customer support to warrant the additional capacity," Moret explains. "We perform engineering studies and finalize customers' willingness to make a commitment."
Perfect Partnerships
In addition to expanding its pipelines, Delek Logistics also grows through acquisitions made by itself and Delek US. Delek US acquired Lion Oil Company in 2011, which gave it additional logistic assets that help form Delek Logistics. More recently, Delek US acquired Alon USA and Alon USA Partners, increasing the logistic assets that can be dropped down to Delek Logistics to support its growth. "These drop downs from Delek US have a big impact on us because of the size of our company," Moret says. "We are among the smaller MLPs that operate out here, so these drop downs can have a significant impact on our earnings growth, which supports our ability to grow our distribution to the unit holders over time. Also, drop downs provide Delek US a substantial amount of cash to invest in their refining and marketing business."
Delek Logistics in February entered into a partnership with Green Plains Partners to form DKGP Energy Terminals, a joint venture engaging in the light products terminalling business. DKGP has entered into an agreement to purchase two light product terminals located in Caddo Mills, Texas and North Little Rock, Ark., from an affiliate of America Midstream Partners, subject to customary closing conditions.
"We are excited to partner with Green Plains Partners for its potential ethanol volumes, logistics expertise and industry knowledge as the domestic markets expand blending and look forward to the future of this joint venture," Delek Logistics Chairman and CEO Uzi Yemin says. "This is a great opportunity as it fits our strategy to grow through assets in markets that we are very familiar with and by contributing our complementary existing logistics assets in east Texas and Little Rock, Ark., we expect to create additional synergies within the joint venture."
In addition to serving third-party customers, DKGP is well positioned to provide additional logistics support to Delek US's Tyler, Texas, and El Dorado, Ark., refineries. "Our financial flexibility should give us the ability to finance this investment under our revolving credit facility while we continue to look for opportunities for future growth," Yemin says.
Most of Delek Logistics' past acquisitions have come as assets acquired from Delek US through drop downs, but the company does look to make its own acquisitions in the marketplace. "This acquisition through DKGP is one of its largest transactions we have made outside of drop downs," Moret notes. "This adds two more terminals to operate that are adjacent to places we already have facilities and allows us to extract the efficiencies out of those as we work to serve the light product marketplace."
Going Strong
"We are a still small player in a very large industry," Moret says. "We are expanding rapidly in part because our sponsor company, Delek US, has been rapidly growing. This is creating opportunities to support the logistics needs of Delek US and third parties, which may provide additional growth for Delek Logistics in the future. "
Delek Logistics plans to continue investing in its logistics systems for the foreseeable future as crude oil production continues to grow in the United States. "The United States is now the second largest crude oil producer in the world," Moret says. "Crude oil is produced, gathered and brought to market in West Texas and New Mexico in the Permian Basin. Delek will be playing a part in the transportation of that crude oil to support the industry and Delek US' refinery system."
Delek US utilizes a larger percentage of the Permian Basin crude oil in its refineries than other independent refining companies and a goal is to continue building on that competitive advantage. "Delek US will heavily invest in its businesses related to the Permian Basin production," Moret says. "That is an area of focus – we know where the oil is and that it's on U.S. land, and that it can be produced at a low cost. This focus on Permian crude oil will provide a string of opportunities for Delek Logistics."
Moving forward, Delek Logistics plans to remain a growth-oriented crude oil logistics company serving its parent company and third-party customers. "We are a logistics company that holds and transports other peoples' products, but also seizes the opportunity to do something different," Moret says. "We have grown substantially since 2012 both organically and through acquisitions and our goal is to continue to do so."