Global Steering Systems LLC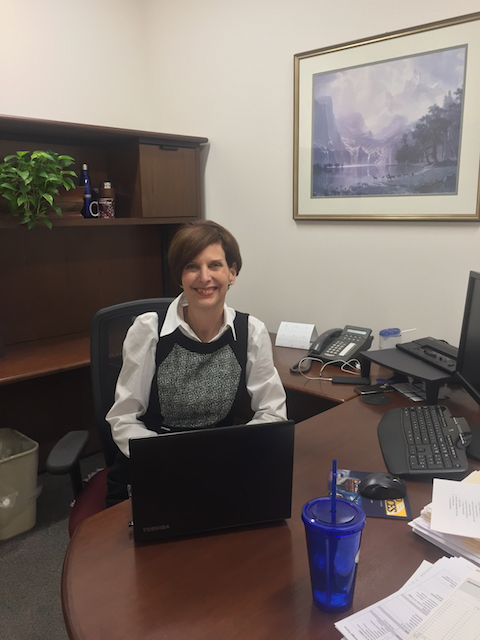 GSS positions itself close to its customers and its suppliers across the world.
By Alan Dorich
When you turn your steering wheel in your Tesla or General Motors vehicle, there's a good chance that you are using the products of Global Steering Systems (GSS) LLC. "We're one of the top five global suppliers of steering assemblies," Eileen Meade declares.
Meade is the director of global procurement and supply chain for the Watertown, Conn.-based company, which manufactures intermediate and column shafts and related components for steering systems. "We're a proven quality supplier," she says.
The company originally was part of The Torrington Co., which established its steering business in Coventry, England in 1964. The Timken Co. acquired Torrington in 2002, and sold the steering business to DriveSol in 2006. In 2009, GSS acquired the steering business from DriveSol.
"Much of the key personnel was retained through these transitions, along with 100 percent of the intellectual property," Meade says. GSS today has manufacturing facilities in Watertown, as well as Changshu, China; Ponta Grossa, Brazil; and Opole, Poland.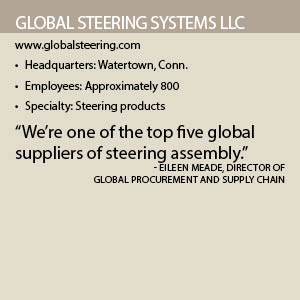 GSS also is a tier one supplier to Fiat Chrysler Automobiles, GM, Ford and Tesla, and a tier two supplier to ZF. "We are viewed as having a high-quality product," Meade says, adding that its customers also include Wheeler Brothers Inc. and GAC Group.
Uniform Operations
GSS's recent initiatives include the construction of its facilities in China, Poland and Brazil to bring the company closer to its customers. "They like to purchase in the region of their manufacturing [operations], so we strategically set those sites, based on some of the global programs that we were awarded and we have been quoting," Meade says.
To maintain the high degree of quality and lean, proprietary processes, equipment and IP are replicated at each of the greenfield operations. "Our goal was to set these plants so you feel like you are walking into the Watertown Plant," she says. "We share our philosophy, technology and problem solving across all locations. Associate cross-training is a constant."
GSS shares information through Plex, a cloud-based integrated business planning system developed for the automotive industry. It also enables users to view history, forecast demand, inventory and customer demand, Meade says.
"The system allows full visibility of the items we require, which improves our decision-making around the quantities on hand or in route each day," she says. "Not having to customize a system to meet the specific needs of the automotive industry was also a cost savings."
Streamlined Supply
GSS has long-term relationships with many of its suppliers, including some that date back more than two decades. "We strive to use a supplier's process specific knowledge to help GSS continually improve cost, quality and operational excellence in efforts to expand market share."
Thanks to these relationships, "We have been able to maintain visibility of all elements within the supply chain and will continue to streamline our processes for continued success," she says. The company sources a large percentage of its products internationally.
"We utilize just-in-time purchasing as we do with our domestic supply," she says, noting that international shipments are warehoused by suppliers and meet the same weekly pulls. "We continually review the quantity of every item that should be on hand each day adjusting for shifts in customer demand."
As GSS has expanded its global footprint, suppliers have worked to support it from their own localized warehouses. This allows the company to execute its plans in these regions. "The supply base works with the local standards and conditions of these regions, supporting GSS with ease of launch, continuity of supply while maintaining product integrity into these areas," Meade says.
Constant Evolution
Challenges in GSS's industry include reduced lead times to meet its customers' product launch dates. This can make it difficult for the company to find suppliers that can meet the changing demands in design, volume and timing, Meade says.
"Things are constantly changing for us, so it requires a lot of close, frequent communication both internally and externally," she says, adding that the company encourages its supply base to involve GSS in their decision-making.
GSS also asks them to provide options with transparency so they can be passed onto customers, who then can make decisions that meet their expectations. "In addition, we deal daily with the typical challenges facing manufacturers," Meade says, noting that these range from meeting cost reduction targets to cultural and language differences.
Among other challenges, the company is preparing for President Trump's proposed tariff on steel imports by increasing its engagement in lean manufacturing techniques in its facilities. "We plan on sharing some of these techniques through workshops with our major suppliers in efforts to prepare ourselves for the potential impact of the tariff," she says.
GSS is investing in lean with all new product lines. "[They're] being developed with the lean concepts," Meade says, adding that its Watertown facility also is applying lean to existing lines.
"Flow throughout the facilities is always under review by the operations lean managers," she says, adding these concepts were used in its overseas locations as well. "[We have] a heavy focus on the flow of product throughout the plants."
The company provides lean and Six Sigma refresher training courses to its employees. "Last year, we trained about 15 green belts and this year we have another 15 employees going through the process," she says.
Embracing Teamwork
Meade has 40 years of automotive industry experience, starting her career at Torrington. She left when the company was acquired by Timken but returned to GSS five years ago.
"Other than the first two years of my career, the remaining years have been in procurement," she says. "Obviously, I have seen and experienced significant changes in procurement."
She is proud of how GSS has embraced the idea of teamwork. "This is particularly evident in the quoting and launch of new products," she says, explaining that each new program is started with a product development team.
A program manager leads each cross-functional team supported by the local operations, manufacturing engineering, product engineering, quality and supply chain departments. For offshore launches, the local site team plays a strong supporting role in the process. "The team members are encouraged to share their thoughts and opinions on all aspects of the program," she says.
"Communication is open and ideas are openly received and acted on if the team agrees on an action," Meade continues. "The goal of a successful launch – which is defined as meeting the timing and established budget – is shared by everyone."
One example where teamwork paid off was the opening of its locations in China, Brazil and Poland. "Many of us were involved in the launch of these new facilities and got to weigh in and provide our input," she recalls.
Thanks to the collaboration, the plants were opened on time and on budget. "I've only worked for two other companies in my career, but I haven't seen anyone as successful with their team efforts as GSS," she declares.
Growth Focused
GSS has grown at a compounded year-over-year rate of 25 percent and plans to continue expanding, Meade says. One way the company grows organically is through innovation and diversifying its products.
The company also regularly looks at acquisitions. "Currently, we have a few significant projects that we're working on," she says, noting that these are in development in South America and China.
The company plans to keep growing in its current locations, "with an emphasis on China and the 30 million vehicles that they are projected to build this year," she says, noting that GSS wants to grow with its current customer base. "There are plenty of opportunities for that."