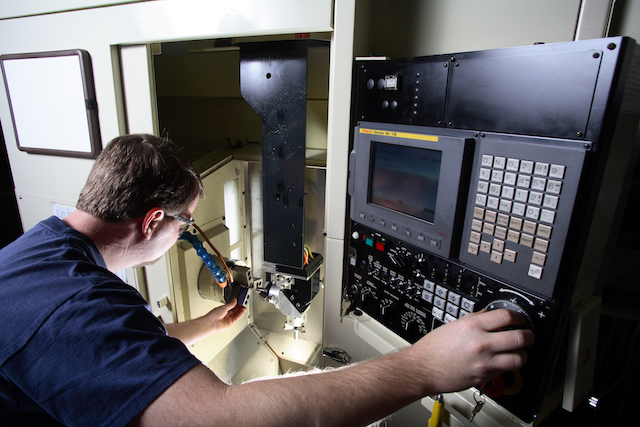 LISK continues to enhance its S&OP and other supply chain initiatives.
By Jim Harris
When LISK began its journey to implement a formal sales and operations planning (S&OP) process in 2015, global technology consulting firm Gartner Inc. provided an assessment tool which evaluated its S&OP maturity level to be 1.5 on a scale of 1 to 5. The evaluation measured the effectiveness of the company's process based on key performance indicators including its IT systems, use of data and level of collaboration.
By the end of the following year, Lisk improved its rating significantly to 2.9. Today, the company estimates its S&OP maturity level to be between 3 and 3.5; a greater than 100 percent improvement in under three years. "With a commitment to internal improvements we have greatly developed our S&OP process in a short period of time," says Ruud Vullers, vice president of supply chain and quality for the Clifton Springs, N.Y.-based manufacturer.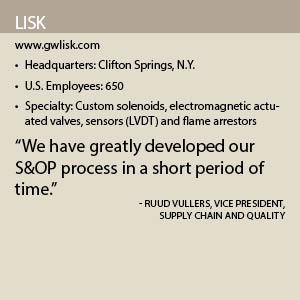 New Processes
LISK initiated its S&OP enhancement with a sales planning process employed two simple graphs that provided easy to use visuals. One graph tracked sales trends in each of the company's product families to derive annual sales estimates for a two-year period. The second graph was a simple visual of monthly sales patterns that tie back to the annual sales estimates.
"These graphs, along with year-to-date and balance of year sales data, was the quantitative input to the sales planning process," Supply Chain Planning Manager Bob Bucci
says. "The real challenge was anticipating inflection points to this quantitative sales trend. Qualitative input from our customers as well as industry trends and the knowledge of our global sales team, product managers and engineers help us anticipate those inflection points."
The next major step in LISK's S&OP process was inventory planning. "We started closest to our customers with an analysis of finished goods inventory (FGI). For each S&OP product family, we quantified all the elements of FGI, namely safety stock, cycle stock, final inspection time, pick/pack/ship time and any other reason we may need to enable excellent customer service," Bucci says.
Meeting Demands
Once LISK established sales estimates and developed an inventory strategy, it rolled out supply plans by S&OP product family. "We based our future production on demonstrated rates of output and known process improvements," he adds. "For each S&OP product family, we show the final assembly load for both point and upside range estimates against both labor and equipment capacity. The utilization strategy for each assembly area and key upstream operations will ensure appropriate headroom is available to create surge capacity that can address upside sales range opportunities."
The company's monthly S&OP meetings focus on issues and opportunities the company expects to face over the following one to two years. "Whether we discuss capacity risks and recovery plans or productivity and sales opportunities, participants from all functions are engaged in a discussion that is typically lively and productive," Bucci says.
Although LISK's S&OP process has advanced greatly during the three years it has been in place, there remains room for improvement. Bucci notes the company needs to continue to tighten the alignment and use of the S&OP process as a way to bridge its strategic planning efforts with its shop floor plans and execution. "We're looking proactively at demand and our ability to supply those demands. Continued improvement and precise execution of our S&OP process enables us to maintain business growth while providing excellent customer service," he notes.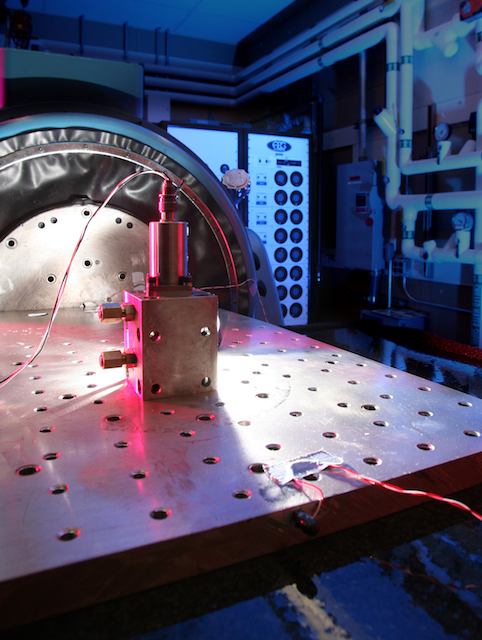 Streamlining Suppliers
LISK's S&OP process was one of several improvements Vullers put into place after he joined the company in 2014. His other initiatives included reducing its number of suppliers. "If we are buying a component from a partner, we want to buy a complete component and want the partner to manage the components and raw materials downstream," Vullers says. "Instead of working with four vendors, we're working with one, and asking them to manage the other three. This made it much simpler for us to manage our supply chain."
The company continues to streamline its supply base. "This is a slow, steady process," he adds. "Some of our suppliers have needed to hire a buyer, planner or quality engineer to manage this process, which they didn't have in the past."
LISK's ongoing supplier-related efforts include increasing the number of long-term agreements it has with partners. These agreements commit LISK to a particular partner for a two- to three-year period as long as certain terms and conditions are met. These conditions include meeting productivity, payment, inventory, delivery and quality terms agreed upon by both LISK and the supplier.
In 2015 the company implemented a new enterprise resource planning (ERP) system. LISK this year will begin to use that system's supplier portal function, which will electronically link it to its suppliers, Vullers says.
Through the Decades
LISK is a global player in the design and manufacture of custom solenoids, solenoid valves, sensors and flame arrestors. The company – formerly known as the G.W. Lisk Co. before rebranding in 2015 – is a global supplier to Tier 1, Tier 2 and Tier 3 OEMs in the aerospace, defense, heavy-duty engine, and oil and gas markets.
The company was founded in 1882 as a designer and manufacturer of cake pans. By 1910, LISK had added tin pails and spraying devices to its bakeware line. This growth spurred owner George Washington Lisk to move the growing company to a sheet metal shop on a parcel of land in Clifton Springs, N.Y., which remains its U.S. headquarters.
LISK in 1946 transformed itself from a consumer goods manufacturer to a maker of custom engineered solenoids and solenoid valves in response to a post-WWII surge in the defense and commercial aerospace markets. The company added sensors and flame arrestors to its custom-engineered product line in the ensuing decades.
Ready for Growth
Internal improvement remains a high priority for the company. Many of its ongoing enhancements will allow it to meet the new standards for IATF 16949 certification, which LISK will be audited on this year. The number of requirements for the certification is increasing by 65 percent. "We have a massive effort underway to prepare for this new standard," Vullers notes.
One requirement of the new standard is a greater focus on risk management. This entails LISK examining the ways it prepares for risks to all its functions ranging from power outages/earthquakes to the way it manages its business overall. "We see the new International Automotive Task Force standard as a way to drive continuous improvement in LISK," he adds. "Retaining this certification is critical for us, because many of our automotive industry customers require it, and they may no longer do business with us if we lose it."
The company is also looking at ways to decrease its indirect spending, which includes items such as furniture, janitorial and capital equipment, utilities, and consulting and recruitment services. LISK recently hired a commodity manager for indirect spend who is helping it consolidate indirect suppliers.
"On a very high level, we're trying to prepare our supply base as well as our planning and quality organization for year-over-year growth," Vullers says.