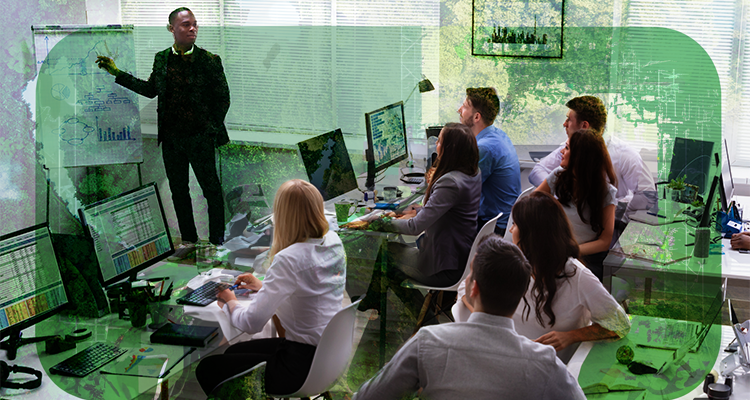 A new way to tackle challenges of sustainable supply 
AXA Climate unveils new training course on sustainable sourcing and procurement
A new course from The Climate School, AXA's climate training product, looks specifically at challenges around sustainable sourcing and procurement. Designed to be taken by corporate buyers, 'Sustainable Procurement' offers actionable strategies to create a sustainable relationship with suppliers. 
According to McKinsey, between 80-to-90 percent of greenhouse-gas emissions from businesses are Scope 3. This means they occur indirectly across the value chain. So, upskilling procurement professionals on sustainability could make a huge difference to the climate crisis. 
During the course, buyers will explore the central role they play in supporting their companies to reduce their environmental impact. It helps individuals understand that procurement must go beyond simply the best price to be sustainable.  
It includes a series of five-minute videos featuring practical guidance on a range of topics, from establishing a responsible procurement policy to creating sustainable relationships with suppliers. Providing buyers with new methodologies enables them to reevaluate the process and think critically about every step of the supply chain.
Beyond these topics, the course also investigates best practices for meeting Scope 3 targets. It also sets up a framework to explore issues related to biodiversity, resources, pollution, human rights concerns, duty of vigilance, social dialogue, and working conditions.
Celli Lloyd, AXA Climate's UK Country Launcher, stated: "By providing short, scientifically sound and actionable lessons, our new 'Sustainable Procurement' course empowers corporate buyers to make unique and meaningful contributions to their organization. As more procurement professionals come to view their role as an opportunity to transform their own company's sourcing practices, we hope it will have a ripple effect across entire supply chains."
To offer this course, the knowledge of many industry experts has been mobilized. Among them include specialized consultants: François Girard, Claire de Hautecloque, Anaïs Feldman, and Romain Cocault. Numerous purchasing professionals, including Anne-Claire Lescoffit from Air Liquide and Dennis Bakx from The HEINEKEN Company, have also contributed.