American Welding & Gas is a supplier with a difference
World-class-class service
Headquartered in Raleigh, North Carolina, American Welding & Gas, Inc. (AWG) is one of the largest independent, full-service suppliers of industrial, medical, beverage and specialty gases, propane, safety supplies, and welding supplies. A family-owned company, AWG traces its history to Valley Welding Supply in Billings, Montana, and Scott-Gross Company in Lexington, Kentucky – both of which began operations in 1949.
Today, over 600 employees work across AWG's 70 retail locations and 18 gas fill plants. It's a footprint that spans Montana, across the upper Midwest and Great Lakes to Pennsylvania, and down through Texas and Florida. Underpinning AWG's operations is a fleet of more than 300 trucks and trailers, used to pick up and distribute products across the country. Palletized cylinder trucks make up the bulk of this fleet, used specifically to deliver compressed gas and welding supplies to AWG's customers. Cryogenic transports, meanwhile, deliver bulk quantities of medical and industrial oxygen, food grade and industrial carbon dioxide, nitrogen, and argon, while the company's tube trailers transport bulk quantities of compressed nitrogen, helium, and hydrogen.
According to Stuart Williams, AWG's Vice President of Supply Chain & Product Management, this range of products is a "key differentiator" for the company. He comments: "We have the capability to produce and deliver packaged gases and bulk gases for almost any customer need, and have the flexibility to identify new and safe ways to do so – for example, bulk delivery of liquid argon, nitrogen, or oxygen to bulk tanks at customer sites, EPA protocols for research applications, beverage CO2 or argon-CO2 75/25 twelve-pack cradles for metal fabrication. As for welding supplies, we distribute filler metals for all types of fabrication, welding consumables, plasma consumables, abrasives, safety supplies, welding machines and various industrial supplies from a variety of leading brands, as part of an inventory that's regularly refreshed in line with customer demand."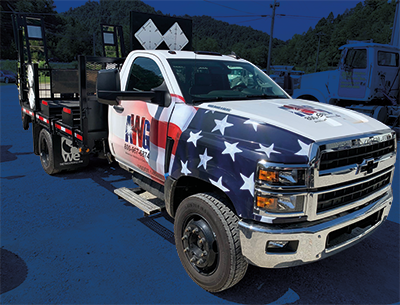 Much of AWG's success comes down to an ethic of continuous improvement. "Our most recent investment includes the introduction of smartphones, as an alternative to handheld scanners," Stuart explains. "With this comes the additional customer service benefit of being able to provide emailed invoices at the time of delivery, as well as accept electronic signatures. We've also been implementing delivery and route optimization to reduce our miles driven while improving our delivery service."
Amid a volatile time for the energy sector, these investments have proved key. "Fuel has been and continues to be a challenge for our industry because our distribution model is predicated on delivering to our customers doorstep," Stuart insists. "Since launching our route optimization strategy, we've been able to reduce our miles driven while increasing the number of cylinders we deliver. That in turn has prolonged our fleet life, reduced the need for maintenance, mitigated risk, and elevated our customer service.
Challenging norms
"Other ongoing capital asset expenditures include cylinders, bulk tanks, or new rolling stock," Stuart adds. "We recently completed a significant investment in our Indianapolis fill plant and specialty gas lab, including facility upgrades, expansions, and capability improvements. That in turn has given us the opportunity to expand our specialty gas offering, and provide a higher degree of service and product mix for our customers."
But AWG doesn't work alone. For Stuart, it's important to emphasize the need for robust sector relationships. "On the gas side of the business, our customers demand a consistent supply across a wide-ranging geography," he points out. "Without great relationships, we'd be unable to deliver the service that makes us such a great partner. Similarly, within welding supplies, the bulk of our customer base is engaged in some form of metal fabrication – so there has to be a high degree of confidence in the materials in use. We also have to trust our suppliers to make joint sales calls to bring on new customers, or help customers with technical issues so they can perform to their own expectations."
To deliver on these requirements relies on a motivated and dedicated team. Accordingly, AWG undertakes a number of initiatives to cultivate an open company culture, such as its partnership with the Gas and Welding Distributor's Association (GAWDA), to sponsor Women in Welding scholarships. "Our industry is male-dominated, and we want to increase the opportunities for women," Stuart says. "By focusing on the educational aspects to give women that training, we believe it will diversify our workforce and provide broader perspectives to challenge the norms of our industry."
AWG has completed three acquisitions in the last nine months, as it looks to improve its operational reach and service new customers. And it's not done yet. "We'll continue integrating our acquisitions into the overall fabric of the business throughout the remainder of the year," Stuart concludes. "We've also opened two greenfield locations in the last six months, and expect to focus on growing those businesses. Over the next five years, we expect our productivity initiatives to continue helping us improve our efficiencies and bottom line, and keep us at the forefront of delivering world-class service."
www.awggases.com