Only a handful of people alive today have lived through a true pandemic – with the last one in 1918, our world with its global economy is a very different place now. Covid-19 and its impact has highlighted, in the harshest possible way, the weaknesses that exist in terms of the economic management of a society in lockdown. It has shown that despite our advances in healthcare, in connectivity, in the development and production of an ever-wider range of products and services, we were – and are – not resilient enough to handle a crisis of this magnitude.
Lessons, as people are fond of saying, will be learned. The US is already on the case. Catalyzed by the life-threatening shortage of personal protective equipment during the early days of the pandemic, in February this year President Joe Biden signed an Executive Order (EO) with the goal of creating more resilient and more secure supply chains for essential goods. The EO heralded the beginning of a root and branch review, with a directive to identify the steps to take in order to build more robust processes and protect US supply chains against a wide range of risks and vulnerabilities.
The EO directed an initial 100-day evaluation of the supply chains of four key products: semiconductors, large capacity batteries, critical minerals and materials, and pharmaceuticals – the report was published in June. The second phase of the EO is now under way, reviewing six industrial bases that underpin America's economic and national security.
The conclusions and recommendations for action in each product sector in the initial review vary, but there is one theme that runs through the entire 250-page report, and that is the importance of recycling in attempts to build self-sufficiency.
Global complexity and the self-sufficiency inherent in circularity
Our globalized business environment has been shown to be vulnerable to disruptive events and no country today is totally self-sufficient. Today's supply chains can be hugely complex, and face an ever-greater number of new and evolving risks which have the potential to create resource scarcity, driving up prices and the likelihood of delivery delays and stockouts.
From cyberattacks and ransom demands to the rising number of natural disasters caused by climate change, and planned disruptions such as industrial action that close ports and ground aircraft, businesses today face an incredibly vast risk landscape. Making reactive moves in response to a sudden increase in landed cost, as might result from one of these situations, may of course be necessary but businesses can and should build resiliency into their supply chains to mitigate against any adverse impact.
It has been clear for example, even before the arrival of coronavirus, that the massive growth in technology manufacturing would cause issues with the supply of rare minerals such as coltan and cobalt, used to develop a multitude of consumer electronics and batteries. The Democratic Republic of Congo (DRC) – a politically volatile nation – remains one of the largest suppliers of coltan and cobalt.
Total reliance on other nations for key components is an obvious flaw in the supply chain and can be mitigated against. Part of the solution is application of basic concepts like the Pareto Principal, and manufacturers could do well for instance to source 80 percent of their purchases for a given part or material from global vendors in one country while paying a higher price for 20 percent of their parts from a domestic supplier. However, given the consumer-led nature of the US in particular, recycling rare elements like tantalum and cobalt in-country could also provide a significant level of independence.
Many manufacturers are starting to rethink how they design and produce their products with as little waste as possible, how they ship them and, crucially, how they approach the rapidly growing after-market repair and recycling market. The business case for circularity is a strong one, particularly in a globalized supply chain: If a company can reclaim old products and easily recycle some or all raw materials, extend product and customer lifecycles, they will be able to massively reduce costs, and their reliance on the further reaches of their supply chains.
If the pandemic increases the rate of recovery, reuse and recycling of critical materials, and accelerates the growth of the circular economy, that will be a good outcome from a disastrous situation.
Planning for disruption – a software-led approach
Modern challenges have modern solutions, and enterprise software today can very effectively support supply chain and manufacturing decision makers as they identify and mitigate risks across their organization; across geographies and across functions – including in their supplier relationships.
By building an extensive view of where parts, products and materials are in complex supply networks, and incorporating multiple supplier profiles – including their risk profiles – businesses are better able to adapt in times of significant disruption. Better yet, by incorporating intelligent forecasting and demand planning solutions, they're able to predict and plan for bottle-necks before they occur. Modern enterprise resource planning systems, which enable the creation of digital twins of the entire organization, can radically reshape how organizations architect their business, not only to minimize these risks, but also to seize new opportunities the market presents.
For manufacturers that operate their own manufacturing facilities in multiple countries, enterprise asset management (EAM) capabilities could also help to evaluate potential investment, disinvestment, expansion and refit decisions in such a way as to balance production capacity across facilities or move production away from higher risk environments.
We know from the myriad examples during the pandemic that businesses can react quickly and are rewarded when they do. We saw examples of those who reconfigured their industrial processes to build ventilators, those distillers who gave up the gin to make hand-sanitizer; the food producers who built websites and set up delivery networks almost overnight to sell their produce locally as the hospitality sector shut down.
The project under way in the US demonstrates that President Biden understands that business can benefit from planning for different scenarios, reviewing existing processes to fix weaknesses, and pre-empting issues before they arise. Manufacturers should follow this example and should be empowered by software solutions as they try to do so.
The pandemic caused mass disruption but it has also presented the opportunity for national, international and global supply chain networks to reinvent themselves to be smarter, more coherent, more environmentally conscious – and more prepared for the next challenge.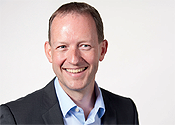 Antony Bourne is Senior Vice President at IFS.
IFS develops and delivers enterprise software for companies around the world who manufacture and distribute goods, build and maintain assets, and manage service-focused operations. Within IFS's single platform, industry specific products are innately connected to a single data model and use embedded digital innovation so that customers can be their best when it really matters to their customers – at the Moment of Service.
www.ifs.com