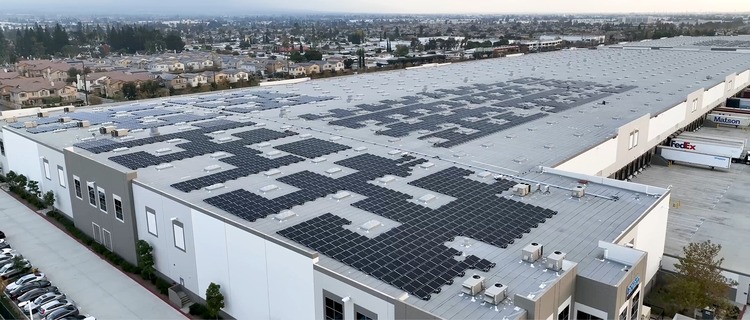 Arvato strengthens its sustainability commitments in the USA 
In a step toward sustainability, Arvato commissions first solar power plant on the roof of its Ontario, California, distribution center  
The solar power plant, which will be installed on the site's roof, will consist of 1160 solar panels, generating more than 800,000 kilowatt hours (kWh) of renewable electricity every year. 
Aside from reducing electricity costs, the move will also dramatically decrease the center's greenhouse gas emissions.  
The move comes as no surprise considering Arvato has already converted five other distribution centers to green electricity across the USA.  
Its current solar panel project began back in November 2019, starting with an intensive investigation of the site, as an extensive catalog of measures and criteria had to be worked through before the installation and commissioning of the solar power plant on the roof system.  
After completion of this rigorous process, the new solar panels were installed in August 2022 with the involvement of numerous stakeholders.  
However, further approvals and permits were required before the system could become fully operational. Official approval was eventually granted, and the production of solar electricity began in February 2023. 
The system is operated under a Purchase Power Agreement (PPA), a unique financing mechanism available in 26 US states, including California. It means a third-party developer installs, owns, and operates the solar panels, with Arvato purchasing the generated electricity, allowing US companies to use clean energy without high upfront costs.  
"The PPA and the resulting benefits were quite critical to the success of this project," says Christina Greenwell, Microsoft AOC F&L Client Services Manager at Arvato, who managed the project from start to finish. "It allows us to reduce our electricity costs while supporting Bertelsmann's ambitious goal of becoming carbon neutral by 2030."  
Today, solar panels cover 45 percent of the roof space and have reduced the Ontario center's emissions by an impressive 72 percent. As Bertelsmann plans to switch all its sites worldwide to 100 percent green electricity, the remaining emissions will be offset with renewable energy certificates.  
Mitat Aydindag, President of North America at Arvato, said: "The new solar power plant is a significant step on our path to carbon neutrality and demonstrates our commitment to finding innovative solutions that reduce our carbon footprint."