According to Grand View Research, the global automotive aftermarket size was valued at $390.10 billion in 2020. It is expected to expand at a compound annual growth rate (CAGR) of 3.8 percent from 2021 to 2028. The market is majorly driven by the pursuit of automobile drivers to enhance their vehicle performance in terms of exhaust sound, speed, and appearance parameters along with many other aspects. Regulatory authorities, like the EPA, monitor the built-up standards and environmental impacts associated with automotive component functioning, such as the noise emission levels associated with the modern-day automotive resonators and mufflers in automotive exhaust systems.
For every $1 in revenue generated from new cars, there is $5 in revenue generated from new light trucks and SUVs. For every $1 in revenue generated from used cars, there is $2.70 in revenue from used light trucks and SUVs.
Automotive aftermarket moving from reactive to predictive
The automotive aftermarket is moving from a reactive to predictive and proactive model. While the automotive and aftermarket is historically recession resistant, supply chain disruptions and consumer behavior have significant impacts on supply and product demand in the automotive sector. These disruptions are driving more people online. If consumers do not buy new cars, their old cars need more parts. The aftermarket and the car hobby are driven by passion.
AI and advanced sensors are being deployed for real-time demand and predictive planning for maintenance and aftermarket products by tracking usage and predictive maintenance against benchmarks. By using predictive failure analysis and vehicle monitoring, predicting part needs in real-time impacts when components will fail or need repairs to anticipate demand. This visibility into real-time demand behavior ensures that product availability matches customer demand thereby improving customer loyalty.
Distributors can order any parts needed on a just-in-time basis, reducing the need to carry inventory. Leveraging this trend, more small-scale service providers and shop owners are coming to agreement with large-scale fleet operators to procure additional contracts for repair and maintenance, anticipating the support needed for industry expansion.
Competition from marketplaces and OEMs
The growing number of proprietary systems in vehicles also transfers more power to original equipment manufacturers and the technology companies that work directly with them. OEMs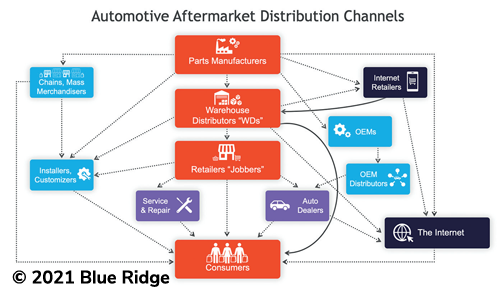 are essentially forcing consumers to return to the manufacturer to maintain or repair cars.
Advancing technology is just one driver behind parts proliferation, along with the ever-increasing number of brands and models. The tremendous volume of aftermarket parts complicates inventory planning and management. It creates more products to track and some lack historical information that could be used to estimate future sales.
Predictive repair capabilities may enable aftermarket service companies and retailers to provide a more satisfying customer experience while saving on inventory costs. Businesses that can execute a strong omnichannel strategy using the internet to connect with customers and offer top-notch repair services stand to gain.
Omnichannel buying and fulfillment strategies
During Covid, customers learned the buy online and pick up at store process. Changing customer expectations for convenience, speed, selection, and value, prompt players in the aftermarket supply chain to develop online-to-offline capabilities. A new retail aftermarket is emerging, characterized by a strong integration between the online and the offline worlds, differentiated customer experience, and lower cost-to-serve and working capital requirements. This optimization in customer service levels is due to proactive and predictive industry forecasting methods that help minimize backorders and drive best- in-class on-time delivery performance.
Companies that develop a strong omnichannel strategy and capabilities are best positioned for success, with a flexible supply chain that aligns with evolving consumer expectations, target marketing, and consistent pricing across channels. These companies are capturing lost sales, eliminating excess inventory, and adding points to the bottom line.
Automotive aftermarket requires industry specific knowledge
Few technology providers in the automotive aftermarket possess deep understanding, knowledge, and experience in this sector. Only with this sector specific experience can solutions be recommended and implemented to build resilient supply chains. By monitoring the trends in the automotive aftermarket sector, technology can address situational awareness which allows for stabilization of erratic demand and volatility.
David Cahn heads up Product Marketing at Blue Ridge Global. Blue Ridge uniquely combines demand forecasting with pricing strategy, so that businesses can proactively understand the unpredictable and allocate the right inventory, right-priced across the entire mix, to accelerate top- and bottom-line results. He has been implementing, marketing, and product managing leading enterprise applications for over 30 years including ERP, SCM, TMS, and WMS solutions and lived the word of customer-facing solutions and customer experience for the past few years. David has held leadership positions at Phillips, KPMG, CA, AMR Research, Aptean, Infor, and Elemica.
https://blueridgeglobal.com/