Keeping the world's flying classroom airborne
A trusted partner of air forces around the world, BAE Systems discusses the extension of its support to the UK's fleet of Hawk advanced jet trainer aircraft, and some of the exciting innovations set to grace the industry in the years ahead
Few companies can boast a heritage as rich as that of BAE Systems. For more than a century, the company and its predecessors have established a reputation as a leading aircraft Original Equipment Manufacturer (OEM). During that time, it has designed, manufactured, and supported many of the most famous names in aviation history – from the Spitfire and Hurricane of the Second World War, through to today's Eurofighter Typhoon and F-35 Lightning which make up today's Royal Air Force fleet. Its Air sector has helped establish a sovereign combat air capability for the UK, leveraging the latest technology and developing an international workforce of almost 20,000 highly-skilled people.
Headquartered in the United Kingdom, BAE Systems Air operates on a global stage with major business units across the Middle East and United States and partnerships with the group's wider international business. Its partnership with the Royal Air Force spans the design, development, production, upgrade and support of its fast jet fleet.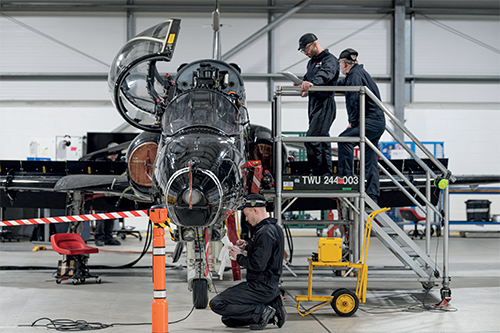 The company's support and training business is a cornerstone of its Air sector, delivering support to the RAF's fleet of Typhoon and F-35 frontline aircraft and Hawk, the advanced jet trainer aircraft which equips pilots with the skills required for life in a fast jet cockpit. From RAF Valley in Anglesey, North Wales, BAE Systems provides availability support to the RAF's Hawk T2 fleet, the latest standard of the aircraft operated worldwide, and provides depth maintenance to the RAF's iconic Red Arrows display team.
As the OEM for Hawk, the company is well-placed to understand the aircraft. But, as Chris Holt, Hawk Contract Delivery Director, explains, the company's success in working with the world's leading air forces is built on an intimate understanding developed through decades of working in partnership to deliver training.
"At RAF Valley, our people work shoulder-to-shoulder with the RAF and our industry partners, including our maintenance partner, Babcock, and the RAF's training provider, Ascent Flight Training, to understand what is needed on a day-to-day basis and to ensure we deliver it as efficiently and effectively as we can," Chris says. "All of this means the RAF has the right pilots with the right skills to safeguard national security and that is what drives our people and our partners' people every day."
BAE Systems has provided this support role to the T2 fleet for 12 years, and provided similar levels of support to its predecessor, the Hawk T1. Internationally, more than 650 Hawk aircraft operate from Canada to Australia via Europe, the Middle East and Far East every day with support delivered by the company's teams across the globe.
In April, the company was awarded a new £590m contract to continue its support to the Hawk fleet, providing availability support to the T2 fleet and depth maintenance to the Red Arrows. Under the Hawk Integrated Support Solution (HISS), the company is also delivering efficiencies through new ways of working and harnessing the use of technology to drive savings which will be reinvested into the RAF's training capability.
"The primary role of the HISS contract is to ensure the RAF has Hawk aircraft available where they need them, when they need them, to undertake training," Chris explains. "But it will also unlock savings, part of which can be invested in the capability upgrades to the jet, which will ensure Hawk continues to deliver what the RAF needs.
"Our teams have already developed a wide range of enablers which include keeping assets on the wing for longer, automating our information exchanges through technology improvements, increasing our maintenance efficiency, improving our own internal and external processes, developing our Suitably Qualified and Experienced People (SQEP), and talent pipeline, and working with our strategic suppliers to better our value for money," he reveals. "The contract will also see us work alongside our partners and supply chain to drive efficiencies, with the opportunity to reinvest part of the savings generated into new capabilities for the future Hawk fleet.
"Hawk has an enduring role with the RAF for many years to come and we already know that the first pilots who fly Tempest from 2035 onwards will have learnt to fly in a Hawk, so ensuring it has the capability it needs is critical to our customer and therefore it is critical we deliver."
But innovation is never easy. For BAE Systems, the challenge is determining how to continue to drive an even greater pace of change. "We need to work out which challenges are the most pressing," Chris reflects. "Likewise, when we think about how to support our customers, we need to consider both the next few years, and how we can serve them as part of a long-term strategy.
"For instance, we're already looking ahead to 2035, when we're due to bring into service a fleet of Tempest aircraft, designed to train pilots who are to fly on the Typhoon F35s," Chris points out. "Over the years, we need to keep our training platform relevant and up-to-date, supporting the needs of today and tomorrow; thinking long-term about how technology and learning is set to change, and how the battlespace is due to evolve."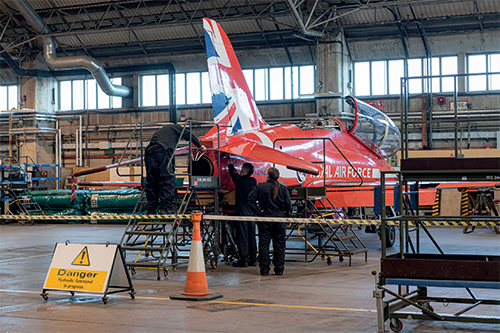 Underlining the Hawk fleet's integral role within the RAF, Chris explains that every pilot who is flying in the frontline fleet will almost certainly have flown a Hawk at some point in their careers. "That's not just every front-line pilot, but every senior member of the RAF who has ever flown in any kind of fighter jet," he insists. "Around the world, from Australia, to Canada, Finland, and India, there are about 25,000 pilots who will have learnt their skills using Hawks. For that reason, we refer to the Hawk as 'the flying classroom of the world' – a place where pilots can learn to be the absolute best. But even more than that, we have this in common with many of the world's leading air forces, meaning Hawk is another common bond in our international partnerships."
The HISS contract sustains more than 500 jobs across BAE and its maintenance partner, Babcock International. But although the future is bright, the last couple of years haven't been without turbulence, as the arrival of COVID-19 brought about considerable industry disruption. Nevertheless, BAE continued to provide its customers with essential support.
"We had to make sure our customers were ready to do whatever it is they needed to do in accordance with changing economic and geopolitical situations," Chris adds. "In the UK, that meant looking at how we could leverage our global capabilities to continue to support Hawk in a very different way.
"Alongside the need to work from home the lessons we've learned from the pandemic is the importance of using different ways to communicate," he develops. "We've found it a lot easier to start collaborating with teams out in our global locations. At the same time, we've also focused more on wellbeing activities; making sure our teams are supported wherever they are, and rolling out the appropriate technology to do so."
As it looks forward to another decade of supporting the Hawk fleet, BAE Systems' focus is on driving continuous improvement across its operations. "We want to go from strength to strength," Chris concludes. "We're always learning more about how to support our aircraft, and build capability, and we work with our customers and supply partners to achieve that. We'll also continue to innovate in our training solutions, while driving customer intimacy, and strengthening the relationships we have with the RAF and other customers around the globe."
BAE Systems
www.baesystems.com/air
Services: Aircraft original equipment manufacturer