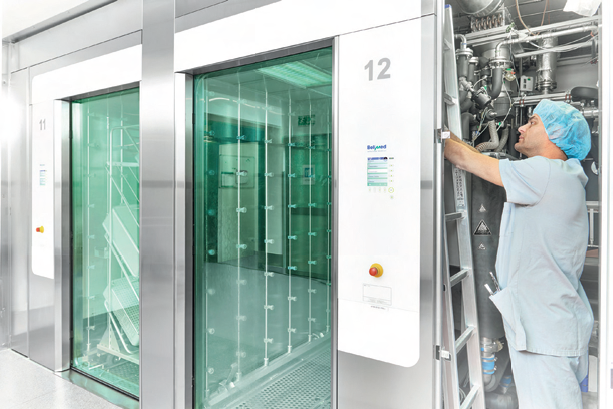 One step at a time
Something that may be taken for granted is the journey that surgical instruments used in hospitals undertake in order to arrive in surgery sterilized and clean; thanks to businesses like Belimed, it is a journey that patients need not be concerned about. Listed on the Swiss Stock Exchange, Belimed, which falls under the Metall Zug Group, is focused on being a global leader and supplier of innovative cleaning, disinfection and sterilization systems for hospitals and other surgical centers. "The company itself was founded in the 1960s when we introduced the first automated washing machine for lab glass," says Chris Ginnett, the Director of Supply Chain and Logistics, who discusses the Swiss-based business's recent developments and how it is cultivating a company culture that is focused on strong relationships with its supply chain, employees and customers. "Through the years, we have expanded into other products, initially focusing on the European market, but about 20 years ago, Belimed began selling our products to the United States market. In 2016, one of the key products we launched was called Belimed Protect, which is a line of multi-enzymatic cleaning solutions that can be used in the sterile processing departments (SPDs). They can be used in our own equipment or our competitors' equipment, and it speeds up and assists with the cleaning of the surgical tools used during the OR process and allows these to get back to a sterile state in order to be available for the next
surgery," he shares. Following Belimed Protect, in 2019, the business added Belimed Prevent, which is a global service portfolio for customers focusing on post-delivery and the end-of-life service of its products to keep customers maximizing on their efficiency.
Since its inception, the business has approached its expansion strategies with the intention of putting the needs of its customers first, and in doing so, it ensures it stays in tune with developing problems in order to provide leading solutions. "One of the changes we have seen in the industry is that hospitals are not being constructed in the same way as they used to be. The real estate within traditional hospitals is so valuable, they are looking at how they can take sterile processing, IT, linen services, and food services and create central hubs as their own suppliers for their hospitals. So, we look into what that could mean for us and how could we remodel our internal processes to best suit the solutions they're looking for. One of the ways Belimed tries to address this change is by offering design services to help customers understand how the equipment is laid out, how it supports the people in the SPD, the cycle times of the equipment, and how to create the correct workflow for them on whatever model they are working with. We have our product managers in the US who we provide the customer feedback and communicate this to our global team, which assists us in creating a roadmap for future products and innovation," he describes.
On the topic of innovation, in addition to its current services, the newest product that the business is proud to have launched is the Belimed Connect, an advanced data connectivity software program that connects the equipment with the service teams and its customers, by providing a dashboard of the equipment and SPD that can be monitored on site or remotely. The software program connects the machines to the instrument tracking systems and is designed to track the process and provide data cycle reporting, the status of the machines, automated reporting and the ability to perform remote maintenance. Chris explains that, "like all machines, they can start to deteriorate and fall out of sync and alignment. As part of our service package, we perform quarterly preventative maintenance adjustments to replace the degrading parts. Sometimes, in very busy hospitals, those situations tend to happen quicker than anticipated and so by monitoring the performance, we can see if machines are deteriorating or if wash cycles are taking a little longer than planned, and this is our opportunity to monitor and send someone in advance to try and make those corrections or adjustments."
This development is one that the team is quite excited to have as part of its portfolio. "We have the ability to jump in sooner if things start getting out of hand to put in preventative measures to get the machines back to running to their optimal performance, either through remote adjustments to the software program or by dispatching a service technician to the customer site. It's still fairly new but overall, it has been really well received, and we have had great feedback from our customers who have said that they are incredibly grateful that they can now see and monitor the status of their machines in real time," Chris shares with us.
Aside from the intensive effort it invests into its innovation, Belimed is equally as passionate about placing an emphasis on the wellbeing of its staff. With 1000 employees globally and approximately 80 global franchise distributors of the Belimed name, the business sustains an inner ecosystem that functions harmoniously to keep everyone within the company working efficiently and safely. "We have quite a few strategic areas that we continually strengthen to keep our company successful. One of them is focused on our people and building a magnetic culture. Obviously, this has been a real challenge in the last year. Another area we really focus on is allowing people to take the initiative to solve their own problems and give them the ability to lead and manage their workload, which I think is really important. As I said, providing the tools and the ability to enact change is a key motivator for our team mates. It starts at the very beginning by looking at enhancing our employee onboarding process, so we've revamped the hiring process to make sure we are really looking at addressing and hiring the right people."
According to Chris, exemplary communication within the Belimed family starts with its managerial and leadership team, and after being challenged by a year in which in-person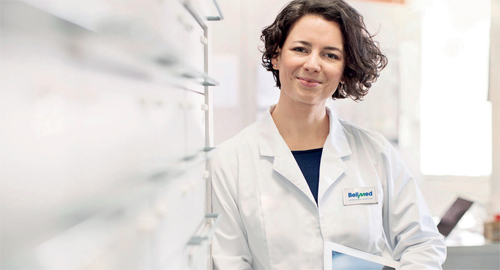 communication was abruptly restricted, the business has devoted the past 12 months to invest in leadership training to garner more effective communicating practices. To achieve this, Chris believes that it is important to understand the different personality types that form a team, and what factors motivate and demotivate different individuals. "Some people love being inspired on a grand scale and some people want a one-on-one conversation, so all of this goes into making sure our leaders understand their teams and how they can communicate effectively with them," he adds.
"Our last strategy when it comes to our continuous improvement is paying attention to career paths and the progression for our employees. We want to lay down milestones for them and by having a clear understanding of the end goals for any job, we encourage a stronger sense of dedication. So, to facilitate this, we evaluate and provide feedback consistently, which is vital for a remote workforce, which is about half of our US team who are based remotely from our Charleston office. So being able to communicate and have those direct conversations when you are not around everyone on a daily basis is really what builds a strong company culture and that is what we are trying to achieve as a business," Chris shares. Of course, an approach like this would serve the business well considering the recent consequences many businesses have had to endure.
Every year brings its own unique challenges and 2020 was no exception. However, Belimed weathered the storm with perseverance and determination to stay on course to achieve the same goals it set for itself at the end of 2019. "Like everyone else, we have certainly seen some struggles, but we've managed it fairly well and in my opinion, this is because we really try to build good relationships with our vendors and suppliers. I've worked in other industries before coming to this company where the focus is on saving every penny, which means going to the lowest cost vendor and making changes each year, but through that procedure, you don't build loyalty, trust or establish consistent communication. We really do have some long-term relationships with our vendors, like our freight forwarder broker, who has worked with us for over a decade, and who 29we greatly appreciate."
But this is not to say that the business has not experienced its fair share of challenges during the Covid-19 crisis. "The supply chain challenges that we've had to pull through have involved most of the larger equipment coming in from Europe. Either products come into Charleston for our distribution, or we ship them to our end customer locations. We've tried to optimize on having multiple points of entry and delivery addresses, which really does require a constant communication with our freight forwarder. On the other hand, if our customers are doing big project construction works – even at the best of times there are delays within construction – we brainstorm how our vendors can find local warehousing. This is why we are dedicated to having an international business, because being well positioned really strengthens our brand and supports our supply chain when deliveries need to be re-routed and easier and more accessible opportunities need to be found," Chris says.
At a more local level, the business ensures that it maintains relationships with its vendors through flexibility and consideration. Chris adds that, "they are crucial to our success through their provisions of capital equipment, but at the same time, we are also aware that they fight their own challenges to their supply chain so we need to keep these factors in mind in order to deliver to the project sites on time and work with those flexible schedules."
Since the business has stabilized itself from the uncertainty of the pandemic, it is looking to maintain its growth momentum to see it through the years ahead. "There are a couple of key projects concerning our continuous improvement that I am really focused on from an operations perspective, which I think will add value to the organization and help deliver better results for our customers. Until this point, we have had the information available to execute forecasting and SIOP (Sales, Inventory, Operations Planning) but we haven't utilized it very effectively, so we are making a change to that and beginning our planning as a global organization rather than individual units."
Over the next couple of years, Belimed's focus is to keep strengthening its service capabilities. The business has seen almost a doubling of the service team over the last five years and Chris believes that is really one of the areas his company can expect to continue to grow and be able to provide the support that its customers are looking for. "I think it also gives us a great opportunity to think on a global scale about how our supply chain is working, rather than focus here in the US or at our European bases.
"Then the other thing we are looking at is our distribution network here in North America. We supply service components and capital equipment to all 50 States, but we are currently headquartered in South Carolina. In light of this, we want to establish better distribution networks so that we can provide a five-star customer experience on a daily basis, so when equipment does go down we have the right material, at the right place, at the right time.
"Up to this point we have been focused on smaller continuous improvement projects that have really provided great dividends. Looking at the longer term the one thing that we haven't really introduced yet is the idea of our radical change event. We've done some cross departmental projects to provide various levels of feedback from our teams so they can ask questions and better understand how the business is run at a molecular level, rather than doing their job with blinkers on. This then supports our career strategy of learning about the business along with driving improvement," he says. Chris is confident that these developments will see the business moving from bite-size portions of improvement to immediate transformational changes, guaranteeing Belimed continues to grow from strength-to-strength.
Belimed
www.belimed.com
Services: Experts in cleaning, disinfection and sterilization systems