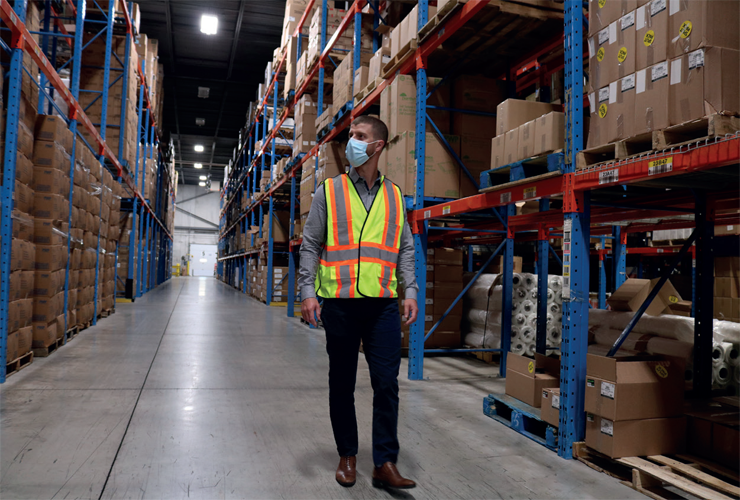 The total package
Forged through a combination of organic growth, operational improvements and new acquisitions, Bunzl Canada, a distributor of packaging, cleaning supplies and safety products, continues to find ways to 'be better'
With a portfolio of more than 45,000 customers to its name, Bunzl Canada acts as a vital link between Canadian businesses and the critical supplies they need to thrive. A provider of food and retail packaging, cleaning and hygiene products, and safety and industrial supplies, the organization's innovative solutions, first-to-market technology, and logistical excellence have allowed it to become a partner-of-choice for firms across Canada since 1990.
"Bunzl Canada is a division of St-Louis-based American firm Bunzl Distribution, which is, in turn, the largest division of our London-based parent firm Bunzl PLC," explains Director of Supply
Chain Resources Michael Thompson. "Bunzl PLC operates in over 30 countries and has more than 100 distribution centers across the US, Canada, Mexico and the Caribbean supplying the grocery, food processing, manufacturing, education, healthcare, institutional and facility management sectors.
"Bunzl Canada's customers benefit hugely from the size and scope of our operations. We provide them with the obvious advantages of our global sourcing network, as well as leadership in product innovation, national scale, attentive, responsive local service and deep category expertise. The upshot is that we are a global organization that takes great pride in maintaining local relationships and a local feel across Canada."
Understandably, in what has been a supremely challenging 18 months for businesses and their supply chains, Bunzl Canada's services have been more in-demand than ever. Resilient in the face of such unprecedented global difficulties, the company first secured the safety of its employees – home working, sanitization and a digital cleaning management app all played a part – before taking on its most difficult Covid-19-related test of all – usage volatility.
"Usage volatility has been the biggest challenge we've experienced over the last 18 months, especially at the very start of the pandemic. We had unprecedented demand for many different items and, simultaneously, saw the demand decrease on other items depending on different closures across the country," Michael recalls. "At the end of the day, in order to navigate through the hardest times, it all came down to communication.
"I am a big believer in the power of communication," Michael affirms. "Right off the bat, we had to figure out how to navigate the virus through collaboration and teamwork – from the purchasing department through to our customers. Ultimately, we worked hard to understand the requirements of our clients and vendor partners, and did our very best to service those needs."
In many ways, strong communication comes naturally to Bunzl Canada. Even before the pandemic, communication was a core strength of the business and Margo Hunnisett, Vice President of Marketing & Communications, believes that this is the result of the firm's historically united and cohesive company culture.
"Our culture is a very significant point of differentiation for us," Margo declares. "We are a people-focused, team-based company, and it's just a great place to work. We believe in empowerment, we manage by result, but most of all, this is an incredibly caring and supportive team that works together to achieve success for our customers."
In order to remain efficient and reliable in the most demanding circumstances, Bunzl Canada continues to invest in the latest technologies, ensuring that the firm remains at the head of the market from both a human and machinery standpoint.
"Our investment in information technology and clear lines of communication between the teams enabled us to keep the business up to speed during the pandemic," Michael notes. "By leveraging really strong foundation processes and best practices, we enhanced our systems in order to meet the challenges we were faced with. In addition to that, it helped us deliver updates and connected many different channels through the organization, right up to the senior leadership team and out to our vendors and customers."
For many businesses, 2022 is set to be a bounce back year during which companies hobbled temporarily by the Covid-19 pandemic begin to rebound. In preparation for this, Bunzl Canada recently acquired three new subsidiaries – Pinnacle Distribution, Snelling Paper & Sanitation, and Sur-Seal Packaging – helping it to lay the foundation for a highly productive and profitable year ahead.
"We continue to grow through acquisition and, in spite of the pandemic, we have been able to bring these three firms on board during the last year," Margo reports. "The organizations fit very well and are all experts in at least one of our core areas. Snelling Paper & Sanitation, for example, is very capable in food service packaging as well as in cleaning and hygiene products. It also has its own expertise in sourcing and delivering from a very well-established base in Ottawa.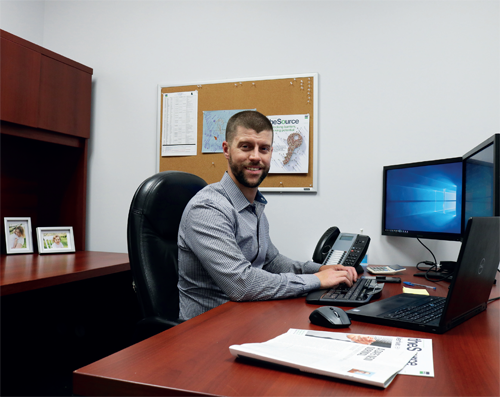 "Sur-Seal," she continues, "is an industrial packaging business based in Winnipeg. It focuses on providing the types of supplies that are needed to move product out of the warehouse and into the hands of customers.
"Finally, those two businesses are joined by Pinnacle, which provides cleaning and hygiene products and, in British Columbia, a tremendous amount of packaging for the grocery market. It fits seamlessly with what we already offer to customers across the country, which is a key criterion when we are looking to acquire a firm."
Taking Bunzl Canada's employee count over the 1200 mark, the triple acquisition will expand the company's reach and improve its efficiency, whilst maintaining the firm's reputation for friendly, knowledgeable, local service.
"As we look to next year," Michael says, "we hope 2022 can bring us, and our customers, closer to normal in terms of our businesses and working environments. If we have learnt anything from this pandemic, it's that we are now fully aware of how important it is to adapt. We are continually learning how to be better and more agile, which is already paying off, and will continue to do so in the years ahead. The market is changing so quickly that you have to be ready to pivot to ensure you are continuing down a path of success."
Going forward, both people and technology will have a significant role to play in forging that path and defining the direction of Bunzl Canada's future. With this balance of capabilities and resources at hand, Michael and Margo are confident that the company will continue to be recognized as an organization capable of optimizing its clients' businesses and accelerating their performance.
"We are always looking to find new solutions for customers through product development and innovative technology, so it is important that we collaborate with our customers and vendor partners on their latest requirements," Michael argues. "Right now, sustainability is a critical business objective for many organizations, so we are developing a unique range of products and options to help customers in that sense."
"Along with sustainability, technology tools and the Internet of Things are changing the way facilities are managed," Margo points out. "We are looking to help our clients manage their facilities more efficiently, more cost effectively and more sustainably as well, with digital cleaning management applications just one popular example of this at present."
When it comes to people, Bunzl Canada still holds its employees up as the most indispensable part of the organization. As a result, the firm continues to invest in talent development and career advancement programs for its sizable workforce.
"Our talent development initiatives are designed to make sure we have the right capabilities for the future and help us build a succession pipeline," Michael states. "It is something I am incredibly passionate about, along with diversity, equity and inclusion, which our new Senior Director of Diversity, Equity and Inclusion is now working on right across North America.
"While the constant upgrading of analytics helped us succeed against the challenges of the pandemic, and will continue to benefit us in the future, our ongoing success really comes down to people. That includes the warehouse workers, the drivers, and those working from home. I cannot thank every single employee enough for everything they have done to service the customer and maintain the focus of our business throughout this trying period."
With a dedicated workforce on the ground, and enthusiastic leaders like Michael and Margo to guide it, it is no wonder that the future looks bright for Bunzl Canada. Though the cautious atmosphere brought on by Covid-19 still exists in areas of the business world, those that know Bunzl Canada best are excited for what lies ahead.
"There might still be a lot of unknowns out there but we certainly plan to stay the course, keep working hard for our customers and continue to introduce new products, services and innovations to the market," Margo says in summary. "Our customers want to reduce risk, improve efficiency and enhance their performance – and we can help them do that.
"As an organization, we're looking forward to the future. Personally, I am really excited about the path and the strategy and the focus of Bunzl Canada at present. Now I think it is just important to continue pushing forward through investment, innovation, analytics, and talent development. By focusing on those areas, we can continue to raise the bar and achieve more."
Bunzl Canada
www.bunzlcanada.ca
Products or Services: Distributor of packaging, cleaning supplies and safety productsMargo