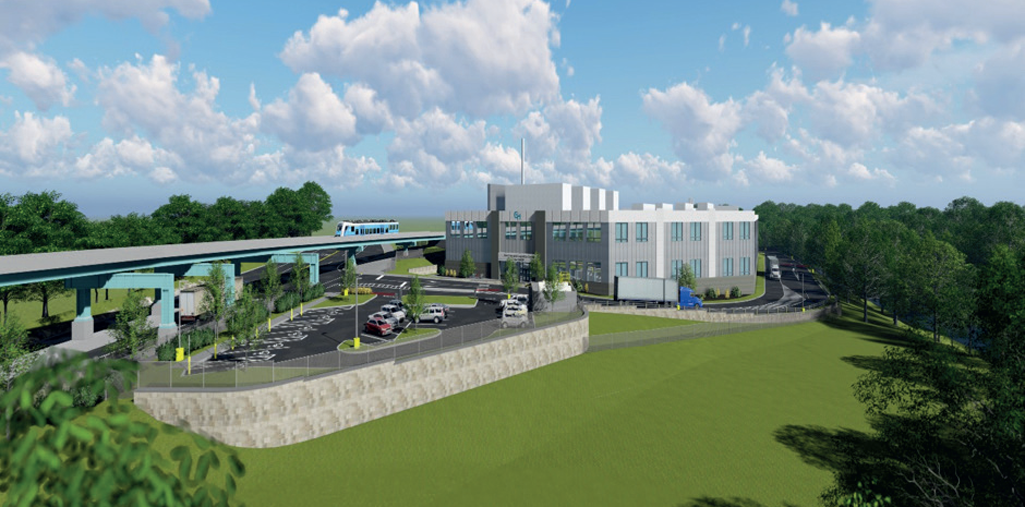 Children's Hospital of Philadelphia (CHOP)
A healthy approach
Thanks to strong supplier relationships and a firm strategy for future development, the Supply Chain team at Children's Hospital of Philadelphia (CHOP) steered through the coronavirus pandemic and is poised for the future
Inspired by a visit to Great Ormond Street Hospital for Sick Children in London, Francis West Lewis, MD founded Children's Hospital of Philadelphia (CHOP) in 1855. The nation's first hospital devoted exclusively to the care of children, CHOP has been the birthplace for countless breakthroughs and dramatic firsts in pediatric medicine since its beginnings.
CHOP's evolution into one of America's finest children's hospitals has been a fascinating journey. It has grown from just 12 beds and a dispensary into a state-of-the-art medical facility, and now features 600 beds and more than one million outpatient visits and inpatient admissions each year. The hospital has fostered medical discoveries and innovations that have improved pediatric healthcare and saved countless children's lives. Today, families facing complex conditions come to CHOP from all over the world, and its compassionate care and innovation has repeatedly earned it a spot on the US News & World Report's Honor Roll of the nation's best children's hospitals.
Given that the ethos and reputation of CHOP is built on a foundation of delivering safe, high-quality, family-centered care, the teams that keep the hospital functioning have to ensure that they are always at the top of their game. This doesn't just apply to the front-line doctors and nurses that deliver the hands-on care for which the facility is renowned, but also the various other departments that are essential to maintain operations and ensure that standards of care are always upheld.
One such department is Supply Chain Management, which is responsible for the contracting, procurement, storage and distribution of all supplies, equipment and services, as well as managing supplier relationships across the organization.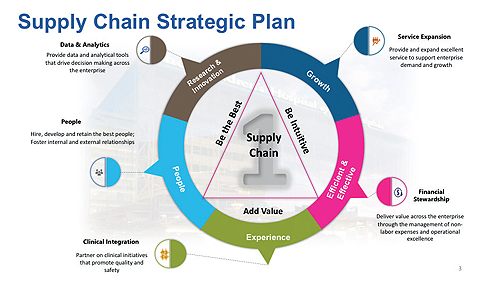 Centralizing Supplies and Getting Creative During the Pandemic
A highly complex and multifaceted area to manage during normal circumstances, in 2020 the CHOP Supply Chain Management Team was faced with the challenges of Covid-19.
From a supply chain perspective, as Joni M. Rittler, Vice President, Supply Chain Management noted, there was an immediate problem to solve. "Like most hospitals attempting to acquire additional PPE supplies, the Supply Chain team at CHOP was very creative in responding to the organization's needs, and initially centralized the ordering and distribution of all PPE related supplies to safeguard inventory and ensure it had adequate supplies where needed. Two examples of creativity involved contracting with a local distillery to get hand sanitizer and engaging local suppliers to sew masks that were used for patients and families."
Leftover supplies that could not be used at the hospital were donated to Habitat for Humanity, and CHOP also assisted many small, local, and minority suppliers in keeping their teams employed during a challenging time.
"The Supply Chain team met daily with clinical teams to review supply inventories and implement conservation efforts as needed." When N95 masks became scarce, the team organized efforts to reprocess the masks to ensure adequate supplies. Additionally, the team managed many generous donations from the community and assured that product was reviewed and approved for use in clinical areas. Supply Chain worked with CHOP's research and lab departments to create 3D printed supplies or to repackage supplies safely. And in the early days of the pandemic, the department coordinated efforts to assemble and distribute the Covid-19 test kits. Most recently Supply Chain assisted with the distribution of Covid-19 vaccines for teachers and test kits to support the reopening of schools in the Philadelphia School District."
Thanks to its actions and preparations, the Supply Chain team at CHOP helped to navigate the hospital through an unprecedented time, and its leader, Joni Rittler, credits the success of its response directly to its strategic planning. "For several years, one of our goals was related to people," she said. "We approached this goal from three perspectives: growing and developing our Supply Chain team, cultivating internal partnerships with clinical/business units and developing strong strategic partnerships with our suppliers. I believe our focused efforts in these areas paid off in spades during the pandemic, as our team was well prepared to quickly shift to remote work and still maintain our service expectations."
Peter Schemm, Sr Director of Technology and Services, shared a great example of this in action with the readers of Supply Chain World. When the Supply Chain needed more space to store additional personal protection equipment (PPE), they turned to local, small and diverse suppliers for storage space. He stated: "We quickly realized that we would not have adequate space to store the increased inventory that we would need to support the Covid-19 efforts," he revealed. "Our Sourcing & Contracting team reached out to local suppliers to find warehouse space. We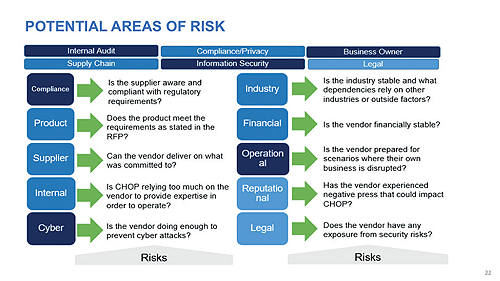 negotiated a contract with a local, minority owned business, Emsco Scientific Enterprises, Inc, that is located in West Philadelphia. EMSCO proved to be an excellent partner, responding to our emergent needs and growing demands for more space."
Utilizing Diverse Suppliers
Another topic that saw increased focus during 2020 was supplier diversity. For the past five years, CHOP's Supply Chain team has partnered with the hospital's government affairs team and the City of Philadelphia to explore opportunities to utilize local, diverse suppliers in the community, with an original focus on catering, promotional printing and marketing.
Recently they expanded their contract with Emsco to work with Fisher Scientific, Inc supporting their needs for lab supplies in the CHOP Research Institute.
Another example of the CHOP Supply Chain department demonstrating its commitment to diversity and inclusion is its role in the expansion of hair care products for inpatients to include shampoo, conditioner, hair moisturizing lotion, brushes and caps specifically for those who identify as Black, Indigenous and People of Color (BIPOC). The team played a pivotal role in working with the hospital's Office of Diversity & Inclusion, as well as various clinical teams, to search for and identify effective, quality products. Next, the Supply Chain team plans to trial skin lotion on a few units, with organization-wide implementation by early spring.
This particular project not only illustrates the careful thought and consideration that the Supply Chain team puts into every detail of their roles, but also highlights how people remain placed at the center of CHOP's priorities. "People are one of CHOP's strategic initiatives," Joni said. "The overall goal is to be the best place where the best people do the best work in support of children's health. Within this strategy we focus on recruiting, developing and retaining top talent. We work to develop a culture of safety (keeping kids safe, allowing for open discussion, creating trust), reliability (always doing the best for every patient, part of the safety journey), accountability and innovation (which is integrated in our mission statement)."
Implementing a New ERP System and other technologies
The timing of the pandemic's arrival also brought with it another trial for CHOP's Supply Chain team – in January 2020, it had just implemented WorkDay as a new ERP system, the result of years of work and planning. CHOP selected WorkDay as its replacement ERP in 2018 and it went live on January 1st, 2020. Peter Schemm shared: "CHOP made a strategic decision to move to a modern cloud-based ERP system, which could support a complete overhaul of the general ledger and represent a single solution which all departments would adopt."
As the pandemic started to spread in March, the CHOP analytics team worked with Supply Chain to quickly re-direct data input to Workday and stand up its analytical dashboards. This enabled the department to share across the entire organization the amount of inventory it had for critical PPE supplies. This sharing had multiple impacts; it stressed the need to conserve when supplies were low, and it also helped to alleviate the anxiety related to having adequate supplies.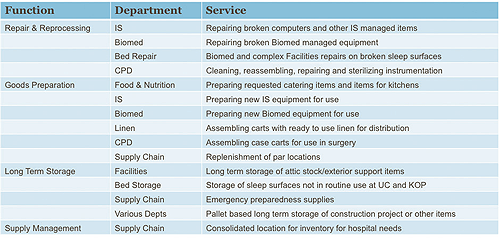 Having begun its ERP journey in 2017, CHOP had the goal to improve and streamline its administrative processes and supporting technology, and from its research, it realized that the scope actually included more than just the ERP. It chartered the Galileo Program, which involved Supply Chain, Human Resources, Finance and Information Services. Several new technologies were implemented including: Strata: to support financial planning, reporting, and decision making, Workday, which maintains critical human resources and financial information, is used for HR and Finance transactions, and for purchasing supplies and services for CHOP; and Coupa: to make it easier for CHOP users to find supplies and services they need while also saving money by buying at preferred contract rates.
CHOP continues to have a focus on technology and making the most of its technology assets. Since assuming responsibility for the Central Sterile Processing Department, it has focused on improving instrument tracking. It has invested in Real Time Asset Locations solutions which have the potential to improve its management of equipment.
At the forefront is CHOP's commitment to analytics and reporting, which is not exclusive to Supply Chain. Peter shared: "CHOP has an expansive Data Lake to mine data, including supply chain data, and has started to package this data into Blocks for simpler cross domain use."
A New Services and Logistics Center
One of the most exciting advancements in the Supply Chain department is a new Service and Logistics center (SLC), scheduled to open in the summer of 2022. The facility will support and house functions such as Supply Chain, Central Sterile Processing, Information Services, Facilities, Biomed and Food & Nutrition.
Within the SLC, the team has created a digital service desk where access to all support departments will be aligned through a single portal. Both a warehouse management system and enhanced tools for materials handling will be implemented and there will be a primary focus on customer experience. The SLC will change how supplies, equipment, instruments and other services are managed at CHOP.
Peter stated: "A shared services model will align redundant work under the Supply Chain team. For example, instead of supplies, patient nutritional supplies, linen and mail being delivered by separate teams, one team will be responsible for deliveries, consolidating as much as possible into a single delivery. In advance of the move to the SLC, we have already worked to begin this transition."
The next few years promise to be both exciting and challenging for the Supply Chain team at CHOP. To help ensure that it is as well prepared as possible, the team will be relying on the strong supplier relationships that it has been nurturing as part of an overall strategic plan involving key partners and a multi-level communication approach. Joni said: "Moving into FY22, the team continues to assess sustainability, financial and other risks, and focus on five primary pillars: service expansion, financial stewardship, clinical integration, people and data and analytics."
Throughout the past year, the CHOP Supply Chain team has established a solid platform from which it can launch into the exciting period ahead. A commitment to being proactive vs. reactive, a shared vision with internal colleagues and suppliers and strategy-focused decision-making creates a resilient team that has demonstrated commitment, reliability and flexibility to meet the needs of the children CHOP serves.
Children's Hospital of Philadelphia (CHOP)
www.chop.edu
Services: Children's hospital