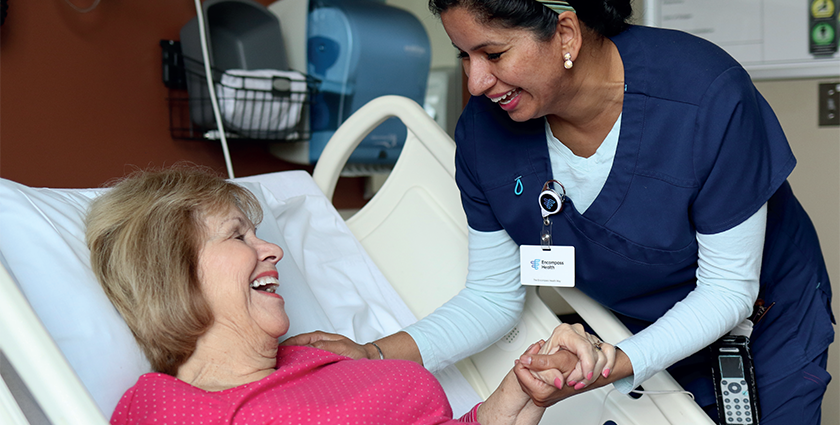 In good hands
As the US national leader in post-acute care, Encompass Health proudly offers a hospital level of care across its rapidly expanding network of inpatient rehabilitation hospitals
Founded in 1984, Encompass Health has been on a varied journey through different post-acute health care fields. In 2007, however, the company divested its surgical diagnostic and outpatient businesses, realigning and refining its processes to create a stronger and more specified purpose. To make that statement of intent more visible, two years before the pandemic hit and changed the health care environment for good, the company rebranded from HealthSouth to Encompass Health, reinforcing its commitment to providing advanced therapy to help patients on their recovery journey following injury or illness. Then, in 2021, the company further solidified its place in post-acute care as the trusted choice for patients, caregivers and medical professionals, providing customized rehabilitative services that exceed expectations and help patients get back to what matters most.
A refined and clearer focus is never a bad thing; in fact, it has proved a wise decision. Today, Encompass Health is the largest owner and operator of rehabilitation hospitals in the US – 152 hospitals are located across 36 different states and Puerto Rico; an ever-growing footprint continues to map its way across the nation.
Last year, Encompass Health discharged more than 190,000 patients across its host of hospitals, which accounts for, approximately, one-in-three of the total US inpatients that received rehabilitative care in 2021. Over 33,000 employees supported these patients on their individual journeys.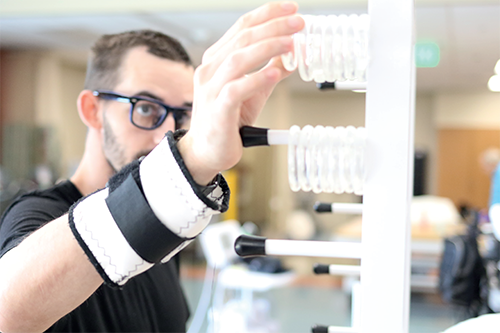 "We have multiple teams of therapists – physical, speech, and occupational – as well as a full nursing and medical staff in our hospitals," begins Elaine Prince, Vice President of Operations Support at Encompass Health, who recently sat down with us to catch up on everything that has transpired since the company's rebrand. "Multiple factors set us apart from the competition; for instance, numerous independent studies demonstrate that inpatient rehabilitation hospitals provide better care for patients that are recovering from illnesses and injuries, including stroke, fractures, hip fractures, brain injuries and other neurological disorders. Therefore, we continue to admit patients leaving acute care partner hospitals that have diagnosed impacts, since we know they can truly benefit from our inpatient rehabilitation setting.
"In terms of what that setting looks like, all our patients receive a minimum of three hours of therapy per day, and that is at least five days per week," she explains. "Therapies include physical, occupational, and speech – or we will offer a combination of all three. Our average length of stay is about 13 days in an inpatient environment; however, of course, that will depend on the patient's individual needs and the therapy they require. Though some competitors might offer standalone hospitals or units within acute care settings, because of our specified focus and purpose, our quality outcomes exceed national standards. Our patients are more medically complex than average, and we perform our rehabilitation services at average or lower cost than other providers. So, really, it is a win-win."
As part of its rebrand, Encompass Health has invested heavily in its existing hospitals to continue to ensure it consistently maintains high standards and levels of excellence. By doing so, health practitioners are better equipped and more able to provide superior, compassionate care for those recovering from a major injury or illness in a state-of-the-art and technologically advanced environment.
Headquartered in Birmingham, Alabama, Encompass Health's nation-spanning rehabilitation centers offer care and best-in-class therapies to patients recovering from illnesses and conditions such as neurological disorders; orthopedic, cardiac, and pulmonary conditions; brain and spinal cord injuries; balance and vestibular rehabilitation; complex orthopedic conditions; pain management; and amputations.
As technology evolves so does Encompass Health. The hospital system leverages its nationwide network of more than 150 hospitals to identify and implement cutting-edge technology designed to support nearly every aspect of patients' recovery following a stroke, brain injury or other major illness or injury. Its expert clinicians integrate these technologies into each patient's care, restoring confidence and building strength to help patients achieve their highest level of function.
Bolstering Encompass Health and its services is a robust supply chain management department: Operations Support. Headed by Elaine, the 14-strong unit tackles the ups and downs of all procurement, supply, and energy operations throughout the business.
"We oversee the standards, agreements, systems, and vendor management related to supplies, drugs, food, equipment, and many other hospital services," Elaine details. "Encompass Health is in the middle of enacting an aggressive growth strategy: we are planning to build up to six to ten further hospitals each year. Naturally, then, we have similarly expanded our department and workforce to focus on expediting that plan with as little disruption as possible. We are currently looking at ways to mitigate disruption, rising costs, and economic downturns, as well as increase the number of emerging critical technologies and supplies that we have access to.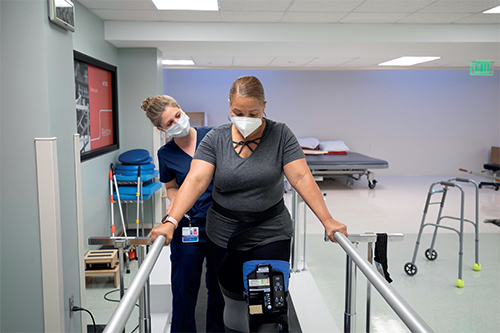 "As a team, we touch almost every department, including therapy and nursing, but we also support functions like pharmacy, nutrition, and facilities management with their supply chain needs," she goes on. "However, our operations can be broadly split into five key areas. One is partnering with regional operations and management to identify core standards and select the best supplies, equipment, and services that our hospitals need through critical evaluation, investigation, and implementation. Next is field operations, and that team helps support both existing and new hospitals with our growth plan; they serve as the first port of call for day-to-day needs and training at our hospitals, but also as the project managers for everything related to supply chain – furniture, budgeting, procurement, installation – that a new inpatient rehabilitation hospital requires.
"Then we have contracting and vendor management, where we are really trying to increase resiliency and foster robustness to ensure our vendors can provide the products we need in a timely and cost-effective fashion. Lastly, we focus intently on the development and capability of our systems; for instance, our recently overhauled and internally owned procurement system enables us to quickly pivot and adapt to current tasks and needs. The system ensures efficiencies are maintained across supply chain reporting, procurement, and analysis, especially amid the post-pandemic shortages and disruptions that we are all currently experiencing," she adds.
Moving further into that post-pandemic period, Elaine tells us that the business plans to invest millions of dollars into state-of-the-art dialysis equipment and robotics, while also refreshing older equipment across the company's vast network of hospitals. In doing so, Encompass Health intends to solidify its status as the number one owner and operator of rehabilitation hospitals in the country.
"Going forward, we will continue to ensure that our employees are engaged, motivated, and feel valued," says Elaine. "Recently, we have amplified our diversity, equity and inclusion efforts to attract and develop a dynamic workforce, supplier base, and overarching community behind Encompass Health.
"I have mentioned our growth plan, and that remains a big focus, particularly in areas of the US that are underserved from a rehabilitation perspective," she concludes. "As we are on a journey of continuous improvement, we will also invest more in our technology, software, and equipment to make sure that our patients know they are always being provided high quality of care at one of our hospitals."
Encompass Health
https://encompasshealth.com
Services: Post-acute rehabilitation hospitals