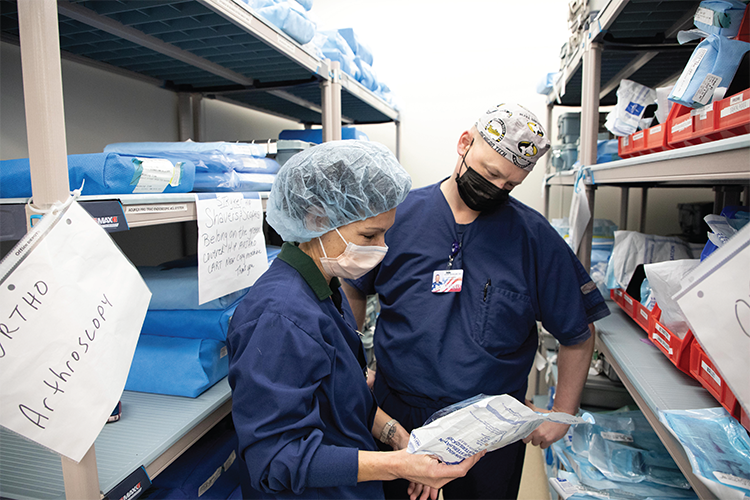 Tricks of the trade
Managing a supply chain has not been easy over the past two years. However, Michelle Taylor Bay shares how Freeman Health System has managed to get it right in order to continue to care for patients in Missouri and neighbouring states
Freeman Health System (Freeman) has evolved impressively over the last 97 years. What began as a single hospital has now matured into a three-hospital system including major services, and supporting nearly half a million people within a 100-mile radius. Although it is based in southwest Missouri, the operation also has roots in Kansas and Oklahoma. Freeman hosts more than 320 physicians who represent over 90 specialties, alongside two urgent care units, clinics, and specialized services that include cancer care, cardiac care, neurology, nerve surgery, orthopaedics, children's services, and women's services, to name a few.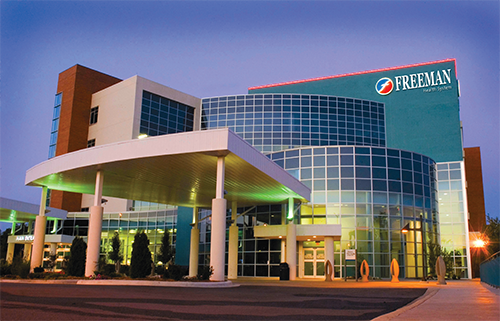 In 1996, Freeman obtained Ozark Center, the largest behavioral care provider in the area. Then, in 2008, the business also opened the Bill and Virginia Leffen Center for Autism, which provides autism services for children and teens. It also launched Will's Place in 2012, which provides behavioral health services for individuals from birth to age 21. During this time, Freeman also introduced a cancer institute, and a women's center for comprehensive gynecological and obstetrical services.
One particularly outstanding facility is Freeman Heart & Vascular Institute. This was followed by its Lung Institute in 2017, where Freeman was, again, the first in the state of Missouri to offer MONARCH® robotic bronchoscopy for the early detection of lung cancer.
We speak with Michelle Taylor Bay, who serves as the Director of Supply Chain to learn about her experience in working with a health care specialist that continually strives for success, regardless of the challenges: "In terms of my role, our supply chain consists of a materials management department, where we have two analysts and a clinical coordinator. We then have our purchasing department where we work with buyers, and warehouse staff, as well as the couriers that we manage.
"Finally, there's our central supply managed by our inventory specialists; they also manage equipment and linen. I have two contract analysts that assist me with our return on investments and contract price files. My goal is to reach the tenth percentile of best pricing for hospitals like ours, especially in categories where we are highly committed to our vendors," Michelle says.
Michelle has worked hard to strengthen her relationships with Freeman's physicians in order to improve communication between the needs of the patients and the delivery from the supply chain. "I regularly attend each specialty's strategy meetings, and I meet with those physicians to present them with potential opportunities, or to hear their input."
Michelle then goes on to share an instance in which she partnered with the physicians to offer an excellent product for the patients at an affordable price: "We work very closely with the supply chain to improve how we negotiate and manage our standardization. They are responsible for providing the best possible care for the patients, so as we work in tandem with them to ensure they get what they want for their patients, we also ensure the best value for money.
"We recently went over our recon orthopaedic and trauma categories. Freeman physicians have been dedicated to the same supplier for those implants for approximately 12 years, but recently, the pricing hasn't been favorable. So, I worked with my analyst to put together a review of the finances, and we solicited competitive bids from a couple of our vendors.
"We then went to the physicians with the financial opportunities that were out there and asked for their support to negotiate new pricing for a good contract that would be favorable, and we won that contract! We met our benchmark, we made a commitment to them for three years at a 90 percent level, and they worked with us on pricing. I feel that this was a great example of how we value that strong partnership with the vendor, and we were able to reduce the cost, which in today's economy, is extremely important.
"As a healthcare system, we are a little different. We can't go to our funders and ask them for an increase in pay because the market has changed. We receive government medical care, and they set those payments. They're not going to give us an increase just because shipping and freight went up, or the cost of raw materials jumped, so we have to find ways internally to reduce our cost and think outside the box," Michelle explains.
Of course, vendors also have their own cost liabilities. With this in mind, Michelle has to strategize fairly to ensure both parties are happy with the outcome of the negotiations. A more recent example, as she shares, involves the company's linen provider:
"We have had the same linen provider now for about eight years and in our recent contract, which we are about halfway through, they came and asked for a price increase because of fuel costs. We talked with them, and we understood their frustrations. We value our partnership with them, so we discussed the best way to move forward. We suggested to possibly reduce the number of their deliveries, and we would find a way internally to manage more product; that way, they don't have to deliver to us as frequently. They were delivering six days a week, which was their concern. They agreed that was a great idea. They won't have to pay folks for the additional day over the weekend, and they won't have to make that extra delivery, so they were very appreciative. So, maintaining that strong partnership helped both sides.
"We want them to be confident that we know our facts – that we have accurate and reliable information whenever we enter into agreements. This is why we advocate working closely with them. We have quarterly and annual reviews to ensure everyone is communicating effectively, and that the relationship remains mutually beneficial. Often, the supply chain is actually the liaison between physicians and suppliers regarding issues or questions, so we try to buffer that communication to keep things strong."
This approach proved invaluable over the last two years when the pandemic imposed extensive consequences on the supply chain, and required Michelle and her team to pull together to overcome the challenges.
"We did face shortages and allocations," says Michelle. "So, we had to seek out unique vendors. Just like in my earlier example, vendors are coming to us now, mid-contract, because they want to increase prices as a result of rising costs in raw materials. We are pushing back on those as much as we can for the same reasons, because we can't ask for money. We put together a team with clinicians and support staff to manage and maintain those supplies that are in very tight demand to work through those obstacles, and I feel very pleased about how successful we were to continue to serve our patients."
Continuing on the topic of achievements of the industry, and in bringing our conversation to a close, there are a couple of aspects that Michelle is excited about regarding the future of the business, particularly the increasing presence of women in managing the supply chain sector.
"There are many times when I am the only woman at the table," says Michelle. "Our CEO does happen to be female, as well, but in many meetings, we are frequently surrounded by men. Although I don't let that interfere in my objectives, and I handle it with grace and poise and continue to make sure I am doing the absolute best, it can be challenging. Thankfully, those circumstances are slowly changing and I am noticing that a louder feminine voice is being recognized within the industry."
In the coming year, customers can expect Freeman to improve its supply chain efficiency and financial impact significantly as it continues to review opportunities. "We are leaving no stone unturned. Post-pandemic, we are striving to strengthen our relationships with vendors and suppliers through our continued regular communication reviews, and we have seen some impressive success. Looking ahead to the next five years, I expect our supply chain to grow significantly alongside our health system. We have also recently expanded our facilities in southeast Kansas, where we are providing advanced cancer services, as well as a cancer institute in the same area, so we are growing by leaps and bounds and super excited about what's to come in the next five years," she concludes.
Freeman Health System
https://www.freemanhealth.com/
Services: Healthcare