George Washington University Hospital
Presidential care
The George Washington University Hospital, a busy academic medical center, relies on a strong, seasoned and deeply caring supply chain team to preserve its tradition of quality
Minutes from Washington DC's tourist sites and government headquarters, The George Washington University Hospital (GW Hospital) serves a diverse group of patients – from area residents to visiting dignitaries and heads of state. Built on a century-long reputation for quality, and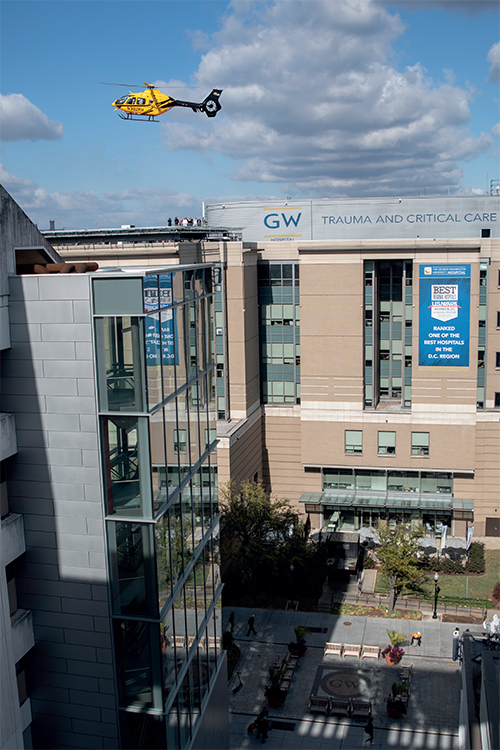 benefitting from advanced medical equipment and technology, the hospital has earned its community's trust and gained recognition as the region's first choice for complex medical care.
Like all medical facilities, GW Hospital relies heavily upon its supply chain in order for it to continue delivering consistent, quality, life-saving care. The facility's ongoing effectiveness is testament to its strength in this area and to the supply chain team it employs. Heading up this group is Nikki Colletti, an inspirational leader with more than 25 years' industry experience and a Master's Degree in Health Services Administration from George Washington University.
"As Director of Supply Chain Operations, I oversee procurement, purchasing, sourcing, contracting, distribution, receiving, finance management, the copy center, and mail services," Nikki explains. "I've actually been with GW Hospital for 28 years now, starting out in the emergency department and working my way up through interventional radiology, Cath Lab, laboratory services, and purchasing before ending up in my current role around 17 years ago."
Today, in 2021, Nikki leads a well-knit team of 25 experienced professionals who work closely and seamlessly together thanks to a culture of loyalty and trust. According to Nikki, an emphasis on relationship building, both externally and internally, has always been paramount.
"Our purchasing team here has an average tenure of 20 years, so we have all been together a really long time," Nikki reveals. "Even when people leave, they tend to find their way back to us, and it means we have been able to spend a great deal of time building relationships in-house and with our vendors."
"We have incredibly strong relationships with our vendors," echoes Purchasing Manager Rosslyn Fanning. "We have their personal phone numbers and we know that, if we have a crisis at any given time, we can reach out to our vendors and they will do everything in their power to assist."
Even for supply chain veterans like Nikki and Rosslyn, the last 18-to-24 months have been incredibly taxing due to the difficulties presented by Covid-19. However, reflecting on the obstacles thrown up by the pandemic, Nikki is proud of how her team reacted and rose to the challenge.
"Looking back on the pandemic, I think we did really well to maintain our high level of service and come out of it in the way we have," Nikki declares. "Thanks to our relationships with prime distributors, our response was pretty incredible. Partners reached out to us straight away to see how they could help and we were able to get supplies in very quickly, which meant we could immediately start building an inventory.
"In general, we are quite short on storage capacity at GW Hospital so we had to rely on our partnership with the university to give us extra storage space," she adds. "As we continue to expand, we have recently taken on a contract with a local warehouse through one of our partners. It's been vital for us to make use of storage solutions experts in order to stay on top of our inventory and ensure we have the necessary items available for quality patient care at all times."
To make the most of its relatively small footprint, GW Hospital employs a carousel system that can hold and locate around 75 percent of the facility's inventory. Operating in a similar manner to a dry cleaner conveyor system, the carousel can – on receiving information from a coordinator – pick and present them with any items for up to four units at a time.
"That piece of inventory equipment has been increasing our overall efficiency for many years now," Nikki states. "Other technologies proved very useful during the pandemic too, including package tracking, which allows us to improve the efficiencies behind deliverable products. On the back of these systems, we are now looking to introduce real-time asset tracking information, which we hope will be in place by early to mid 2022."
While GW Hospital's supply chain team has worked tirelessly over the course of the last two years to help maintain the facility's high level of performance, Nikki has been overwhelmed by the support her team, has been afforded by the local communities, regional and university communities.
"Across the board – from Leadership, through the university community, and out to our corporate peers – the support has been incredible," she affirms. "As a member of Universal Health Services, which is an independent delivery network, we were kept abreast of what was going on across the nation and able to share knowledge and resources when needed. The ability to leverage those types of resources was pretty powerful and we enjoyed similar perks more locally, where we are part of a regional coalition.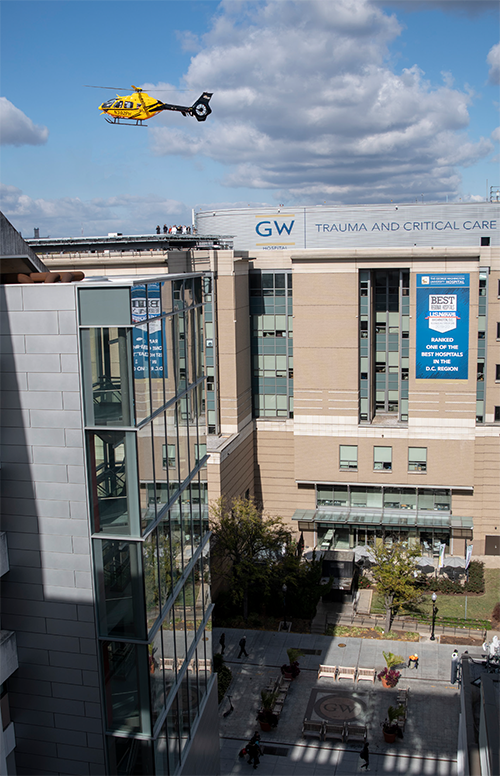 "Our largest suppliers, in particular, have been a huge source of support," Nikki continues. "Throughout the crisis, we communicated with them every day, Monday to Friday, to go over orders and areas that could potentially be a problem, just to make sure we were ahead of the curve. Honestly, we couldn't have done it without them."
Looking back on what has, understandably, been a tumultuous two years for GW Hospital's supply chain team, Nikki is able to highlight a number of valuable areas in which the group has thrived. Atop of this list? Teamwork.
"I have always been aware of it, but after the pandemic I can truly appreciate the importance of being part of a strong team," Nikki asserts. "Similarly, I have always thought I was a good leader, but the crisis has helped me become more aware of the fact that, to be a great leader, you have to appreciate and respect teamwork. By this I mean you have to learn when to lead and when to step back. You have to be flexible enough to take on different roles and understand that you and your team are all in it together."
No matter what GW Hospital's supply chain team has encountered during the Covid-19 pandemic, the group has stayed true to its mission of putting patients first. The emotion is clear in Nikki's voice as she reflects on the vital nature of her team's work, and the people that spare no effort in making sure that it is done right.
"When I look back on what we have been through over the last two years, and how we have come together for the community, I am so proud of what we have accomplished," she proclaims. "One of the biggest takeaways is the fact that we all have the ability to save lives and heal people no matter what role we serve. Whether you are in a hospital or not, if you are passionate and kind, then we can get through the toughest times together."
In the next year or so, Nikki plans to modify and modernize her team's job descriptions, as well as adding the aforementioned tracking and forecasting technology, and introducing a more centralized warehouse facility. Though the longer-term future is more difficult to predict, the focus of GW Hospital and its supply chain team will remain the same – to continue caring for patients and healing the community.
"Everything we do at GW Hospital comes about from looking at problems and potential improvements through the lens of the patient," Nikki says. "Our whole team feels this way and I am so proud to be a part of this group because it really feels like a family. I am truly grateful for the support we have had from HR and our leadership team in the last two years, and now I believe we can focus on growth.
"GW Hospital," she concludes, "brings our community together and it feels like home to so many of us that work here. From the supply chain end, we will continue to ensure our physicians and our clinicians have the right materials available to them for the treatment of patients, and as a group and a community, I just hope we can keep caring about each other as people."
George Washington University Hospital
www.GWhospital.com
Products or Services: Hospital