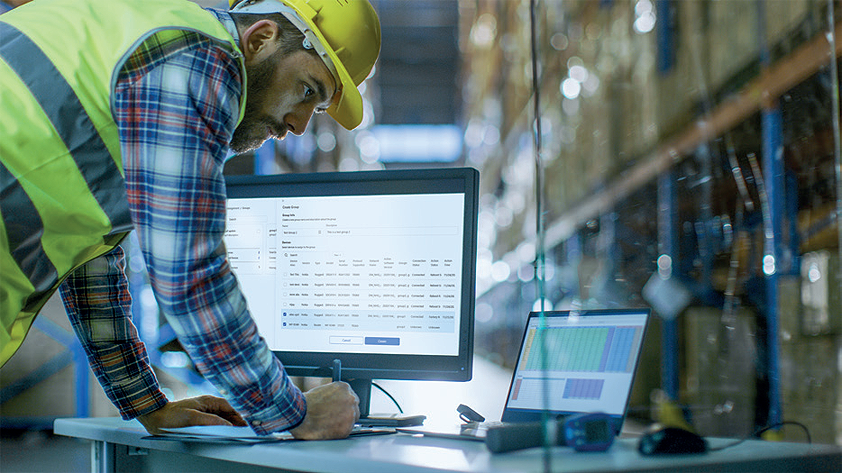 As vaccination programs take effect, the light at the end of the pandemic tunnel begins to glimmer more brightly. For warehousing, it also casts light on imminent investment decisions to be made. Right now, industry impetus is behind bigger warehouses. But is there also a case for warehouses getting smarter, as well as larger?
Supply chain has been under the spotlight for more than a year. Too much or too little inventory, challenging staffing arrangements, an instantaneous boom in e-commerce, combined with an equally immediate shift to omni-channel have each contributed to supply chain stress.
Many industry experts are focusing on long-term predictions about how to face the future. In some quarters, it's suggested that a reset of near-shore and offshore logistics can reduce localized over-dependency. Elsewhere, it's proposed that just-in-time manufacturing, and associated hyper-lean supply chain, has maybe got a bit too lean. But these strategic decisions are multi-year shifts that will take time to implement. In the nearer term, warehousing needs to find other ways to drive capacity and productivity.
Floorspace growth
One identifiable trend is projected growth in warehouse space as part of the response to changes in purchasing patterns. Brands such as Aldi, Asda and Lidl have all increased capacity and hired additional warehouse workforce. And with companies like Amazon Prime and Walmart now offering next-day delivery, this too drives the need for more warehousing physically closer to the end customer.
In Europe, according to a Savills research report based on Capital Economics forecast data, we could see an additional 11.6 million square meters of warehouse demand by the end of 2022. And, based on a JLL Real Estate projection, predictions indicate that total warehouse stock in India will increase by more than 75 percent between 2019 and end of 2023. The same organization asserts that demand for industrial real estate in the US could reach an additional one billion square feet by 2025.
So, one near-term response is more space. Add in a growing number of retail-to-industrial conversions, and warehousing looks like it's getting bigger. Much bigger. While such investments represent logistics growth, which is good, the question remains – what other measures can warehouse managers take to help resolve their near-term flexibility and capacity conundrums?
Technology enablers
The answer may perhaps lie in logistics warehouses themselves. They provide a logical starting point for quick wins by introducing new approaches and reworking process workflows. For some warehouse operators, the future is already underway with early adopters applying robotics and automated processes to drive productivity, control cost and make the most of available space. For the new starter in automation, three essential technology enablers need to be considered.
First, location-wide, high-bandwidth connectivity. Warehouses can be now be outfitted relatively quickly and cost-effectively with 4G or 5G private wireless networks that extend throughout the operation and can communicate with other warehouse locations. High performance wireless broadband connectivity is necessary to provide the platform for efficiency-driving solutions that run over the top.
There is one thing to note here. From user experience, we learn that Wi-Fi does not withstand the rigors of a smarter warehousing experience. Continuous coverage aside, there are fundamental differences in performance between Wi-Fi 5/6 and either 4G or 5G.
In practice, 4G and 5G private wireless networking delivers lower round-trip latency and greater scalability than Wi-Fi, enabling warehouse automation projects to come into their own. This faster, more reliable, uninterrupted connectivity is essential to deploy massive Internet of Things (IoT) – with IoT being the second technology enabler essential to warehouse transformation.
IoT and analytics
Apply IoT, and all devices, machines and people in the warehouse can be connected. This enables robots and other automated systems to move around, track and position assets as well as complete tasks such as packing, assembly, inventory and cleaning. Other applications include wireless HD video feeds, autonomous guided vehicles, augmented and virtual reality.
The third technology enabler is analytics. Data analytics-based systems help leverage IoT intelligence to monitor worker safety, predict adverse supply chain events, assess alternate workflows and proactively monitor system maintenance requirements.
Analytics also open the door to asset management systems that predict maintenance needs and automatically shift flows to ensure optimum system performance with little or no disruption. At the same time, predictive systems can assess the potential impact of unprecedented supply chain events, and leverage digital twins to plan, test and propose measures that ensure continuity. Analytics also provide real-time transparency, making it possible to respond quickly to changing supply and demand conditions, providing flexibility and resilience without sacrificing cost optimization.
Supply Chain 4.0
The array of smarter solutions on offer with warehouse digitalization and automation is dazzling. But it makes business sense too. By moving towards greater automation, and use of robotics, it is estimated that warehouse operators can save up to 70 percent in overall operating costs while meeting customer service needs and achieving greater flexibility.
The notion of Supply Chain 4.0 has been discussed for years by logistics strategists and innovators, but mostly as a 'someday' project. The issues raised by pandemic fallout have however, prioritized the need to accelerate Supply Chain 4.0 automation.
Of course, warehouse operators will continue to invest in larger facilities to meet short-term needs as supply chain enters a new fluctuating, consumer demand-led era. But they also have the opportunity to take initial steps into Supply Chain 4.0. And in doing so, yes – warehouses can be big, but they also can be clever.
Thomas Hainzel, Head of EMEA Manufacturing & Logistics at Nokia Cloud & Network Services, leads the business development and segment sales for factory digitalization, smart manufacturing and supply chain logistics. He currently focuses on infrastructure, platform, application and service solutions in the domain of private wireless networks, 4G/5G technologies and Industrial IoT.
As a trusted partner for critical networks, Nokia is committed to innovation and technology leadership across mobile, fixed and cloud networks. It creates value with intellectual property and long-term research, led by the award-winning Nokia Bell Labs
www.nokia.com/networks/industries/supply-chain-and-logistics/