Get to know Fortune 500 company Cardinal Health and how it came out of the pandemic stronger than ever
Pivoting to perform
Founded in 1971 as a food wholesaler in Ohio, Cardinal Health is one of the largest healthcare companies in the world. There is a discernible gap – in time and logic – between those two clauses. Let's back up slightly. How did a food wholesaler swap the distribution of garlic cloves for surgical gloves?
Tanja Gorman, Vice President, International Medical Products and Distribution Supply Chain at Cardinal Health, shares how the titan of healthcare – which is 15th on the US Fortune 500 list, and amasses over $162 billion in revenue each year – established itself as a leading medical product company, by leveraging adept supply chain management and a highly focused international commercial strategy.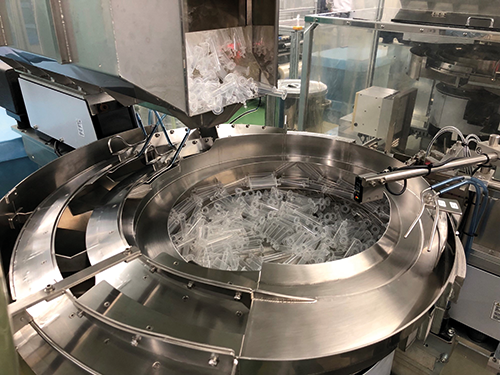 As she explains, by the late 1970s, the founder of Cardinal Health, Bob Walter, understood that the US food industry was consolidating. In response, he saw (and eventually took) opportunities to expand into healthcare, recognizing that there were actually a number of similarities between distributing food and medical products. His initial foray came in 1979, when he acquired a 50 percent stake in Bailey Drug Company, a small Ohio distributor. It was the first in a series of acquisitions of healthcare product and distribution companies.
All of this has helped to shape and transform Cardinal Health into the company it is today: a global, integrated medical products business with approximately 44,000 employees in over 40 countries. The company, which is globally headquartered out of Dublin, Ohio, with a European headquarters in Dublin, Ireland, and an Asian one in Singapore, seeks to bring value-based products and logistics solutions to healthcare providers around the world.
Cardinal Health's International Medical Products and Distribution business, which oversees the company's commercial medical product activities in North America, Latin America, the Asia-Pacific, Europe, the Middle East, and Africa, has a comprehensive product portfolio of medical solutions for wound care, venous thromboembolism treatment, enteral feeding, surgical gloves, surgical kits, fluid management, and wound drains. An industry-leading healthcare products manufacturer, the company is also well-known for its range of distribution and supply chain services that have been carefully designed to improve operational efficiency and financial performance of healthcare organizations, while also reducing the cost of care.
"One of the most significant milestones for the company in recent years was the acquisition of Medtronic's Patient Recovery business in 2017," says Tanja. "Effectively, this move doubled the size of our medical products business and significantly expanded our global commercial footprint. Our aim is to be healthcare's most trusted partner, building on our scale and heritage in distribution, products, and solutions, while also focusing our resources on what matters most. Through our manufacturing, sourcing, and commercial activities, we always endeavor to make a difference to the health and wellbeing of patients across our international footprint – each and every day."
Indeed, ultimately, at the center of everything is the customer. Its focus on supporting its healthcare customer is the foundation upon which the company innovates and invests – and both ensure its success. Tanja points out, that even its research and development processes are built around customers and patients.
Collective effort
"We have adopted an approach that is centered on the customer," she explains. "Therefore, we see this as a kind of customer-centric innovation. In this process, organizations focus on creating solutions based on a deep understanding of their customers – their business challenges, their work needs, and their concerns about patient safety.
"If you are part of a company that prioritizes the customer experience and end-user wellbeing, then the best way to deliver innovation that matters is to address both customer and patient challenges," Tanja continues. "Consequently, we have focused new product development around improving patient outcomes, and product functionality for healthcare professionals."
One key period of time during which that focus really came to light was during the pandemic. Since Cardinal Health's International Medical Products and Distribution business believes in anchoring its commercial efforts on improving the customer experience (and thus drive company growth), when the pandemic hit, the healthcare titan worked hard to identify areas of need where it could pivot to help.
"When Japan was having marked difficulties in procuring syringes for its Covid-19 vaccination program, we began manufacturing syringes at our Fukuroi plant," reveals Tanja. "This was incredibly important for the program, and we not only lived up to our brand promise of being essential to care, but we also found an opportunity to grow our business in a new area.
"Another example is how we worked with the provincial government of Quebec, in Canada, to provide N95 masks for all their hospitals," she adds. "We had a deep understanding of our customer's needs and were able to secure this key contract by being customer-centric, leveraging relationships, and working together across functions as one team, which contributed to success."
At this point in the conversation, it is clear that the pandemic and all the highs and lows of the last two years have become a source of great contemplation for Tanja. After a pause, she goes on: "What has touched me deeply is not only the level of commitment and care from healthcare professionals over the last two years, but also the fact that they stopped to thank us for our support and the role we play in patient care.
"We all know that global supply chains across all industries have been very constrained, and our supply chain partners stood up to be counted when it mattered most, securing the fastest product flow to our customers," Tanja details. "The support of our partners enabled us to come up with new ways of working to continuously mitigate new challenges, enabling us to keep supporting our customers across our international footprint.
"While the pandemic is mostly behind us, our environment is evolving and different challenges are cropping up and gaining further momentum," she notes. "Yet, it is important that we take on board the lessons from the last two years and continue to strengthen both our resilience and agility. It is also important to acknowledge the great work that has been done and say thank you to our customers, partners, and teams, whose collective effort have supported patients."
Though it has come through the pandemic strongly, Cardinal Health International Medical Product and Distribution was not immune to the global challenges of commodity shortages and container and vessel capacity constraints. Nevertheless, it focused on expanding its supplier base, supply chain visibility, and on strengthening its bonds with partners and customers. "The biggest lesson we learned from managing unforeseen supply chain issues was the importance of collaboration, with both supply chain partners, and our customers," Tanja admits. "We knew we would be working in a constrained environment and that information was key. Therefore, we moved our Sales and Operations Planning (S&OP) from a monthly to a weekly cadence and our Sales and Operations Execution (S&OE) from a weekly to daily model, working up demand scenarios on an ongoing basis through the different waves of the pandemic.
"To meet the growing demand for medical products following the outbreak of Covid-19, we re-evaluated our entire supply chain," she goes on. "We changed sourcing practices to limit our geographic concentration and expanded our self-manufacturing capabilities to increase production capacity of isolation gowns, surgical, procedural masks, and face shields.
"We utilized predictive analytics, with support from a local university, to develop additional visibility tools and enable a better and faster flow of information to our customers," Tanja adds. "Our pipeline of initiatives was reviewed, deprioritizing some to enable focus on immediate customer needs. We invested in the Kinaxis RapidResponse platform to increase medical product visibility, thereby allowing us to view our entire supply chain in real time to proactively mitigate and minimize potential impacts. Our ability to support our customers was a direct result of fast decision-making, and the immediate implementation of activities that supported our employees. None of us knew how long the pandemic would last, but acting with urgency was a key differentiator.
"While we continue to learn together, adapting yet again to a new hybrid working environment, we remain true to our mission to 'improve the lives of people every day', which is anchored in our belief in Diversity, Equity and Inclusion. That's why even at the height of the pandemic, we chose to celebrate Cardinal Health's 50th anniversary by stepping-up our commitment to addressing local concerns in the communities where we operate. Despite the myriad of Covid-19 restrictions, our employees were able to contribute more than 50,000 hours of support to our communities. We also continued to invest in new environmental and sustainability initiatives at our corporate offices and manufacturing sites, because we believe we have a role to play in helping to address climate change, and to ensure a healthier planet for generations to come. It's essential that we do our part."
As our conversation has made clear, Cardinal Health's International Medical Products and Distribution business has adopted a focused growth strategy to not only transform itself into an industry leader, but to also help others. It has optimized its footprint and streamlined its supply chain, which has allowed the company to better focus its commercial efforts on delivering the right products to the right markets at the right time.
www.cardinalhealth.co.uk