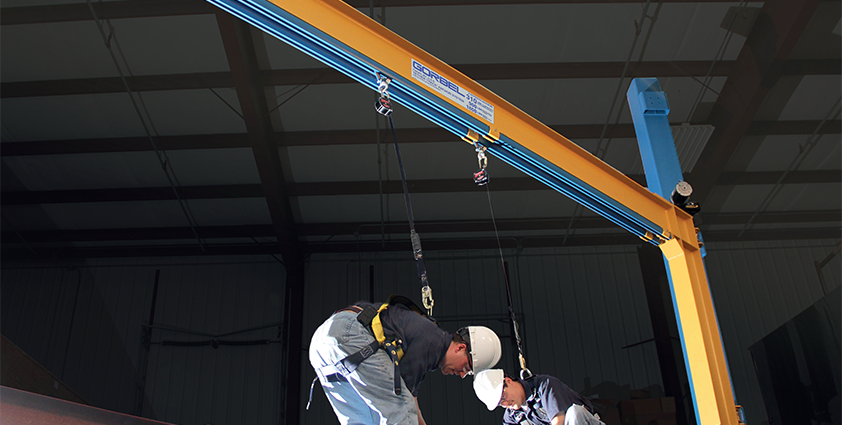 A class above
Since 1977, Gorbel has used its advanced range of overhead and warehouse material handling solutions to protect the things that matter most
Having started as a small operation in Western New York, Gorbel is now a leading supplier of overhead and warehouse material handling solutions, with over 800 employees, and multiple manufacturing locations worldwide. The company constantly seeks out new ways to elevate its products and processes, in order to meet the evolving needs of its customers. Today, Gorbel continues to grow, thanks to its innovative use of the latest technology, and positive, collaborative working culture.
Gorbel has been family owned and operated since its inception. Its founder was motivated by a desire to change the way supply chains were managed across the industry. "Gorbel was founded back in 1977 by Dave Reh, who was the father of our current owner and CEO, Brian Reh. Dave had a background in selling material handling equipment, and he was frustrated by a lot of his vendors. Supply chain was the driving force behind why he started Gorbel. He wanted a better experience for his customers while also growing a small business where his employees could grow and succeed.
"His dream of a company with ten-to-fifteen employees grew into the international company we have today. We have our headquarters and main manufacturing facilities in Victor, NY with another production facility about 15 miles away, and then we have additional manufacturing in Pell City, AL; Goodyear, AZ, Elmira, Ontario, Canada; and in 2006, we opened a plant in Tianjin, China to serve our customers in Asia.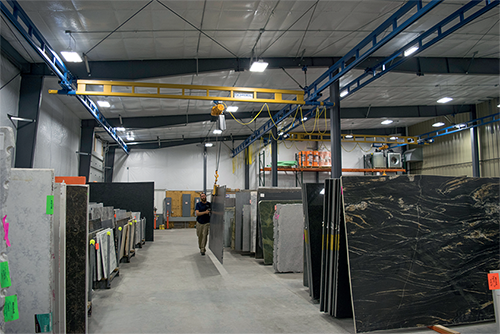 "For most of our years in business, we focused on overhead material handling solutions to move parts through the production process, so our product line was mostly jib cranes, workstation cranes, and gantry cranes. Then in 2012, we started making Tether Track Fall Arrest Anchor Systems, and in 2020, we purchased a Canadian company that makes Destuff-it™ and Restuff-it™, portable ergonomic conveyors to help warehouses and distribution centers safely and efficiently load and unload containers. Now we have this comprehensive portfolio of products that can help companies protect what typically matters most – their people and products," discusses Chuck Surowiec, Director of Supply Chain at Gorbel.
Throughout its long history, Gorbel has become an important part of its local community, and received numerous accolades. "We have been recognized as one of the top 100 fastest growing companies in our area over 20 times in the last 45 years. So much of that can be tied back to our commitment to reinvesting in the company, our people and our technology.
"Gorbel was built on a foundation of continuous improvement. We have a long history of really listening to our customers and acting on what we hear from them, whether it's how to make an existing product better, how to improve our service or what kinds of new products we should add to our line-up. Our customers know we listen to them, they know their feedback matters, and that builds loyalty. Those loyal relationships fuel growth, too," enthuses Chuck.
"Even with that though, the award that has meant the most to us is the ETHIE Award we got in 2019, which recognizes companies who are living out a commitment to high standards for ethical behavior. Integrity is such a huge part of who we are and to be recognized for that was really special."
The company's strong reputation is built on its ability to provide effective, reliable and high-quality services. With products ranging from shop cranes to ergonomic lifting, Gorbel ensures its customers safe and comprehensive support. As Chuck affirms: "Everything in our product line is geared towards making it safer and easier for people to move heavy loads around. We look at our products as either warehouse solutions or overhead solutions.
"The biggest piece of our warehouse solutions side is our Destuff-it™ portable ergonomic conveyor that's used in warehouses and distribution centers to load and unload storage containers. Our overhead solutions include products like workstation cranes, jib cranes, gantries, and hoists to move parts through the assembly and production process. We also have a line of Tether Track Fall Arrest anchor systems to keep workers safe when working at height, and a line of Shop Crane overhead crane systems that's aimed at residential garages and workshops to make things safer and easier for folks working on their car or recreation vehicles."
Constant innovation also means that Gorbel is able to extend its portfolio to meet changing industry demands. Responding to the rising popularity of ergonomic tools and vehicles, the company continues to improve its overhead handling products while also branching out into a new line that also focuses on safety and efficiency. "Ergonomics is huge today and companies are really conscious of the personal and financial consequences from back injuries, shoulder injuries, and overuse strains from lifting and turning the body over and over throughout an eight-hour shift.
"This is really an issue for the folks loading and unloading storage containers and trailers at warehouses and distribution centers day in and day out. Our Portable Ergonomic Conveyor Systems, the Destuff-it™ and Restuff-it™, are designed to help workers load and unload containers and trailers faster. The Destuff-it and Restuff-it help your dock personnel safely and quickly move packages up to 165 lbs. Operators experience more throughput and greater handling capacity with less fatigue, less muscle strain, and fewer injuries because of optimal positioning to the box wall. And we're not just making it safer – the Destuff-it has helped companies cut the cost to unload trailers by 50 percent. That's huge when you think of how many trailers a business could be loading and unloading every day.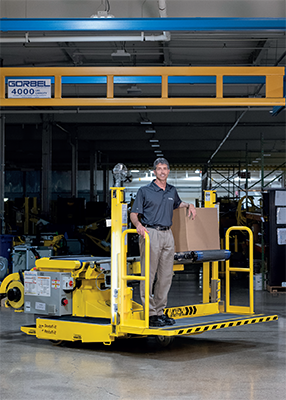 "The portable ergonomic conveyors are our primary focus at present, and we will likely extend this line based on feedback from customers. Additionally, we are offering a line of cascading belt conveyors, which provides tremendous flexibility to users when designing complete systems within a warehouse or distribution center," comments Chuck.
Remaining nimble and responsive has also helped Gorbel overcome numerous supply chain issues over the last few years. As Chuck details: "Managing through the myriad supply chain issues has been more than a full-time job. Somehow, our supply chain team finds a way to make it happen. They work together and have strong cultural values that pull us through the toughest of times. The culture starts at the top and permeates throughout the entire company, it was the primary reason I decided to come to work for Gorbel after retiring from my previous employer. No finger pointing or assigning blame, just identify the problem, find the solution, and get it done."
This collaborative approach has also helped Gorbel build strong, long-lasting relationships with suppliers. "Most of our suppliers have truly embraced the term partnership. I continue to be amazed at how we are able to work together through this dynamic environment in an effort to mutually benefit and to provide a positive customer experience," Chuck confirms.
With ongoing projects in a variety of sectors, Gorbel continues to thrive. Looking forward to the future of the company, Chuck concludes: "There is a lot of uncertainty in the world, ranging from supply chain shortages to the impact of the war in Ukraine on energy and raw material costs. So, we need to be agile and adjust to these unprecedented times. Even with the many challenges, customers are still requesting Gorbel products at a rapid rate, so expectations remain high that we will continue to meet the stringent requirements of our customers.
"In the long term, we aim to keep our leadership position in overhead cranes and lifting equipment while enhancing our offering in this traditional side of our business. Simultaneously, we intend to increase the awareness of the Destuff-it™ and Restuff-it™ product lines in order to expand our base in distribution centers and warehouses. We see tremendous potential for all facets of our business."
Gorbel
www.gorbel.com
Services: Overhead and warehouse solutions