Evergreen convenience
Distributing goods to more than 3000 convenience stores and restaurants across the western United States, Harbor Wholesale is proof that looking local and caring for communities can lead to a century of success
As the forests of the eastern United States became depleted during the early 1900s, loggers made the long journey across the country to the Pacific Northwest – a land of towering trees and abundant resources. one hundred miles west of Seattle, Grays Harbor County, Washington, was one such logging hotspot. The region was also home to Carl V Erickson, who, having founded West Coast Produce Co in 1923, enjoyed great success distributing butter, eggs, cheese and grocery products to the local lumberjacks.
In the years that followed, West Coast Produce Co was passed down through the Erickson family, evolving from a local foodstuffs firm into a key supplier for the convenience and restaurant
industries throughout Washington, Oregon, Idaho, Northern California, and Alaska. Today, in 2021, the business is known as Harbor Wholesale, but its mission remains the same as it was in 1923: to deliver value to its customers and team members, with an emphasis on service, innovation, and market expertise.
"In just two years' time, Harbor Wholesale will be 100 years old," declares Dan Willows, the company's Vice President of Procurement and Category Management. "Currently, the company is led by Justin Erickson – the fourth generation of the Erickson family to run the business – and we are located only 60 miles from our original location in Grays Harbor. After investing in a host of technological advancements and new warehouse space, we broke the $100 million sales mark in 2000 and find ourselves approaching the $1 billion mark in 2021."
Diversifying as part of its growth, Harbor not only distributes to more than 3000 independent convenience stores, but also a range of quick-serve restaurants, including branches of Subway and Taco Time. Recently, Harbor added Carl's Jr. restaurants to its portfolio, taking food service activities to 12 per cent of the company's overall business. The welcome addition of Carl's Jr. capped a successful 18 months for Harbor that saw the company grow by 8.5 per cent, despite the obstacles presented by Covid-19.
"Early on in the pandemic, one of our competitors in the East realized they could no longer service many of their customers due to other commitments, so they came to us looking for a partnership. We accepted and, overnight, we were supplying a huge number of new convenience stores, which just shows our willingness to adapt to enjoy more growth," Dan says. "In a similar way, we got really good at helping our clients pivot to alternative items during the pandemic; so, when Tyson Foods and other vendors started to struggle with supply, we were able to source elsewhere and keep the supply chain flowing.
"We also switched our live shows to virtual shows, which led to record sales because we reached customers we wouldn't have reached previously," Dan continues. "We learned a lot in the pandemic, and initiatives like virtual shows will continue to be used in the future. The most important takeaway though was our flexibility and willingness to adapt. It meant we grew throughout the pandemic and facilitated the boom year we are experiencing now."
Operating from two modern distribution centers and three satellite locations up and down the West Coast, Harbor continuously updates its in-house technologies and processes to stay at the head of the market. For instance, in 2021, the company has introduced a new buying system that will improve forecasting of customer needs. The firm is also in the process of developing the Harbor Hub, a mobile application that will offer clients unprecedented access to Harbor's product range and latest promotions.
"Harbor Hub will allow clients to use their phone or iPad to view items and create orders," Dan states. "If customers are missing an item or looking for the best item in a category, they can find it through this software, on their phone. It's a digital asset that is going to make us a lot better."
Even as Harbor grows and evolves, the company is determined to maintain its family culture, building on the core values that have allowed it to rise to the top. Friendly, Resourceful, Genuine and Motivated, Harbor has always regarded the success of its customers, and the welfare of its employees, as an 'obsession'.
"I have been here for three years now and I can safely say that Harbor is the best place I have ever worked," Dan asserts. "Empowerment is a key part of the culture, and so is the desire to see employees achieve. Everyone is treated like a fellow family member here, whilst being given the space to take ownership of their work.
"On the customer side of things, frequent, meaningful communication is a hallmark of what we do and why we have become so successful. We collaborate with our vendors and partners a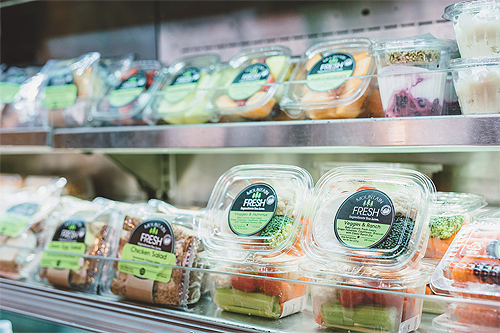 lot, helping us both to fulfill our mutual goals. We figure out solutions together, in partnership, and I think that is really critical in today's business world."
Thanks to its closeness with vendor partners, Harbor continues to stay abreast of consumer trends, allowing the business to create programs that independent stores can easily execute. Following the outbreak of Covid-19, the company has experienced growing calls for 'grab and go' products as consumers turn to pre-prepared food items, rather than those prepared in-store.
"The grab and go category really skyrocketed during the pandemic, for safety reasons more than anything," Dan reports. "People wanted something they could trust, so we created our own grab and go solutions for stores, with sandwiches, cut fruit and vegetables that could just be picked up and taken away.
"Another trend is meat snacks, like jerky and pepperoni sticks, for which we had already developed solutions that customers could just plug in right away. In the case of both grab and go and meat products, we really tried to generate simple solutions that could be set up quickly and easily, meaning clients could capitalize on trends immediately."
In the second half of 2021, as more outlets and restaurants restricted by Covid-19 resume operation, Harbor hopes to see a spike in food service activity to complement its ongoing convenience store trade. New restaurant concepts are also on the horizon.
"The first thing we need to do is bring back food service, as well as ready-to-drink coffee and self-serve elements that were a regular part of life before Covid," Dan stresses. "We are getting closer to a time when things can return to normal in that sense and we are confident that they will snap back with some tremendous food service growth.
"Elsewhere, we are developing some great new restaurant concepts for in-stores," Dan adds. "We've got Mein Street, our own Asian eats private brand. It is one of a number of quick-serve restaurant concepts we are developing for simple client installation, with quality that will keep consumers returning to a store time and time again."
Always looking ahead, Harbor aims to expand geographically in the next five years. In April 2021, the company acquired Rich & Rhine Wholesale, providing Harbor with an opportunity to establish a Portland, Oregon hub to help service the more densely populated markets in Northwest Oregon and Southwest Washington. Buoyed by the success of this purchase, the firm now intends to identify more new opportunities along the West Coast as part of efforts to fill in geographical gaps in its current provision.
As the predominant distributor in the Pacific Northwest for independent retailers, the company would also like to diversify into distribution for small grocery stores. "If there is a 3000 to 5000 square foot grocery store on the coast, or anywhere in our region, we would love to be their sole supplier. That is a big part of what we want to do next," Dan reveals. "We will also become a more hybrid distributor, whereby we have more quick-serve restaurants on our books and additional strategic partnerships that help us expand our mix."
As of June 2021, Harbor holds around 12,000 items in its warehouse space, but as the firm's product mix expands, cross-docking will make it possible for 16,000 items to be taken in from suppliers overnight, before being shipped out to the company's growing client base. Ambitious and quick to adapt, Harbor's state-of-the-art facilities, turnkey systems and regional expertise will, for years to come, continue to fuel unique and flexible supply chain solutions for national, regional and local multi-unit chain customers across the western United States.
"The approach we take at Harbor is unlike anything else out there," Dan remarks. "During the height of the pandemic, our Vice President of Sales, Bryce Schneider, said, 'Let's not focus on selling products as much as helping our customers cope with the changes to their business. Let's figure out how we can be their resource.' It was a pretty clever and insightful strategy that resonated with our clients, but more than that, it illustrates the way we operate. Customer success is paramount to everything we do. The entire business is focused on understanding our clients and delivering what they need – both now and for decades to come."
Harbor Wholesale
www.harborwholesale.com
Specialty: Distributor to convenience stores and food service outlets