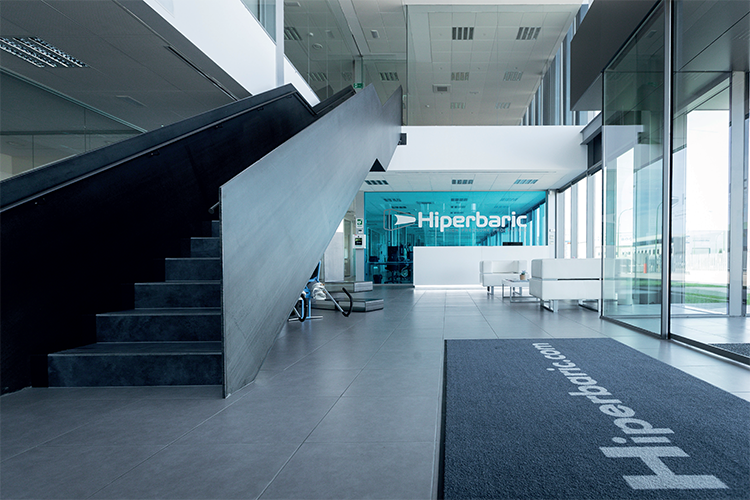 Industry-leading Innovation
By offering extended shelf-life and fresh flavor without the use of preservatives, Hiperbaric's high-pressure processing systems are revolutionizing the food and beverage industries
As a global leader in high-pressure processing (HPP), Hiperbaric is changing the landscape of modern food preservation technology. As the company continues to develop preservative-free, sustainable packaging and processing systems for the food and beverage industries, it remains at the cutting-edge of innovation, with the world's first in-bulk HPP system, and major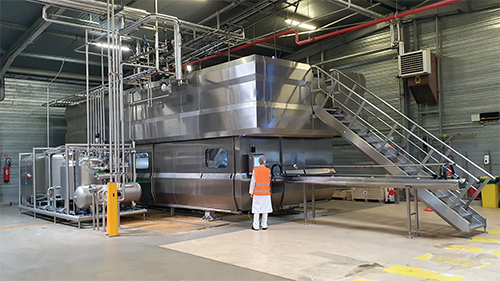 industry partnerships that are set to make high-nutrition, sustainable and long-lasting food available to all.
Pioneering the latest technology is part of Hiperbaric's DNA. The company's primary research is centered around high-pressure food processing, a groundbreaking new method of keeping food fresher for longer, without compromising on sustainability, or food transparency. As Roberto Peregrina, Director of Hiperbaric USA, details: "High Pressure Processing (HPP) is a non-thermal food and beverage preservation method that guarantees food safety, and maintains the optimum attributes of fresh products.
"It is based on the use of high isostatic pressure transmitted by water. The pressure is transmitted uniformly and instantaneously throughout the product, achieving an effect equivalent to pasteurization, except without heat."
HPP has a wide range of applications, including beverages, deli meats, plant-based dips and sauces, ready to eat meals, seafood, dairy products, baby food and pet food. "The process was created as an alternative to thermal pasteurization and chemical preservatives, in order to meet consumer demands for fresh, clean-label foods," says Roberto.
These latest innovations are part of Hiperbaric's long history of ingenuity and forward-thinking, as Roberto confirms: "Since 1999, we have been an international leader in the design, manufacture and marketing of HPP industrial equipment for food and beverages; having revolutionized the process in 2002, with the development of the first horizontal HPP machine, we have since made innovations in simplifying installation and operation processes as well."
These technological advances have all culminated in Hiperbaric's impressive range of HPP products, as Roberto explains: "Hiperbaric industrial high pressure processing units are designed to be the most reliable systems on the market, ranging from the Hiperbaric 55 for small food production to the largest model, Hiperbaric 525, for mass production. We have the widest throughput range of industrial HPP machines commercially available today – meeting the requirements of start-ups, small to medium enterprises and large corporations. Each machine can reach up to 6000 bar.
"Hiperbaric supplies equipment for HPP processing products in their final packaging, known as In-Pack, and bulk liquids before packaging, known as In-Bulk. In addition, the company supplies custom HPP automated solutions, from a simple HPP line to a fully automated turnkey solution."
As a business, Hiperbaric is acutely aware of the needs of the food and beverage industry, as each innovation and development seeks to streamline customer processes, and add value to the end product. "Today, food and beverage manufacturers across industries are looking for ways to increase their competitive advantage and improve profitability – HPP is there to help them achieve that," Roberto asserts.
"Traditional HPP handling is a batch process involving manual labor, however, with Hiperbaric automation and material handling, processors can optimize HPP production, improve efficiency and promote operator safety. Hiperbaric provides a variety of automation solutions, from processing to palletizing.
"We are firmly committed to continuous improvement, employee and customer satisfaction, environmental sustainability and innovation, creating value and sustainable development. Regarding services, Hiperbaric offers customers a full range of maintenance solutions, as well as pre- and -post installation training and a comprehensive catalog of high quality and reliable replacement parts," he continues.
Striving to always be growing and diversifying its offering, Hiperbaric has introduced two new additional lines to its portfolio: "We aim to always have an eye toward new markets, and with that in mind, we developed new high pressure processing technologies in two new sectors.
"We have now introduced hot isostatic pressing (HIP) for the aerospace, energy, oil and gas, automotive and medical implant industries, and high pressure hydrogen compression (H2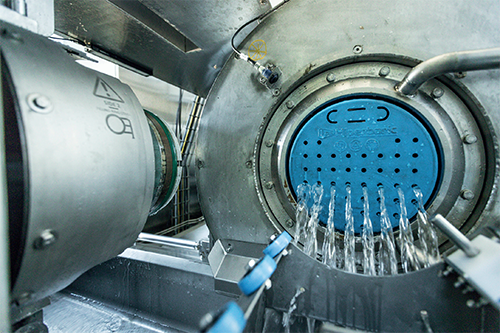 compression), which is a green energy technology using renewable energies for automotive and other transportation industries," discusses Roberto.
The latest in Hiperbaric's long line of game-changing technologies is the Hiperbaric Bulk Machine; as the world's first In-Bulk HPP machine, this device includes several patent-pending innovations, and is the result of a four-year research and development project, involving Hiperbaric PhDs and a range of expert engineering teams.
"Hiperbaric has recently developed the first commercially available In-Bulk HPP equipment for high volume processing of HPP beverages. The equipment, which won European and US manufacturing innovation awards, is based on a revolutionary concept, through which beverages are processed in bulk prior to bottling, allowing the use of any type of container, regardless of material, design, or size," reveals Roberto.
"This new technology reduces manufacturing steps, simplifying the process and offering high productivity along with low processing costs and energy consumption. Since there is no manual handling, labor costs are reduced by more than 80 percent, energy costs by almost 50 percent, and spare parts and consumable costs by more than 30 percent.
"The design of this equipment allows a filling efficiency of 90 percent of the total volume – approximately double that of In-Pack technology. The process begins by liquids filling the inlet tank. After pressurization, the HPP beverage fills the outlet tank through sterilized tubes and is bottled in an ultra-clean filling line," he elaborates.
The In-Bulk HPP system makes its debut as part of a major partnership with French juice processor, Hermes Boissons. "They leverage Hiperbaric's In-Bulk equipment to simplify production while delivering increased output, cost savings, and sustainable value," states Roberto.
"The company uses our technology for the Juste Pressé brand natural fruit and vegetable juices. As a result of HPP, Juste
Pressé launched the world's first HPP juice in carton packaging, instead of plastic. This demonstrates how our technology has helped customers find a more environmentally friendly packaging solution, that is better aligned with their overall philosophy," he adds.
Hiperbaric's leadership in the high-pressure technology industry has not gone unnoticed, as the Prime Minister of Spain, Pedro Sanchez, recently visited the company's headquarters in Burgos, to discuss the technologies with Chief Executive Officer, Andrés Hernando. The company has also seen recognition on a global scale, as it steps up operations in America and Asia.
"Hiperbaric has installed more than 300 HPP machines in 50 countries, making us the global leader in HPP technology, with the most reliable and economic machines on the market. Hundreds of companies worldwide use Hiperbaric equipment to process juices and other beverages.
"With headquarters in Burgos, Spain, a US office in Miami, and commercial and technical offices in Mexico, Asia and Oceania, Hiperbaric continues to extend its global reach to a range of new customers," Roberto affirms.
None of this success would be possible without Hiperbaric's team of dedicated experts, as Roberto confirms: "Hiperbaric's raison d'être is people. We offer opportunities for professional growth, training, flexible hours and community projects; we also have an extensive training program to improve performance, update knowledge and develop skills. More than half of the company's current staff began their professional careers with us.
"We enjoy promoting talent inside and outside Hiperbaric, which is why we participate in numerous business conferences and manage the business according to clear values of equity, transparency, and equal opportunity."
Constantly seeking to shape the future of industry will no doubt ensure a long and prosperous future for Hiperbaric. Ruminating on the road ahead, Roberto concludes: "Our company will remain focused on solidifying and innovating within the high pressure technology sector over the next few years.
"We will also continue to separate ourselves from the competition through unparalleled after-sales service, and, with a market share of over 60 percent, lead the way toward innovations that make industry more efficient and sustainable."
Hiperbaric
www.hiperbaric.com
Products or Services: High-pressure processing equipment and services