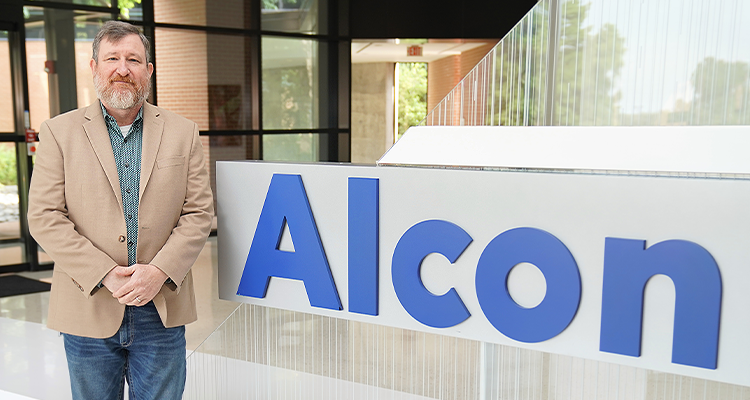 How Alcon is using technology and automation to enhance its ophthalmology offering 
Aspiring to lead the way in innovative, life-changing vision and eye care products, Alcon is the global leader in eye care. Its purpose – we help people see brilliantly – remains at the heart of the company as it continuously strives to improve ophthalmology care.  
Its latest developments are based around technology that will enhance its product and service offerings in the long term. Troop Aschenbeck, Global Director of Supply Chain at Alcon, joins us to discuss the company's ongoing digital transformation.  
"We have a wide array of eye care offerings in the industry, with products organized into two divisions – surgical and vision care," Troop begins. The business provides a comprehensive line of ophthalmic surgical products, including devices for cataract, glaucoma, retinal, and refractive surgery, such as advanced technology intraocular lenses (ATIOLs) used for cataract surgery. 
Alcon is also one of the largest manufacturers of contact lenses. Its broad portfolio includes daily disposable, reusable, and color-enhancing lenses, on top of its comprehensive ocular health offering, such as products for dry eyes, ocular allergies, and contact lens care, as well as redness relievers.  
"We play a crucial role in the ophthalmology supply chain, with the surgical side making up around more than half of our business," he details. "We've been around for over 75 years now, and our machines are in over 140 countries worldwide. 
"We're doing some incredible things in the cataract space at the moment; our machines are world-class, with excellent speed and accuracy results," Troop continues. "As part of our digital transformation, we are also in the process of developing a new planning tool, which will connect our machines and analyze the data. Moving towards connectivity, this planner is aimed at helping drive efficiency and accuracy throughout the cataract workflow."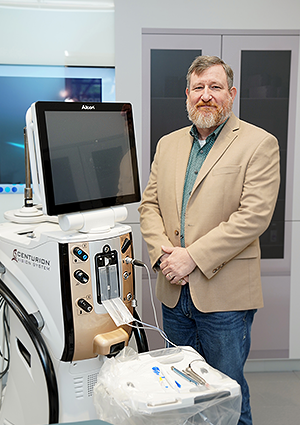 Smart solutions 
During the pandemic, Alcon managed to find an advantage among the hardship. "We used all of our excess goods during the pandemic and the subsequent supply shortages," Troop recalls. "However, with rising inflation driving increases in component prices, and now with less excess stock to rely on, we knew we needed a more intelligent, robust strategy to manage our supply chain and inventory. That was the motivation behind implementing innovative technologies across the business; to better understand and plan around our demand." 
Troop elaborates: "It all started with using point-of-sale data and adopting a holistic approach, all the way from order entry to refurbishment and delivery of goods. This has gradually evolved and we're now creating a new smart ordering system to provide us with greater visibility across our entire supply chain.  
"It allows us to see what parts are available before we speak to a customer, for example, or see what is available based on a symptom code, as well as providing remote support for our customers," he explains. "It helps aid customers in making the right decision, whether it's an experienced individual wanting confirmation of their part selection, or a less-experienced engineer looking for help with a complex issue. 
"The smart ordering system will also enable us to carry out predictive part analytics to schedule rebooting or recalibrating at a convenient time. Our new system is designed to identify potential issues before a procedure occurs. 
"It means that once the new system is operating, surgeons will be able to plan around a machine's maintenance, rather than being dictated by it," Troop proposes. "It's important for the surgeon to have all the available data to make the best decision at the time they conduct the surgery."  
Enhanced automation 
Aside from its new ordering system, Alcon's service engineers are also embracing automation at the back end of operations. "At present, all of our orders are processed manually, but we're currently implementing software to automate these steps, which will reduce order entry time," Troop reveals. 
"It means that our service engineers will no longer need to know the exact part numbers to replace or refurbish a product. Instead, we will simply input the customer and the relevant machine, and the system will automatically collate the contract data and evaluate the customer's request, revealing whether a part needs to be replaced, or whether it can be refurbished. 
"It also helps with part substitution," he adds. "If a specific part is not available, it will look at the parent-child relationship and automatically select the next-best product alternative." This automated process will provide Alcon with a greater understanding of demand across the supply chain. 
With technology and automation at its core, it is unsurprising that when asked about the future of the company, Troop proposes: "A main aim for the future is to continue our focus on data. The more we can enhance the quality of our existing data, as well as import new analytics, the better."