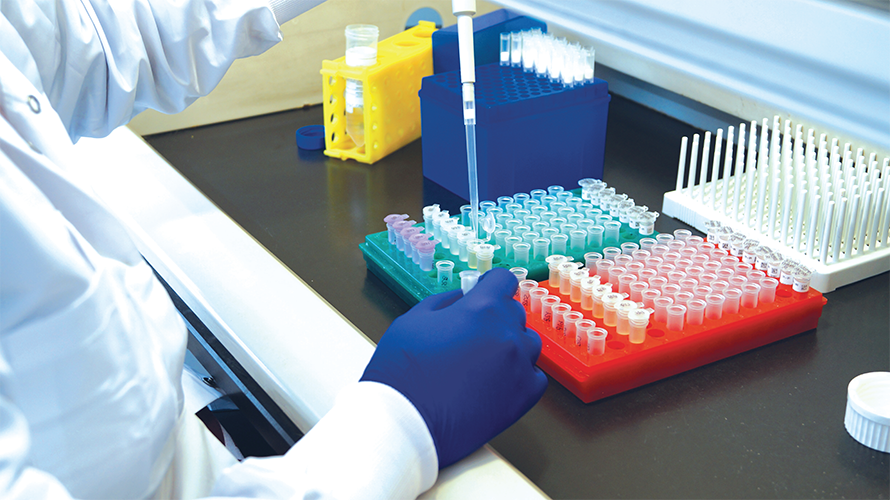 Innovatively navigating the pandemic
Inform Diagnostics has been determined to provide the best for its clients and their patients since its inception. Now, the national laboratory is bringing digital pathology onboard to help elevate its efficiency
Inform Diagnostics is one of the largest independent pathology laboratory businesses in the US. With exceptional quality and experience, the company provides subspecialty pathologist-to-physician interaction with timely, definitive patient diagnoses. Headquartered in Irving, Texas, with additional state-of-the-art laboratories in Boston, New York City, and Phoenix, the company is profoundly impacting patient care, one diagnosis at a time, by practicing medicine at the intersection of quality, service, and solutions.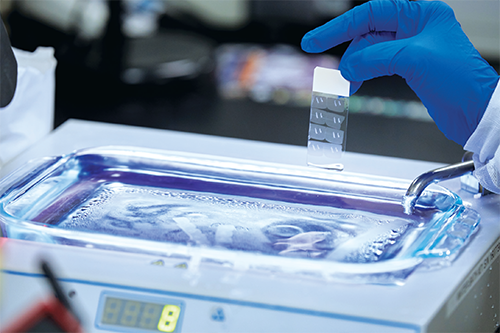 Speaking with Tonia Visalli, Vice President of Business Operations, Supply Chain World learns about how digital pathology is driving Inform Diagnostics' vision: to be the trusted partner of choice at the forefront of technological innovation in patient diagnostics. "We serve clinicians in the areas of gastrointestinal pathology, dermatopathology, hematopathology, neuropathology, breast pathology, molecular diagnostics (more commonly known as Covid-19 testing), and genitourinary pathology," Tonia says. "Clinicians send biopsy tissue specimens to us, and we perform the analysis within our laboratory to render a diagnosis."
The company is most proud of its quality and concordance rates, and how they outperform in these areas with one of the leading records in the industry. "A percentage of our diagnosed material undergoes a quality audit by our peers, when patients come in for further treatments at their institutions," Tonia explains. "The rate of diagnostic agreement is called the concordance rate, and our 2021 rate was 99.69 percent, one of the best in the pathology testing market."
A particular topic of interest in our conversation is digital pathology, and how Inform Diagnostics has been able to incorporate the technology into its operations. As Tonia outlines, this has contributed to greater opportunities for the lab. "In line with our vision of innovation, we worked to expand our technological capabilities and brought digital pathology online," she says. "When it comes to selecting an LIS vendor, Inform Diagnostics based its selection on functionality, which is considered a key factor to achieve optimal efficiency. We are unique in that we have several different lines of business, and it is difficult to find an LIS that supports all of these, so we keep a careful eye out for ones that are able to work to the extent of our operations with versatility.
"The flexibility within the LIS to support multiple lines of business and revenue models, while ensuring appropriate security controls, was paramount in our decision-making process," Tonia continues. "As we moved into the digital pathology space, we worked with a few different vendors. In phase one, we used Leica scanners and software; in phase two, we paired Leica scanners with Paige AI software, which integrates with NovoPath, our LIS. Working with these three vendors, allowed for varied functionalities, security, ease of use, and quality, enabling us to offer our clients one cohesive solution. The benefits of this new technology include a faster turnaround time, image analysis with AI, and a simplification of archiving and storage of slides.
"We continue to follow all the stringent guidelines that are required to provide the most reliable results," she adds. "We also have one of the most encompassing step-by-step tracking processes, so every specimen we receive is scanned into the LIS and monitored at each stage of the process."
Tonia goes on to explain that the benefits for digital pathology are two-fold. "Firstly, we can get client pathologists the images faster than delivering glass slides. Secondly, pathologists that work remotely or specialize out of a remote location are able to share the details easily. We are able to cut out additional supply and logistics costs, while maintaining our quality standards."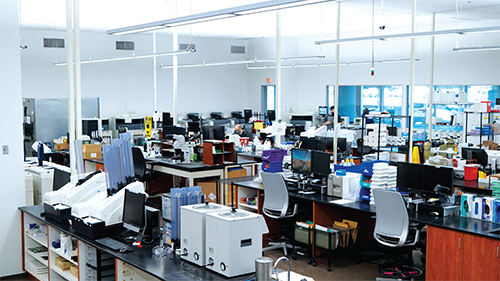 Bringing together an operation this intricate takes a team of enthusiastic experts who are determined to provide the best for the patient. "Everybody that works here is very passionate about what we do; we know that we are impacting the lives of thousands of people a day. We have to be engaged, empowered, and informed, and it's crucial for us to have our employees feel motivated, so that we can work together as one team."
That 'one team' commitment was demonstrated when Inform Diagnostics was impacted by the pandemic. In order to ensure the safety of employees and minimize risk, the company instituted a work-from-home policy. Covid-19 expense management initiatives included exempt employee temporary wage reductions, employer 401k matching suspension, employee furloughs, annual merit award postponement, and discretionary spending reductions in line with lower volumes.
Inform Diagnostics also took advantage of various CARES Act programs available, such as grants, deferred employer payroll tax payments, and Medicare Advance payments to complement the cost savings initiatives. Tonia explains: "The great thing about Inform Diagnostics and the leadership team is that we were able to pay back every employee who took a pay reduction, return the 401k matching program, and even do a profit share for what was recovered by onboarding the processing of Covid-19 specimens."
Furthermore, when Texas was hit by the snowstorm of early 2021, leaving many without power or water, the company opened its third floor to the families of its employees for safe shelter. As the laboratory was connected to a nearby hospital's electricity grid, everyone was able to shower, eat, and keep safe and warm.
"It's all of these things that make the company culture what it is," Tonia reflects. "If the employees know that they are important, then they're also thinking of ideas to help make our operations better. One of the things that we strive for is continuous improvement. This is important because through innovation and collaboration, we can continue to improve the working lives of our employees as well as enhance our service to our clients and their patients."
Looking to the future, Tonia highlights that there are many new developments that can be expected from Inform Diagnostics. "As we move forward, we intend to increase our digital pathology capabilities, as well as take a closer look at AI, and the benefits it offers to accelerate our processes. In addition, our test menu will continue to expand with new options to ensure our clients and the patients they serve have access to a comprehensive offering, applying the latest in cutting-edge technology.
"At the end of the day, it's the patient that matters, because that's who we're serving," Tonia concludes. "We keep them at the forefront of everything we do, and it's our goal is to minimize the time they spend worrying about a biopsy sample that's sent to us. Say for instance, it's a Friday, and the patient is waiting to know if they have cancer. Instead of waiting until Monday to get those results, we want to be able to process that specimen as quickly as possible, because those two days can make a massive difference to their journey. That's what really pushes us to continually improve, and we're looking forward to incorporating even more technology to help us achieve that."
Inform Diagnostics
https://www.informdx.com/
Services: Pathology laboratory