Working with ingenuity
Kruger Inc. (Kruger) is a major Canadian producer of publication papers, tissue products, containerboard and packaging made from recycled fibres, renewable energy, cellulosic biomaterials, and wines and spirits. Also a North American leader in paper and paperboard recycling, the company sees renewed success with investment in the latest robotics technology, and a brand-new streamlined approach
Known for its dedication to customer service and environmentally conscious practice, Kruger has been transforming renewable materials into everyday essentials for four generations. The company's latest innovations seek to highlight Kruger's dedication to ingenuity and entrepreneurship, through a company-wide restructuring that emphasizes excellence every step of the way. Using new centralized processes, an extended team of experienced professionals, and investments in the latest robotics, Kruger stays at the cutting-edge of the logistics and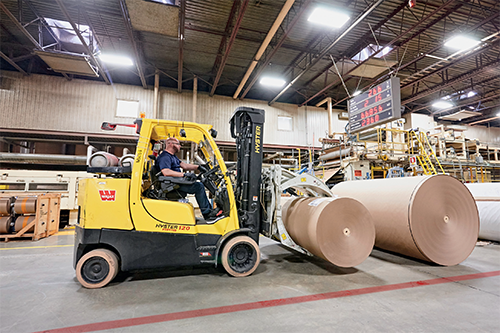 manufacturing sectors. Behind the wheel of this transformation is Erin Geldard, Vice President of Sales Administration at Kruger Inc.
"Kruger centers excellence in everything that it does, and that's really what drew me to the company," Erin affirms. "I joined Kruger three years ago. My team and I take care of customer service, production planning, sales accounting, and a lot of business-led IT initiatives as well as logistics, warehousing and the procurement of transportation," she details.
Just over three years ago, Kruger Inc. began restructuring its order-to-cash function, in the hopes of offering an even higher standard of customer service. Erin continues to be integral in helping Kruger realize the full potential of its new beginning, as she explains: "Kruger were putting in place a shared service between a few of their divisions, and they needed someone to help with that transformation. I was tasked with building the team, and putting the shared operation in place, according to the high levels of service that Kruger was already known for.
"We were trying to move the department in a direction that would make it a more customer-orientated service. We wanted to be more analytical, in order to provide a much higher level of service, whilst keeping the team relatively tight-knit. It's been a transformational shift for the company, moving from more of a tactical model to a business expertise unit."
As the company continued to grow, so did its dedicated team of professionals. "When making a transformation like that it's really important to hire the right people; retaining the best staff for the job, and making sure people are really focused on the right skills, has always been important to me. I always say to my team, we have our people, and that means we have the foundation of Kruger," says Erin.
The rest of the restructuring followed a concise and effective three-step plan, as Erin reveals: "The next important step was processes; we mapped out all of our processes and figured out exactly what we were doing, before trying to streamline the entire operation. Once we had done that successfully, we then added robotics in order to automate certain steps. The last thing we did was develop our tools; things like metrics and key performance indicators, which we could follow up and put in place."
Stepping up the efficiency of its operations, alongside strategic partnerships with transport and logistics suppliers, has helped Kruger continue operating confidently throughout the pandemic. "This transformation really helped Kruger survive the effects of Covid-19. The fact that we started the restructuring when we did, hired a lot of key people, and streamlined our processes early on, really made the company a lot stronger when things were uncertain," Erin confirms.
The company has also made effective use of automation technology, as Erin discusses: "The Robotic Process Automation (RPA) adds value to our system. All we had to do was optimize and detail the new process, then we had the support of a consulting firm and the internal IT team, who would create the script and ensure system integration.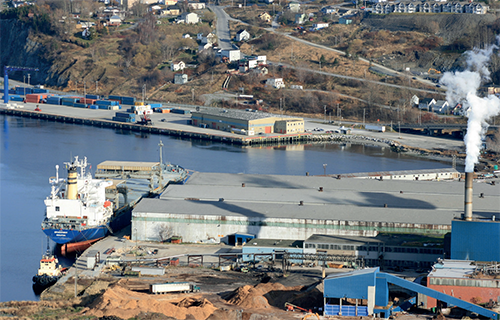 "The robot now covers a lot of our data entry, which is amazing when you have repetitive tasks and high-volume clerical work. We have removed over 20 hours a week of clerical activities, and we also have other projects in the pipeline. We are expecting to remove about 100 hours of clerical work a week, and our goal in doing that is not to reduce workforce, but to ensure that our people can focus on value-added activities and are happy at work."
With the help of Erin and its expansive team of experts, Kruger Inc. is in a strong position to navigate new challenges and opportunities in 2022. As Erin concludes: "We can all agree that supply chain is going to continue to be a challenge in 2022. In a regular year we are dealing with weather conditions, hurricanes, tornados, ice, and storms, but now we have the added complications brought on by Covid, including port congestions, capacity with truckers and border closures.
"The next year is looking very bright for Kruger, but it is still going to involve a lot of risk mitigation, and ensuring capacity, so that is going to be our focus. You have to be really proactive right now, and try to anticipate as much as you can, because even when you have years of industry experience like I do, new challenges will continue to crop up. It's what makes our work so exciting, but it does mean we have to be proactive every step of the way."
Kruger Inc.
https://www.kruger.com/
Products or Services: Recycled material processing