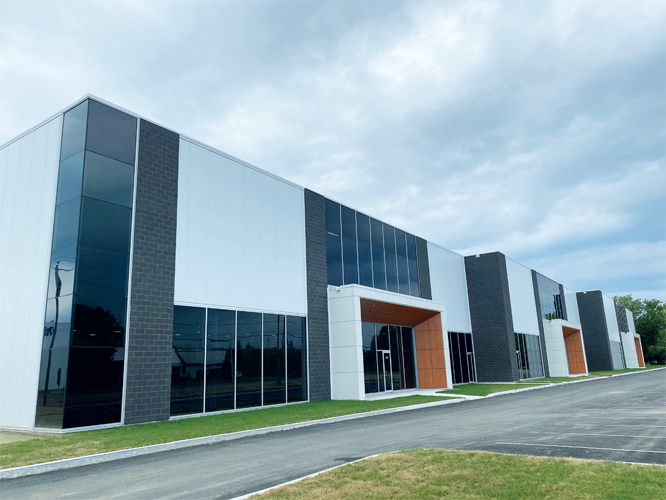 The wheel deal
With the help of ongoing investment, long-standing partnerships and organic growth, Canada Tire Inc. continues to provide unique tire brands and solutions that maximize profitability for its customers
Now in its fourth generation of family ownership, Canada Tire has been distributing tires to businesses across Central and Eastern Canada for nearly 100 years. Leading the company's steady growth over the last five years has been CEO Gabriel Granatstein, whose great grandfather, Lewis Wiseman, founded the company in 1928. Gabriel's father, Billy Granatstein, Executive Chairman, led the company's transformation to a major distributor.
"Originally, we started as a retail business with multiple stores, but now we are 99 percent distribution focused with one legacy retail store in Montreal," Gabriel explains. "We are unique in the sense that we are a family-owned Canadian business that has been in operation for a long time. Through the sale of tires to garages, car dealers, car rental companies, online vendors and more, we continue to grow steadily and organically.
"I think what sets us apart from the competition is that we try to find solutions for our customers," Gabriel continues. "Anybody can sell a tire, but I think it's more about the service you provide and what you sell around that core product. At Canada Tire, we have become recognized for our close relationships with our customers, as well as the fact that we listen to our clients and build tailored solutions for them that help to increase their profitability."
Operating from seven distribution centers across Canada, Canada Tire recently moved its main facility to a brand-new 113,000-square-foot site just outside Montreal. A major investment for the company, the warehouse, which is now the firm's largest facility in the province of Quebec, opened its doors for the first time in July 2021.
"One of the most advanced and up-to-date constructions of its kind, our new warehouse has a 32-foot clearance and includes millions of dollars' worth of racking and furniture," reveals Vice President of Operations & HR, Marc Fontaine. "We are always planning for the long-term, so we still have room to upgrade our racking with minimal investment. In short, we could double the number of tires onsite, if required, and there would still be space to expand as the business grows over the next five to ten years."
Canada Tire's new and improved warehouse arrived right on time for the business. With Covid-induced supply chain volatility still an issue in many places around the world, the new facility has afforded the company with vital space for storing extra product, which, in turn, helps the company to manage its wider distribution network.
Aided by this level of infrastructure, over the last 18 months, Canada Tire has navigated the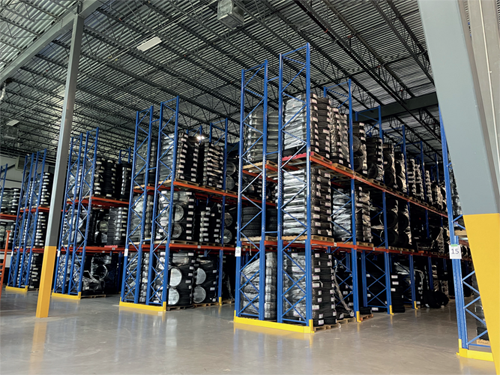 challenges of the Covid-19 pandemic, while still achieving increased productivity in every one of its distribution centers. Marc believes that the company's workforce – in its warehouses, its offices and working from home – deserves the credit for this achievement.
"Our people have done an incredible job over the last year or two and it is because of them that we have been able to carry on delivering to our usual standard, and even grow the business," Marc states. "We have employees that have been here for over 40 years, which shows just how much they enjoy working for us. Canada Tire is a huge family and we regularly see each other for coffee or a chat. It's my job to provide my employees with all the help and coaching they need to be able to achieve their potential, and for that reason, good relationships are really important."
As Marc suggests, strong relationships have been instrumental to Canada Tire's success in modern times, not just internally but externally, and never more so than during the Covid-19 pandemic. Director of Purchasing & Pricing Joël Boivin elaborates: "Without our long-term and loyal partners, we would not have been able to get through this pandemic," he says. "It started on the production side of the business with things like payment schedules and went all the way through to logistics, where we worked with partners around the globe to help source space and equipment."
Among Canada Tire's key partners during the pandemic was Mactrans Freight, a Toronto-based 3PL firm that assisted the company in remaining nimble and transporting its products to the people and places that needed them most. The flexibility this allowed the business has been, Joël believes, one of Canada Tire's hallmarks throughout the Covid crisis.
"We are a progressive company that always looks forward and thinks outside of the box," he asserts. "Higher management is always setting the tone for more efficient working practices and, during the pandemic, we adapted so well that we gained the flexibility to turn on a dime. Many businesses did not move as quickly as we did, especially when it came to adjusting our purchasing, our sales strategy and testing our various sales policies."
Despite not being far away from reaching its centenary, Canada Tire's popularity in Canada continues to grow and the organization's customer base is more loyal than ever. What then is the secret to the firm's deep and lasting connection with its clients? In answer to this question, Gabriel cites his belief that, in business as much as in life, honesty is the best policy.
"Our customers know that, when they work with Canada Tire, they are dealing with real people and I think that makes a difference," Gabriel argues. "As part of this, we always tell the truth because our customers deserve it. For example, from the beginning of the pandemic, I sent out regular communications to all our customers updating them on what was going on and being honest with them about the situation regarding supply issues. We were not afraid to tell our customers that this winter would be a challenge, while many of our competitors were saying that it would be fine."
"I think honesty and integrity are important, especially in an environment where you are hearing lots of different things about prices and supply. Our honesty with clients has helped us win their respect."
Over a year and a half since the pandemic began, and with the worst of it now, hopefully, behind us, Canada Tire is preparing for better days ahead. As international business picks up and activity returns to pre-Covid levels across Canada, one of the firm's biggest short-term goals is to continue delivering on its promises.
"From our products to the overarching vision we present to our customers, we need to make sure we are delivering on it all," Gabriel declares. "The biggest challenge this year has been getting product to our clients and doing it in a cost-effective way. Given the supply chain issues, the price is less relevant than whether or not we actually have them in stock and I think those issues are going to persist well into 2022. As a result, we will continue to lean on our partners, on transportation companies we work with, and on our suppliers and factories to make sure we are delivering for our valued customers."
Even with the battle against Covid and all its related obstacles, Canada Tire has still grown by around five percent to ten percent annually over the last five years. It's a remarkable trend that Gabriel would like to see continue throughout the decade ahead.
"Soon enough, I can see us opening new warehouses in the areas in which we operate to help expand our service," he predicts. "If we keep doing what we are doing, we are going to continue growing as we are growing. By executing on our plan to be more efficient, we can jump on opportunities when they arise, while still performing in a responsible manner."
La Cie Canada Tire Inc
www.canada-tire.ca
Products or Services: Tire distributor