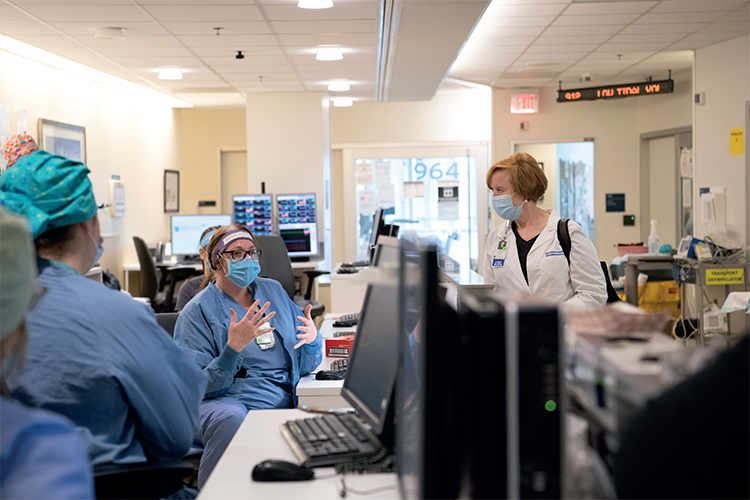 Mass Success
Always putting its patients first, Mass General Brigham relied on a highly resilient supply chain to help it manage, and overcome, the challenges presented by Covid-19
Home to 16 healthcare entities, 6500 physicians and 9100 nurses, Mass General Brigham represents some of New England's oldest and most prestigious hospitals. Formerly known as Partners HealthCare, the organization was founded by Brigham and Women's Hospital and Massachusetts General Hospital, two of the nation's leading academic medical centers, with histories dating back to 1832 and 1811 respectively.
Twenty-five years after its opening, in November 2019, Partners HealthCare resolved to change its name to Mass General Brigham, a moniker – it was agreed – that better captures the firm's sense of pride and spirit of excellence. Today, in addition to its academic medical centers, the company operates top-tier specialty hospitals, community hospitals, a rehabilitation network, a health insurance plan, a physician network, a teaching organization and many locations for urgent and community care.
"The most enduring thing about Mass General Brigham is our mission," declares Corporate Director of Supply Chain Management Lisa Scannell. "Predominantly, it's all about patient care and finding new ways to advance that. From routine check-ups to the most complex cases, we offer comprehensive, full-circle clinical care to our patients, starting and ending at home.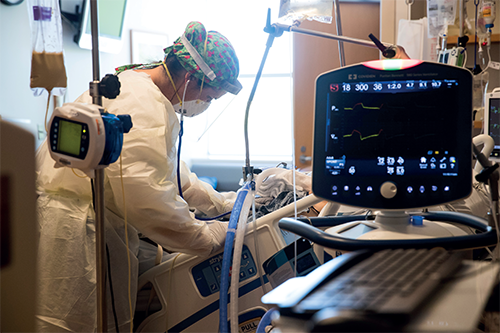 "After that, we have amazing leadership that has helped us solidify our place as an organization of teaching, research and discovery. For example, we have over 100 accredited physician residency and fellowship programs, over 2000 healthcare trainees, and a legacy of pushing the boundaries of knowledge and innovative medicine."
Committed to serving its community, Mass General Brigham has five licensed, and 15 affiliated, community health centers. In 2018, the firm invested $205 million in community benefits, including funding for its licensed health centers, programs responding to needs identified in its community health needs assessments, and its system's commitment to the Health Safety Net program.
"We have diverse community partnerships, which help to support our local residents at Mass General Brigham, and I think this is thanks, at least in part, to the family feel of the business," Lisa explains. "I think we all feel really connected to our mission and the values of this organization, and that makes it a wonderful place to work. People care – about each other, about our patients – and as the department for supply chain, we are an integral part of patient care and delivering the right products and services to our caregivers in order for them to perform their jobs effectively."
Never had Lisa and her team's efforts been more important for Mass General Brigham than in 2020, when supply chains across the world were hit by the myriad difficulties of the Covid-19 pandemic. Following a major Cardinal Health product recall that impacted 9.1 million surgical gowns and 2.5 million custom surgical packs early in the year, Mass General Brigham's supply chain teams were forced to find new ways to source the much-needed items.
"As Covid-19 hit, demand for PPE, testing supplies, ventilators, respiratory supplies and sanitizers outpaced the available supply," Lisa says. "Supply chain leaders quickly developed a PPE Task Force and for the first time, we needed to source high-demand items internationally instead of from our trusted suppliers.
"Failure," she adds, "was not an option for Supply Chain. We had a responsibility to protect Mass General Brigham staff and patients, so we harnessed our collective talents and mapped out a plan. Executing that plan during the most significant global supply chain disruption was riddled with challenges like vetting hundreds of unknown suppliers, evaluating products, anticipating demand and much more. Fortunately, the team pivoted and learned how to do all these things quickly while protecting the interests of the organization."
During the height of the pandemic, Mass General Brigham went from managing 200 to 8000 pallets of pandemic inventory. After being confronted by a number of logistical issues, the supply chain team eventually managed to consolidate the storage of its pandemic supplies into one warehouse, introducing and implementing automated systems to effectively manage this stock.
"Our people really rallied to do whatever it took to get the job done," Lisa remarks. "They eagerly stepped into new roles, looking beyond job titles throughout all phases of Covid-19, and still managed to maintain day-to-day operations.
"Two key things we learned were that our team members are agile and can execute under extreme pressure, and that collaboration and communication are critical to success. For instance, the Data & Analytics Organization team automated our reports and created a dashboard to allow Supply Chain to monitor and manage inventory. The Medical Analytics Group (MAG) assisted with modeling for PPE, such as N95s and isolation gowns, and collaboration with the on-site Materials Management Directors proved vital in successfully providing the necessary supplies to our patients and clinicians."
As Lisa suggests, the supply chain teams at Mass General Brigham worked together to overcome a number of unprecedented situations during the pandemic, including the establishment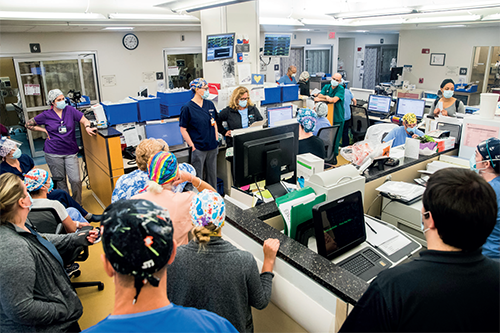 of a field hospital and drive-through clinics supporting vaccine distribution. "The field hospital was a really rare challenge," Lisa reports. "Usually, it can take up to six months to set one up, but we were able to stand it up in a matter of weeks. It just shows how critical a role we played throughout all states of the pandemic, and we are now dealing equally well with the aftermath."
Mass General Brigham's ability to learn from the pandemic is proving to be one of its best assets of late. Not only has the crisis provided the company with insight into its strengths, but it has also endowed the firm with far-reaching guidance for its future.
"As we have learned during the last two years, pandemic response requires extensive organizational planning, as well as the ability to pivot quickly and act decisively," Lisa states. "Creativity is also paramount. When traditional ways of doing business stop working, you have to find a new way of doing things.
"Clinical integration and communication in the supply chain were essential during the Covid-19 crisis. As I've mentioned, products we typically used, prior to Covid-19, were not available in the quantities required to meet our increased demand. As a result, we relied on clinicians working with our supply chain teams to evaluate product options, clinical effectiveness and quality. Luckily, we learned that our supply chain professionals are problem solvers and will not stop until they find a solution.
"Looking ahead, for the supply chain of the future, it will be imperative to have enhanced access to real-time clinical and operational data, and to develop tools that enable a more strategic supply chain and support business operations. To that end, during the pandemic, our supply chain teams collaborated with other Mass General Brigham departments to automate dashboards that allowed us to monitor and manage inventory, perform modeling, and forecast demand for critical PPE, such as N95s and isolation gowns."
Recognizing that increasing value and continuously improving quality are essential to maintaining excellence, Mass General Brigham is already targeting areas of focus for the future. At the heart of its strategy for the next five years, the company is determined to manage its supply chain technology roadmap to include modelling and predictive analytics tools, create more long-term partnerships with distributors and manufacturers, increase transparency, revise its approach to sourcing, better manage risk, and ensure preparedness for future disruptions.
"In the post-pandemic world, disruption and change are the new reality for supply chain professionals," Lisa argues. "Resiliency planning is vital when thinking about the future. Resiliency has always been important to us, but now it is our top goal, and we will improve in that area by collaborating with our supplier base to achieve our goals, mitigate risk, and expose upstream vulnerabilities in the supply chain."
Naturally, the digital nature of our modern world means that enablers like digital technology infrastructure, data, and analytics, will all play a role in the future of Mass General Brigham's supply chain. Back in 2019, the company began to actively build in Robotic Process Automation across numerous departments, and this reliance on technology is here to stay.
"Our bots are not only built to perform mundane, repetitive tasks that free up team members for more value-added functions, but they also help with solving all manner of central supply chain tasks that benefit the entire system," Lisa reveals. "We currently have four of these machines live to date and there are two more in development. One of the new bots will utilize OCR technology by reading in recall notices, running utilization from our ERP system and notifying affected departments. The other bot will support us in processing PO confirmations by notifying requesters of backorders, as well as updating pricing on our PO and item master where applicable."
Staying aligned to the company's corporate strategy, Mass General Brigham's supply chain team has proved its worth over the last 18 months, whilst remaining open to the ways in which it can become even better. Unsurprisingly, Lisa is confident that, by continuing in this manner, the group can remain instrumental in Mass General Brigham's success for years to come.
"I think the name of the game is to evolve," Lisa asserts. "We want to create a stronger supply chain by investing in the systems we use and really leveraging the tools and technology we have, or that we are building towards.
"Like I mentioned earlier, a key part of our plan will be increasing resiliency – how we react to a disruption, how agile we can be, and the contingency plans we have in place. Ultimately," Lisa adds, "we want to invest in our people. The people side of the business is paramount to the success of the organization. Our people are a true reflection of our mission and values. Their diversity of ideas, backgrounds and expertise contributes, unceasingly, to our culture."
Mass General Brigham
www.massgeneralbrigham.org
Products or Services: Healthcare provider