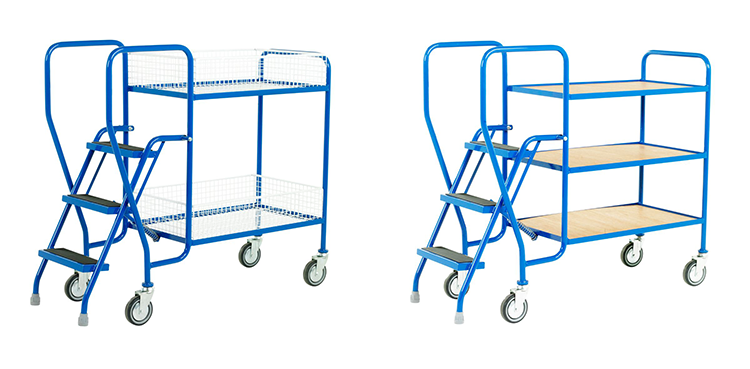 New and Improved Warehouse Picking Trolleys from First Mats
First Mats, a leading online retailer, is excited to announce the launch of their new and improved range of Warehouse Picking Trolleys. The expanded range is built around trolleys that combine a step ladder with a shelf trolley, making the process of warehouse order picking easy and efficient. Many of the models are manufactured in the UK, and have weight capacities ranging from 100kg to 250kg, ensuring individual business needs are catered for.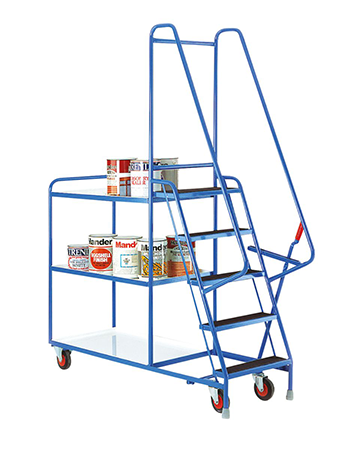 Warehouse Picking Trolleys are specially designed to allow the operator to pick and transport several different items on the same journey. They combine a step ladder with a multi-tier shelf trolley, making them ideal for use in warehouses and fulfilment centres, where they speed up the picking process.
The team at First Mats has worked diligently to ensure customers have the best information available to make the right choice for their needs. The range includes Three Step Warehouse Picking Trolleys, Five-Step Warehouse Picking Trolleys, 2-Tier and 3-Tier picking trolleys, and Euro Box Picking Trolleys.
"We're thrilled to introduce our new range of Warehouse Picking Trolleys," said Richard O'Connor, Marketing Director at First Mats. "Our goal is to provide our customers with a diverse range of products that caters to specific needs while ensuring high quality at all times. We've extensively reviewed our pricing to ensure we're offering the most competitive rates in the market, and we're proud to offer free delivery across mainland UK, with most models available in 3 to 5 working days from order."
First Mats has earned a 4.8/5 Star Trustpilot rating, establishing itself as a trusted name in the industry. The company is committed to offering quality safety products at competitive prices, backed by excellent customer service.
For more information, please visit https://www.firstmats.co.uk/collections/warehouse-picking-trolleys.
About First Mats:
First Mats is a Birmingham-based online retailer specialising in safety and industrial products. While they are best known for their matting products, their full range expands greatly to cover all kinds of industrial and commercial uses. With a commitment to quality, competitive pricing, and excellent customer service, First Mats remains a leader in the industry.