Northwell Health is more than just a healthcare system
Healthcare behind the scenes
Northwell Health: the $5 billion supply chain supporting New York's largest healthcare provider
.As the largest private employer in New York, the company employs more than 12,000 credentialed physicians, including approximately 4900 doctors and 18,900 nurses. With a combined footprint of 21 hospitals and more than 850 outpatient facilities, Northwell provides care to two million patients annually – including approximately 19,000 new cancer patients – more than any other healthcare provider in the state and delivers more than 30,500 babies annually, accounting for 15 percent of all the births in New York. Northwell also boasts one of the largest medical residency programs in the US and operates the largest hospital-based laboratory in North America.
Supporting all the above is a $5 billion supply chain managed by the Supply Chain department at Northwell. The department is headed up by Phyllis McCready, Senior Vice President and Chief Procurement Officer for the entire Northwell system, and Executive Director and Chief Operating Officer of Northwell Health Alliance Inc., Northwell's in-house group purchasing organization. The Supply Chain team operates its 85,000-square-foot distribution center, delivering approximately 3000 SKUs 24/7 to Northwell's facilities throughout New York, Long Island, and Westchester. It delivered over $200 million of goods in 2021 alone and turned its inventory approximately 14 times within a calendar year.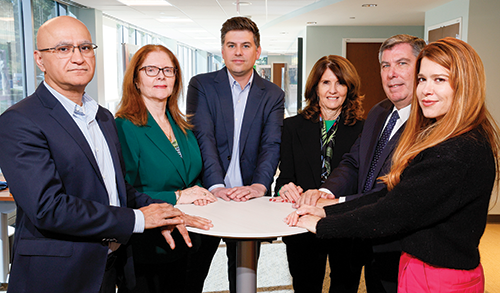 From the perspective of spend management, Northwell operates a centralized supply chain encompassing everything within the clinical and non-clinical space, including all pharmacy, research, IT, engineering, facilities, and more, spanning from supplies to service contracts and capital equipment. Category management, which includes value analysis and integration into the clinical space, is essential to the work of Northwell Alliance's procurement team. "Having the centralized structure that we do, along with the team's deep industry knowledge, is a key success factor in our GPO's ability to provide value to Northwell," explains Phyllis McCready.
Supplier management, procurement to pay operations, and master data management all fall within the scope of the Supply Chain department, as does the digital solutions group responsible for all technologies, data, and analytics. "Keeping the technology group embedded in the operations, along with the autonomy to create processes and solutions, has been instrumental in successfully advancing our mission," explains Vikas Balani, Vice President, Supply Chain at Northwell, when speaking to Supply Chain World.
Operating its distribution center proved a good fortune for Northwell in recent years when the Covid-19 pandemic uprooted healthcare and associated supply chains. Reflecting on the period when a disruption became next-to-unavoidable, Phyllis McCready notes that the company began activating its disaster management plans as early as January 2020.
"After a few early disruptions of custom packs arriving from China, we developed an initial understanding of what was happening," Phyllis comments. "Therefore, we decided back in January to bring in additional PPE (Personal Protective Equipment) products. Despite that foresight, we did not envision the full spectrum and volume of supplies that would be needed.
"It was a period when suppliers experienced disruptions in their supply chains. Northwell emphasized getting a deeper understanding of exactly where our products came from. Now, we are working with our suppliers to build a broader understanding of how much inventory they need to stock and what percentage they hold within the US. As a result of the ongoing supply chain shortages, the team has bolstered its cross-reference data collection process for approved item substitutes. It has continued to standardize items system-wide where possible. We always question what other knowledge we need and how we can improve things."
On the subject of 'doing things better,' Northwell is on the precipice of launching and implementing its new Supplier Risk Management Platform. A partnership between Northwell and an external technology provider, they believe it is unlike anything currently in use across the industry.
Using information strategically
"In this new global climate, a fundamental shift in how risk is identified and monitored is required to maintain a competitive advantage in an increasingly competitive marketplace," Phyllis notes. "Our supplier management program seeks to implement advanced technology to detect supply chain disruptions promptly while maintaining flexibility to balance the appropriate risk with essential business needs. By doing so, we will be able to dynamically segment our vendor population into risk tiers, leveraging NLP and AI-assisted deep web searching to gain greater insight into our supply chain and ongoing monitoring of critical suppliers."
For Phyllis, much of Northwell's success in the supply chain is attributable to this mindset of continuous innovation. "A significant portion of our systems are homegrown, such as our Mobile Inventory scanning with real-time transmission of demand to our distribution center," Vikas Balani points out. "Over the years, we have also developed solutions to augment our workforce using digital automation and AI (Artificial Intelligence) to shift focus to what matters. For example, within our customer service team, we digitally sift through email inquiries to sort, prioritize, and take automatic action where possible and monitor item consumption patterns, detect anomalies, and alert."
Product shortages within healthcare remain a regular occurrence, albeit more than two years since the onset of Covid-19. Accordingly, Northwell is on a journey to digitally transform its supply chain, designed to facilitate dynamic growth while maintaining resilience.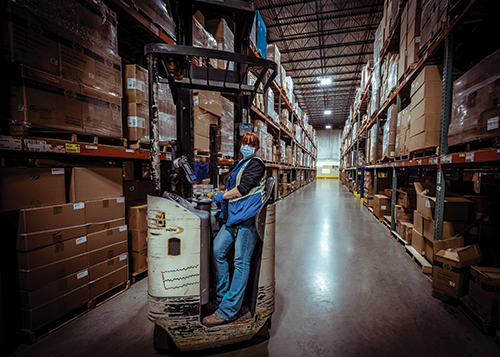 "We aim to achieve the level of capability required to run a vast supply chain with limited resources," Vikas says. "Our digital strategy is centered around three core themes: visibility, sensing, and engagement. Visibility refers to our ability to access real-time information across our entire supply chain. We often say that the supply chain is as much a business of information management as the procurement and distribution of goods and services. And whoever knows the most has the operational advantage. At Northwell, we are sitting on a tremendous amount of data, a sizable portion of that within purchased services contracts, which reside in an electronic filing cabinet. We plan to extract actionable intelligence from these documents to digitally direct our supply chain and take proactive measures more aggressively."
On the topic, Phyllis concurs, "Information is key." "How many cases are being conducted robotically? How many are being conducted laparoscopically? How many hernia operations are you performing? What is the overall cost? Answer these questions, and we can plan more strategically to lower both our cost to serve and the cost of goods."
Sensing, Northwell's second core theme, encompasses the company's vision to predict and forecast demand better than previously. "We need the capability to sense problems before they materialize to avoid product shortages," Vikas comments. "That includes tracking several variables in our supply chain in real-time and developing predictive models based on combining signals generated by our own and external data. These signals will include monitoring vendor behaviors, variability in lead times, and fill rates, to name a few."
"Finally, engagement is about using data to guide our users into the optimized processes and the preferred choices via a unified user experience layer," Vikas adds. "Our goal is to create an interventional supply chain, drawing on the intelligence from our data to correct processes in real-time – rather than reacting to issues much later in the process, which causes inefficiencies in procurement processes and sets us up to be reactive all the time. The overall transformation is expected to take three to five years, but we hope to introduce the first set of capabilities within 18 to 24 months."
Northwell is also enhancing how the indirect spend portion of the supply chain is managed. "Non-clinical category management teams are creatively structuring contracts to generate meaningful transactional data, allowing for stronger vendor negotiations and tighter enforcement of contract terms," states Greg Lowe, Assistant Vice President, Supply Chain. "Additionally, the Supply Chain team is working closely with the Health System's corporate Facilities Services department and site Engineering departments to build a unified enterprise facilities asset management system. Enterprise asset management will further the Health System's process by which strategic capital allocation and deployment decisions are made and provide a clearer lens into the total cost of ownership, including capital acquisition cost, useful life and depreciation cost, energy consumption, and maintenance."
Phyllis is keen to recognize the hard work and dedication of the employees working within Northwell's supply chain. "Throughout Covid-19, we had to demonstrate creativity and resourcefulness to be able to resolve issues," she comments. "Despite not being on the frontlines, our department remained equally focused on ensuring the clinical staff was well supplied and protected from the challenges of the pandemic.
"Individuals within the supply chain department are members on different committees across the network, managing their designated service lines," she concludes. "Our category experts are the critical bridge between Northwell's service lines and suppliers. Maintaining strong relationships internally and externally has been the most significant factor in enabling a well-orchestrated supply chain and allowing our GPO (Group Purchasing Organization) to impact Northwell's bottom line year-over-year positively. Overall, we could not have a better team."
www.northwell.edu