Power & Tel prides itself on end-to-end solutions for the communications industry
Uncovering profits hidden in your supply chain
In 1963, Miller Pentecost established Power & Telephone Supply Company (Power & Tel) as a reliable source for tools and other products contractors needed to save both time and money in completing their projects on time. To do this, he developed relationships with manufacturers that saw the benefit of having a sales partner that could help them eliminate or reduce their storage costs and align their product roadmaps to the customer projects and outlook and demand forecasts.
Today, a little more than 60 years after its founding, the company retains this basic mission, though the industry it serves and the ways in which it assists manufacturers and end-customers have significantly changed. "We remain a family-owned company, and our reliability and respect in the industry remain constant, even as we provide products, services, and solutions that support our partners' success," says Jennifer Pentecost Sims, Miller Pentecost's granddaughter and the company's CEO. "Today we do more than distribution – we can serve as an extension of a company's end-to-end supply chain as well as fulfill a specific product or service need."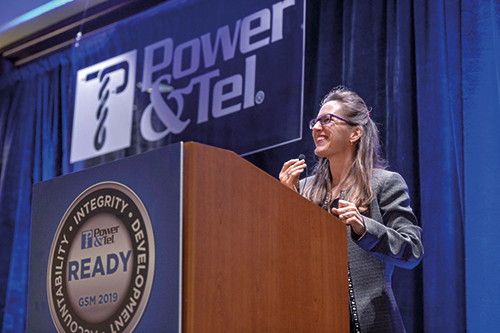 The company stocks tens of millions of dollars in communications products, representing over 800 different manufacturers. Power & Tel serves more than 90 percent of all telephone and cable companies in the US and approximately 4500 total customers around the world. They operate ten distribution centers in the US, three in Canada and one in Mexico, with additional customer service centers located in the US, including export handled out of Miami.
"Our focus is on being the most cost-effective and efficient source of products and material management solutions to all entities that are involved in building and maintaining communication and similar-type networks," Sims says.
Sims became CEO of the company in June 2013, succeeding her father, Jim Pentecost, who now serves as the Chairman of the company's board of directors. Before becoming CEO, she served as president of Power & Tel's Canadian subsidiary for two years, and has held several other positions during her total of nearly 20 years in the company. "Over those years, I worked closely and learned from my father from the ground up about the industry, and the important role Power & Tel serves within it," she says. "I am grateful that he still serves as a mentor to me today."
Power & Tel moved into its new 250,000-square-foot headquarters and distribution center in January 2021, developed to support the company's expansion and growth. It's an investment which underlines the family's long-term commitment to Power & Tel. "For over 55 years we have been blessed to be a part of the Binghampton community, as our business has grown and prospered," says company president, Dale Stevenson. "With growth comes change, and we are excited about our ownership's investment in our future – and how we can leverage that growth to better serve our customers." In its ongoing drive to make the world a better place, the family donated its "old" buildings to Binghampton (https://www.bdcmemphis.org/hub) and Ave Maria (https://avemariahome.org/).
Meeting the product needs of the ever-evolving communications industry requires Power & Tel to be extremely technology savvy. "We are a company that has earned trust by consistently meeting the traditional needs of our customers for 60 years, as well as a highly progressive firm that leverages technology to meet their ever-changing supply chain needs," Sims says. "We have recognized this need and have made and continue to make significant investments in the latest technologies, operating systems, process improvements, quality controls, and user-friendly customer interfaces to help those customers meet their business objectives."
The company applies these systems in part through its Power & Tel Managed Inventory (PTMI®) program, which offers technology-based, scalable material management, and logistics solutions. These solutions include web portals that offer manufacturers and end-customers full visibility of transaction and material movement, as well as warehousing and facility solutions.
"Our objective is to alleviate inventory and logistics concerns and allow our customers and manufacturing partners to focus on their core competencies," Sims says. "From the customer side, today's public has an unprecedented and wide-ranging set of demands for broadband services, and our customers must place their financial and intellectual focus on this demand to meet their corporate objectives. The time, resources, and money they spend toiling in the supply chain takes away from using these elements to better serve their customers and challenge their competitors for revenue dollars. Our services bring optimization and cost reductions to their operations.
"Our manufacturer partners feel a similar crunch brought on by the public's demand and a highly competitive marketplace," she adds. "Their charge is to constantly provide new and cost-effective technologies, then, once produced, they must be able to seamlessly provide material where and when needed. That, of course, is where we come in: by reducing their inventory costs, and effectively managing the customers' supply and demand."
According to Power & Tel, its PTMI® program has helped major service providers achieve significant cost savings by reducing cross dock and hub facilities and outsourcing services, resulting in labor savings. Clients also implement an inventory management system, giving them full visibility of their assets, and allowing them to effectively reposition those assets. Customers also improved finances, while improving their overall supply chain management systems by outsourcing logistics.
Along with receiving the right materials at the right time, PTMI® clients can also be assured that transaction, inventory, and other information being transmitted is timely, accurate, and secure. "We understand how important visibility or transparency of material movement is to our partners, and in many cases, regulations such as Sarbanes-Oxley require it," Sims notes. "Electronic transmission of this data through means such as Electronic Data Interchange (EDI), web-based on-demand reporting, and B2B XML files is vital to maintaining a seamless transfer of information within the supply chain, and we are equipped and prepared to utilize all these methods and more."
Power & Tel's ability to improve its customers' supply chain operations illustrates its overall focus on building relationships with its customers. At the heart of these relationships is trust, which the company feels it has built up through its 60 years in business, largely through its long-tenured staff and family-oriented culture.
"It is that trust that allows us to be extremely successful in increasing our manufacturer partners' adoption rates for new or enhanced products, and for the opportunity to be an extension of their supply chain, whether in warehousing, shipping, or selling," Sims elaborates.
Of all of Sims' and her company's accomplishments, it is Power & Tel's team of which she is most proud. "We are a family, act like a family, and support our partners like family," she says. "We're not in the market for an order; we're in it for our partners' success and the success of the communications industry."
www.ptsupply.com