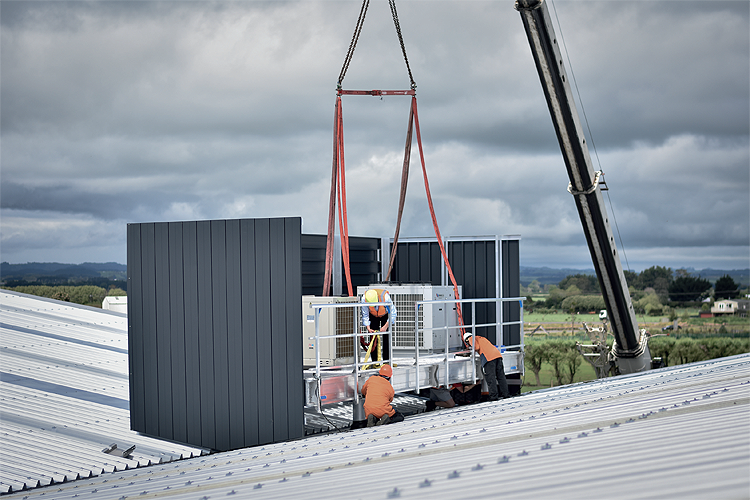 Monkeytoe Group (www.monkeytoe.co.nz) from Taranaki, New Zealand are a full-service engineered HVAC system specialist firm. They provide building access and equipment platforms and mounts and were experiencing issues that arose as clients increasingly requested assistance. One line Monkeytoe offered, custom HVAC platforms, mounts and ancillaries was proving to be a significant drain on resources. The pace of requests for engineering, pricing, and configuration needed an automated engineered platform.
Need for visual configuration and engineering automation
To build an effective system for sales automation, Monkeytoe required several functional elements including a comprehensive, interactive user interface (UI) and a configurator for the beams, supports, and other components of the platform. The company management was seeking a 'push-button' solution to obtain engineering analysis. Since Monkeytoe required rapid results, the configuration system was needed because without configuration, there was no analysis possible.
Previously the company had commissioned a configuration program; it proved very difficult to maintain. Additionally, the old configuration system could not handle the geometry and engineering of custom-engineered platforms. There was no workable way to capture the interconnected structural attributes needed to make a valid platform.
To replace this proprietary configurator, Monkeytoe began by evaluating off-the-shelf configure/price/quote (CPQ) systems. While many had usable configuration capabilities, they failed because they were unable to engineer new product solutions on the fly.
Standard configurators could not handle the dynamic geometry and engineering of custom platforms. They offered no way to capture the interconnected structural, material, and general engineering attributes needed to design a valid platform.
At that point, Monkeytoe found Engineering Intent based in Medfield, MA, and creators of Knowledge Bridge (aka kBridge). This solution was specifically created for automating complex configuration and engineering design requirements.
Monkeytoe paired kBridge with SkyCiv Structural Engineering and Design API for analysis based on the 3D models, the heart of kBridge. Developing a one-button transfer to SkyCiv was straightforward. The system's rapid hand-off to SkyCiv allowed Monkeytoe's engineers to check analytic results and quickly tweak a platform's design.
In addition to 3D modeling, the new solution captures and re-uses engineering rules, geometric relationships, and configuration rules. It provides a highly graphical interactive UI that enables visual configuration. Chief among these is the ability to see the effects when changing engineering and design parameters within seconds. Additionally the UI enables users to move elements into place interactively.
Need for complex engineering analysis
The Monkeytoe HVAC platform design uses standard commercial extrusions and construction hardware components whenever possible. Until the kBridge configurator was implemented, combining these specific fabricated components created bottlenecks as the right combination required intense engineering and design input.
For example, static forces (including weight) as well as the dynamic forces of rooftop HVAC equipment demand close engineering of platform structures. The platforms literally have a bearing on building roof engineering and construction. Acoustic considerations apply as well. Environmental realities also enter into the equation, particularly wind and seismic forces endemic to New Zealand. Thus, the solution to the configuration problem required a complex mix of configuration, component assembly design, spatial arrangement, and structural analysis.
The hierarchical rule-base, the interactive UI tools, and the engineering capabilities made kBridge a solution to solve all the complexities.
Bottom line
Sales and application engineers using the automated system can reduce design time by more than 90 percent. Monkeytoe now bid on more jobs or focuses on more optimal designs, providing clients with a better overall service.
Additionally, Monkeytoe expects to save clients an average of 15 percent on materials from this solution alone. Automated configuration and engineering iterations lead to highly efficient section selection, giving Monkeytoe a strong advantage in a competitive market, while maintaining their high standards of service and quality. The solution will now be used by many different constituents including structural design, acoustical design, sales automation, even automation for distributors.

Scott Heide is Founder, CEO, Engineering Intent. With more than 30 years of experience in knowledge-based engineering software, Heide has long been a key source for industry understanding of and application strategies for engineering and sales automation. Heide drove the development of Knowledge Bridge, a cloud-based comprehensive EPQ (Engineer Price Quote) and visual configuration platform. It offers tools and methods to automate custom engineering, technical sales, and business processes – the 'To Order' in 'Engineer To Order'. Heide holds a Bachelor of Science in Mechanical Engineering from Wichita State University and a Master of Science in Engineering from the Massachusetts Institute of Technology. Heide is a proud member of the Forbes Business Council. Connect on LinkedIn.
https://www.engineeringintent.com/
https://www.linkedin.com/in/scott-heide-34a2353/