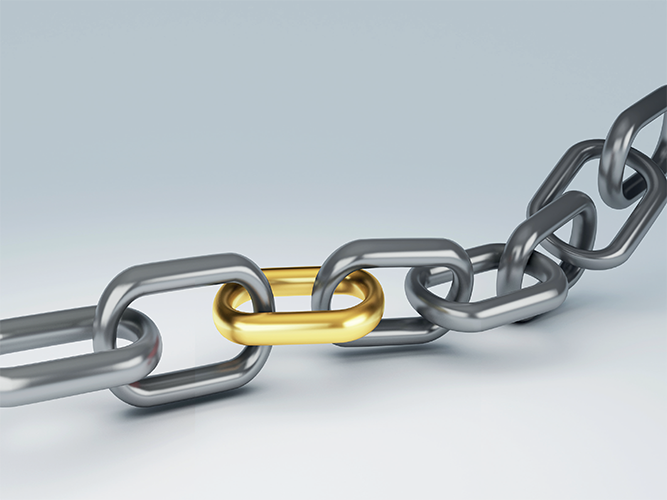 The UK is in a time of unprecedented supply chain turmoil. Through Covid-19, Brexit, global trade wars, disruptive cyberattacks and myriad other crises, the trade networks that support a globalized world are buckling amid continuous shock events.
In the UK, this is being felt across industries. From food shortages on supermarket shelves and shuttered fast-food restaurants, to a semiconductor supply shortage hampering the production of every consumer good that requires a computer chip. In tumultuous times like these, it's more important than ever to understand the specific concerns and future plans of supply chain leaders to better direct strategy towards protecting trade networks and enhancing operational resilience. A recent Interos study has done just that, while also measuring the impact of supply chain disruption to worldwide organizations.
A staggering cost
Perhaps the most stark takeaway from the study is the sheer amount that supply chain disruption is costing companies across the world. The report found, on average, disruption to global trade networks costs large companies £132m ($184m) a year. This is a colossal amount of money being siphoned from the global economy.
It is unsurprising then that a vast majority of the 900 polled senior IT, IT security and procurement decisions makers across the EU and US reported some negative impact to revenue resulting from supply chain disruption. This was attributed to a number of varying supply chain risks including cyber breaches, financial risks, ESG (environmental, social, governance) and transparency issues.
Multiple ongoing threats will continue into the future
While suffering the monetary and reputational damages of disruption to their trade networks, global supply chain leaders are continuing to grapple with the ever-changing conditions of worldwide Covid. Indeed, the report found that a little over half (51 percent) of organizations' global supply chains have been impacted by the Covid-19 pandemic in the last two years, with almost all of those affected (89 percent) reporting disruptions to production lines and locations.
One particular area of future concern – on top of current disruption – is that of a brewing international trade conflict. After all, Brexit has oftentimes put the EU and the UK at loggerheads, while the even more tumultuous relationship between the US and China shows no sign of thawing. Indeed, an overwhelming majority of those polled in the survey (88 percent) reported that international trade disputes would cause significant, notable, or moderate impacts to their organization. The most common impacts likely to be faced by organizations being forced changes in production locations, disruption to banking and payment infrastructure, and increases in cyber-espionage against businesses.
There's no shortage of recent examples of state-backed cybercrime. 2021 has seen a rash of devastating hacks aimed at the supply chain, with the most recent being through the MSP Kaseya. This attack is thought to have impacted 50 of the MSP's direct customers and 800 – 1,500 SMEs further down the supply chain network. The hack led to shuttering of 800 supermarkets across Sweden, which exhibits the far-reaching consequences of any particular attack directed against the supply chain. In North America, the Colonial Pipeline and JBS hacks have also left their mark upon trade networks. In this context of cyber threat, it comes as no surprise that three-quarters (77 percent) of those polled in the survey had encountered at least one cyberattack on their supply chain in the last year.
Recognition of the supply chain threat
In this era of vulnerable yet highly interconnected supply chains, a paradigm shift is required in how organizations meet the threats to their trade networks. The status quo – manual, survey-driven processes that provide periodic visibility over a portion of the supply chain – can no longer keep pace with the complexity of modern supply chains and their ever-increasing risk vectors. As supply-chain driven cyberattacks and a host of other factors increase volatility, corporate leaders are recognizing that the supply chain security and resilience must be a core business priority.
In fact, half of those surveyed (50 percent) believe that it will be their organization's top business priority in two years' time, compared to just under two-fifths currently (39 percent). This shift is reflected in the increasing frequency that boards are meeting to discuss supply chain risk, with over three-quarters (78 percent) reporting that their boards confer on this topic at least once every month.
Technological uptake moving slowly
While it is positive that global organizations are recognizing the severe nature of the threat, change is taking place at a slow rate. It is true that organizations are focusing upon supply chain risk and operational resilience, but adoption of enabling technology is lagging. Fully addressing supply chain threats must rely upon rapid risk-mitigation technology, leveraging AI and data analytics to discover and respond to risk in real time. Organizations must be able to monitor continuously for changes in risk profile before operations are disrupted. This entails assessing a holistic portfolio of risk areas including finance, cyber, geopolitical, prohibitions and restrictions, operations, and Environment, Social, Governance (ESG).
However, according to those polled in the survey, only a third (34 percent) of organizations currently assess their global supply chain on a continuous basis, in spite of the fact that these tools were considered more beneficial than any other kind of solution with 45 percent of leaders ranking them the top three most-beneficial tools for monitoring their global supply chain. The smallest portion of users (16 percent) ranked questionnaires as the most helpful.
It's an unfortunate fact that threats to the supply chain are going nowhere soon, and given the interconnectivity of global trade networks, their impacts will be far reaching. It is incumbent upon both public and private organizations to protect their supply chains as best they can or damage will be felt across the world.
Jennifer Bisceglie is CEO and founder of Interos the operational resilience company – reinventing how companies manage their supply chains, through a breakthrough SaaS platform that uses artificial intelligence to model the total ecosystem of complex businesses into a living global map, down to sub-tier suppliers. Eliminating months of backward-looking manual spreadsheets, the Interos platform helps the world's companies achieve operational resilience by avoiding risks and managing potential disruptions. At the same time, businesses can uncover game-changing opportunities that radically change the way they see, learn, and profit from their relationships.
www.interos.ai
www.interos.ai/resources/global-supply-chain-report/