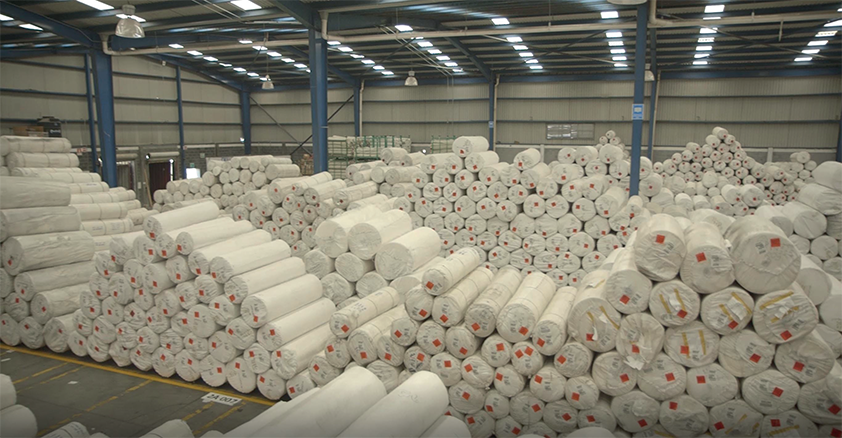 Quality from the inside out
For almost 150 years, QST Industries Inc. has been working to perfect every product behind the seams of the clothing textile industry, making it the world's largest supplier of quality components for apparel
QST Industries (QST) is a family owned and operated company that dates back to 1880, where it began as a horse and cart business in Chicago, selling textiles to local tailors. Today, it operates in 24 different countries and sells to an additional 40 countries around the globe, bringing it to a total of 64 countries, as we learn from Michael and Alex Danch, Co-Presidents and CEOs of QST Industries. "We have over 700 employees around the world that make up our extended family, and we are the world's largest supplier of quality components to the apparel industry."
The company specializes in everyday items for the interior construction of clothing garments, including but not limited to pocketing, waistbands, interlinings, linings, elastics, and embroidery backing. "We have products for every type of garment, and shoes as well," Michael elaborates. "We even supply paper and chemical cutting room supplies as a one-stop-shop. What sets us apart from everyone else is our global footprint, which allows us to deliver a consistent quality product across the world. We have manufacturing facilities strategically located to service every apparel manufacturing market, and we follow the process of our customers' supply chain from start to finish. Our core tenets remain the same as the day we opened – we offer our customers innovative product, global service, competitive value and consistent quality.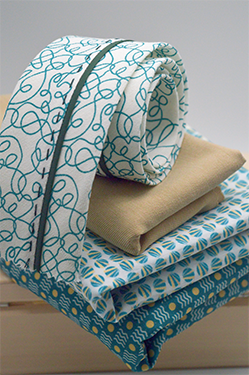 "We have experienced professionals who call directly on the brands and work with garment designers and merchandisers. From the design stage, they choose a product and we follow the process all the way to local tech support teams who ensure the quality of our product meets the standards required as it goes into the garment."
As Michael alluded to, because QST manufactures in many different countries, it has had to implement measures that ensure its customers receive the same quality of product wherever they produce. "If they are manufacturing the same garment in Mexico and Vietnam, we can deliver identical products locally warehoused in both those markets," he says, adding that it is one of the core advantages that sets QST apart from the competition.
One can imagine that having a global operation this wide-spread had its challenges during the pandemic, but not surprisingly, Covid-19 played a huge role in transforming the whole apparel industry. "One of the biggest changes that was brought about by the pandemic has been the de-globalization of manufacturing. We have seen so many customers moving their production to manufacturing regions closer to home after the pandemic created much longer lead times as a result of the global supply chain crisis," says Michael.
Although these issues still exist, QST has succeeded in refining its processes to maintain its Just-In-Time delivery. "Asia continues to be a challenge to be in the pandemic-stricken world, and as a result, a lot of the manufacturing has moved back to this hemisphere, but we have been able to respond to this evolving market because of our global footprint," he continues. "As I mentioned, many of our customers have shifted their manufacturing from Asian countries to regions much closer, such as the Western hemisphere, where we are able to provide the same product that they were getting in other markets.
"QST has factories in the North Carolina, Los Angeles, Mexico, and the Dominican Republic, to cover our customers' needs in this hemisphere. We also have factories in Romania and Morocco that are servicing our European customers who are moving production back closer to their home. Then, we have factories in China and Vietnam that continue to service our customers across Asia," Michael expresses.
However, in addition to that, transportation and logistics still continues to be a major obstacle, and container pricing remains exorbitant compared to its pre-pandemic level. This has caused a significant shift in where the company's customers are choosing to produce. "Shipping is up 500-to-600 percent of what it was two years ago, and it's also become very unreliable, as shipping times have become erratic and delayed. It's very hard to predict when containers will make it across the water and to their final destination," Michael elaborates.
We then go on to discuss exciting ventures taking place within the company, such as new areas of development with the ever-evolving world trade. "One of the responsibilities at QST is to be well-versed in trade regulations and requirements around the globe. Trade laws are constantly changing, and new agreements are put into place all the time. We recently organized a round table discussion led by industry and political experts with some of the biggest US apparel companies to discuss trade embargoes, and the purpose of the meeting was to educate our customers on the potential impact of changing rules, and find ways to avoid a crisis. QST works with trade attorneys, the US department of trade, Customs and Border Protection and the likes, to help keep the industry and our customers informed on regulatory changes.
"The US recently ratified the US Mexico- Canada Free Trade Agreement (USMCA) to replace the North American Free Trade Agreement (NAFTA). Subsequently, it has been up to QST to make sure we keep our customers informed about the requirements, and provide products that are in compliance. Of course, the pandemic has made everything a bit more challenging because manufacturing in the US has slowed as part of the ongoing labor crisis. One of the requirements with USMCA being ratified has meant that pocketing fabric must be produced in the region, and the US, Mexico, and Canada were not ready to handle the demand, which spiked instantaneously. So, it has been a considerable effort to make sure we keep our customers supplied with the fabric they need to keep their production running and to stay within compliance of the trade regulations, which I believe we have achieved very successfully," Michael highlights.
These days, innovation can be clearly seen in some of the more technical fabrics, and another way in which the company contributed to combating Covid-19 was through the development of PPE. "When the pandemic started, we pivoted our manufacturing and responded with a full range of PPE fabrics for the medical industry. We also started producing masks out of our facilities for a number of large retailers.
"Now, we don't see much demand for that PPE production anymore, but we continue to innovate with technical fabrics, and stretch and comfort continue to be in high demand as work from home has created a trend towards comfortable clothes and expanding waistlines too! Uniform business is also a very large sector for QST, and recently fire retardancy fabrics have seen significant increase in demand. Oil facilities around the US have grown as part of the deglobalization and push for energy independence in the US, which, has meant a growing need for FR uniforms, and our fire-retardant fabric line has really grown along with it."
In the coming years, Michael and Alex plans to continue to keep up with the ever-changing trends necessary for the construction garment sector, and we look forward to seeing QST Industries continue to expand upon its sustainability initiative. "In addition to what I've mentioned, eco-friendly fabrics have become increasingly important. We continue to see increased demand and obviously it's in the spotlight today with climate change and global warming. There has been a spotlight on the waste that is created from fast fashion and the industry is about to take a major turn toward higher quality clothing that will last for years, and QST components will help to keep these garments looking good and performing well for many many years," Michael concludes.
QST Industries Inc.
https://www.qst.com/
Services: Supplier of quality components to the apparel industry