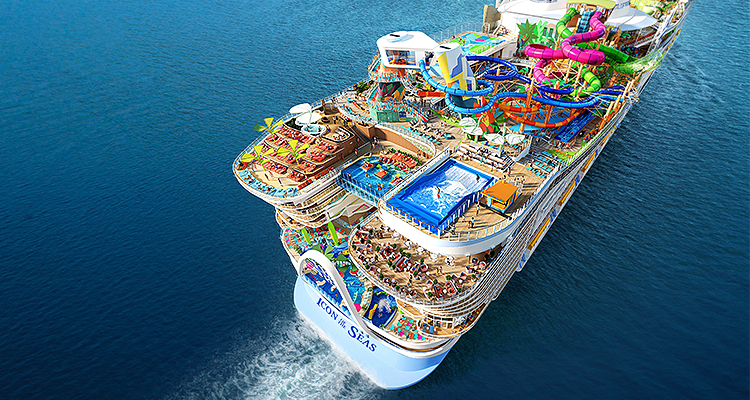 Royal Caribbean Group's secrets to a solid supply chain at sea 
As Global Chief Supply Chain Officer for one of the world's leading cruise companies, Royal Caribbean Group, James Wells has an important job. Along with his team, James is responsible for maintaining engaged and efficient working relationships across the group's international community of suppliers. 
In conversation with Supply Chain World, James talks us through his career thus far and the kinds of challenges he must overcome at Royal Caribbean Group. 
"Over the course of my career journey, which has enabled me to work in multiple industries related to the life sciences, Consumer Packaged Goods (CPG), and cruise hospitality, I've had ample opportunity to learn about some of the most innovative and highest-performing supply chains in the world," he begins.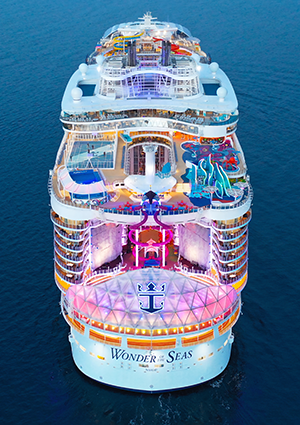 To say James is passionate is an understatement. "My career has been one dictated by continuous learning," he goes on. "One of the most important lessons I've come to understand is the process of influencing and leveraging the full end-to-end value chain. 
"This extends through the multiple tiers of suppliers and has proven to be crucial experience when it comes to navigating the current challenges we're seeing in the global supply chain – it's an ever-changing regulatory environment, and a real challenge." 
Within the last few years in particular, the previous order has been displaced by a new one. Supply chain officers, including James, grapple with unprecedented difficulties. Procurement challenges, long lead times, and price hikes threaten stability and can have potentially catastrophic knock-on effects for a business. 
Today's global supply chain leadership requires operational excellence across the core disciplines of sales, planning, and integrated business planning (IBP), alongside a whole host of new supporting technologies.  
An award-winning offering 
As James explains, those working in procurement and supply chain must harness a multi-layered approach, utilizing emerging digital tools, data management, and real time actional insights. In doing so, companies can better respond to the increasingly connected and complex global supply chain. 
"I see my role at Royal Caribbean Group as a joy and a privilege," admits James. "For work, I get to coach and enable the next generation of supply chain leaders within our organization, building the most resilient, sustainable, and efficient value chain in the industry. 
"But it takes the entire value chain to deliver on our mission," he adds. "One example of this is our recent one-week suppliers conference, where we invited 400 of our 10,000 suppliers to focus on our growth path, and to connect them directly to the products and services that enhance our guests' experiences."  
Royal Caribbean Group has a rich history. It was founded in 1968 by hospitality entrepreneur Ed Stephan and a trio of Norwegian ship owners: Sigurd Skaugen, Anders Wilhemsen, and Gotaas Larsen. 
Just two years later, the company's first ship, Song of Norway, set sail on her maiden voyage from Miami. With time – and plenty of hard work – the ships got bigger and bigger. 
Considered the mega-ship of the modern cruising era, Sovereign of the Seas left port and, at the same time, broke new ground in the industry, in 1988. At the time it was staggering but, as with most world firsts, fast forward a couple of decades and the bar will have inevitably risen.  
Oasis of the Seas, which Royal Caribbean Group launched in 2009, weighs in at an eye-watering 225,282 tons with the capacity to carry over 5000 passengers. It was the single largest cruise ship the world had ever seen. 
As it stands, Royal Caribbean Group has a fleet of 63 ships travelling to approximately 1000 worldwide destinations. It is the owner and operator of three award-winning cruise brands: Royal Caribbean International, Celebrity Cruises, and Silversea Cruises, as well as being  a 50 percent owner of a joint venture that operates TUI Cruises and Hapag-Lloyd Cruises. 
"Our fleet consists of everything from the world's largest ships in the Royal Caribbean International brand to our smallest ship, Celebrity Xploration, which carries just 16 guests in the Galapagos Islands," James details. 
"Royal Caribbean International offers multi-generational-focused travel, while a more intimate and premium experience is available via the Celebrity Cruises brand. If one is after ultra-luxury and expedition cruising, then we have the Silversea brand." 
Sustainable cruising 
The group's fleets continue to grow across each of its global brands. In 2023 alone, for example, it will take delivery of Icon of the Seas, Celebrity Ascent, and Silver Nova.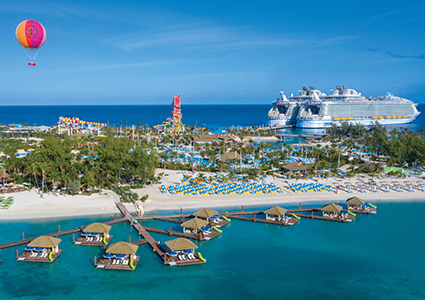 "Icon of the Seas is the culmination of more than 50 years of delivering memorable experiences," reveals James. 
"Silver Nova offers innovative design and allows guests to experience the world like never before, offering an immersive destination experience to our guests. She also boasts some of the industry's most spacious accommodations. 
"What's more, Silver Nova will be our most environmentally friendly ship yet, and thanks to her groundbreaking technological solutions, she will propel Silversea and the cruise industry into a new era of sustainable cruising," he adds. 
Clearly, the group's extensive portfolio offers something for every type of traveler. "In addition to ships, we have continued to expand our offering when it comes to destinations, including Perfect Day at CocoCay, our very own private island in The Bahamas," says James. 
"We continue to create new experiences, venues and industry-leading products and services for our guests," he comments. "This creates the opportunity to engage with our global supplier base of over 10,000, in more than 100 countries, to drive consistency of service and efficiency of cost. We not only engage the suppliers themselves, but we also engage the local communities. 
"To that end, we've invested in new vendor management systems, and an industry-leading Procure-to-Pay platform. This also helps us remove unnecessary and wasteful friction in the end-to-end workflow. 
"As we engage our suppliers, it's important that we keep our partners in sync with our growth and innovation plans. Our approach is to win together with our supplier community and create long-term and mutually beneficial relationships that drive consistency in service and market-leading quality while we and our suppliers scale efficiently over time. 
"Now more than ever, we're also engaging with our supplier partners to improve our Environmental, Social, and Governance (ESG) progress across our business portfolio and supply chain," he concludes. 
"Collaboration is essential, as we continue to achieve new milestones in our decarbonization goals, and stay committed to sustainably sourcing food, materials, and fuels.  
"I'm both proud of and excited for our company and our global supply chain team as we tackle the complexities ahead by leveraging advancements in systems, tools and ever-improving ways of working. These include new levels of engagement with our supplier community all built on the foundation of the reputation we've built over decades of fairness, integrity, and transparency."