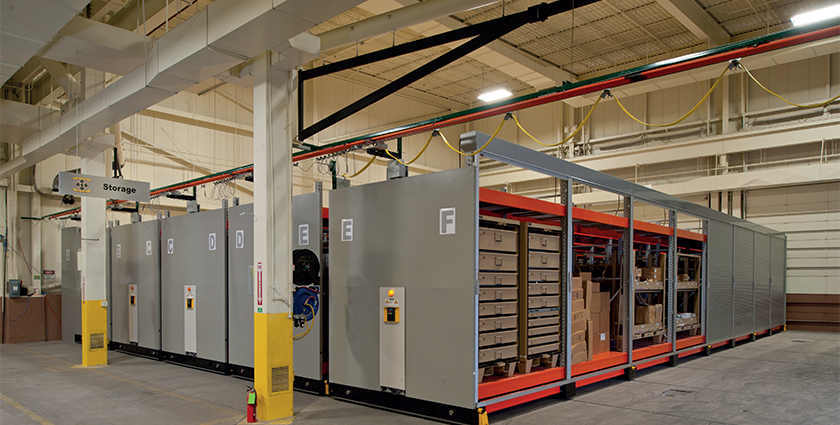 Run it like you own it – Because you do
Spacesaver has come a long way in its 50 years of operation. Now, the company has established itself as a leader in the provision of safe, high-quality, and durable storage solutions
In the early 1970s, Ted Batterman had a realization that optimizing space, energy conservation, and productivity would be of vital importance in the future. So, he rented a barn just outside of Fort Atkinson, hired a team of seven employees, and set to work building a company capable of bringing high-density mobile shelving to customers across the US.
That company is Spacesaver Corporation (Spacesaver). Having steadily built up its reputation and expertise since its founding in 1972, Spacesaver now offers a range of safe, high-quality, and durable storage solutions, encompassing everything from its flagship high-density mobile shelving, to preservation cabinets, universal weapons racks, evidence lockers, and library carts.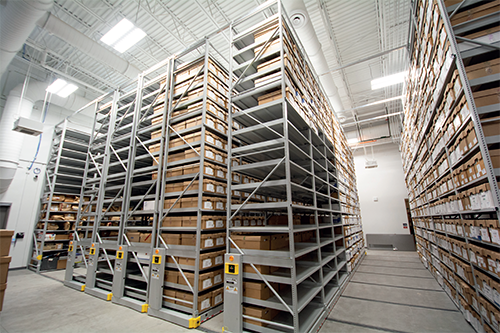 As Stephanie Congdon, Director of Supply Chain at Spacesaver explains, the company prides itself on being a complete solutions provider. "We have revolutionized the way many organizations maximize their space," she states. "We've installed around 400,000 of our systems in a variety of vertical markets, including education, public safety, museums, indoor agriculture, libraries, the military, corporate offices, healthcare, government, and industrial partners."
The supply chain team at Spacesaver is made up of four departments: strategic sourcing, production scheduling, inventory control, and shipping and receiving. With a lot of moving pieces, it's a team that's well-accustomed to adapting to changes. Stephanie's role is to manage all aspects within these departments, both on a day-to-day basis, and in the execution of the company's long-term vision.
"Strategic Planning is an integral part of the life at Spacesaver, as well as today's rapidly changing world, so trying to stay ahead of any potential issue is key," Stephanie says. "We look at risk management and prioritize accordingly. On top of that, we also have an incredible network of local distributors, who offer unparalleled experience and expertise through every stage of their projects. The combination of all these facets is unique to Spacesaver."
Supply chain professionals know better than most just how difficult the last few years have been. The Covid-19 pandemic brought business to a standstill in early 2020, but it also offered a learning opportunity.
"One of the biggest takeaways over the past two years is that you need to be prepared," Stephanie reflects. "Be prepared at all times by keeping safety stock levels in check both in house and at suppliers; be prepared to increase safety stock levels for longer-lead-time parts or high-risk parts; be prepared for inventory turns to decrease; be prepared to offer alternatives or options for stock out situations; be prepared to get creative in response to labor shortages; be prepared to adjust to logistical delays; and ultimately, be prepared to respond to price increases.
"Clear, timely, and transparent communication with our distribution and their customers was also key to our success in navigating supply chain disruptions," Stephanie added. "Bad news does not get better over time, so freely sharing updates from our suppliers and any adverse impacts that may result proved to be essential in mitigating issues.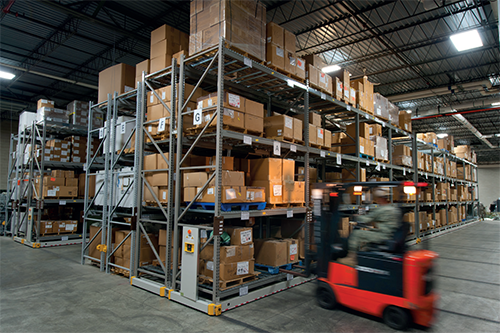 "Thankfully, we have a great engineering team, with whom we work to review options for alternates or even explore potential redesigns," she continues. "They're able to respond quickly to any needs for substitutions. Pricing remains a major challenge, with almost every commodity becoming more expensive over the past year. Nevertheless, our Strategic Sourcing team is still able to negotiate and focus on cost savings and avoidances. Steel remains our largest commodity, so staying abreast of market trends is critical."
To mitigate against supply chain challenges, a major focus for Spacesaver in the last few years has been the successful implementation of its employee-led Continuous Improvement (CI) program. As part of the initiative, employees submit ideas via CI cards, which are then investigated and resolved. Spacesaver has closed more than 500 CI cards to-date, a process that has led to a number of innovations, including recent improvements to its inventory control.
"We're creating additional discrete inventory locations within our operations in order to improve the accuracy of raw materials, WIP, and finished goods," Stephanie confirms. "We are also investing in an enterprising photo documentation system, which will allow us to take pictures of anything and everything coming in or going out and upload them to the cloud. We'll then be able to use that database for outbound shipments, quality issues, safety incidents, incoming receiving, damages, or anything else. An upgrade to our ERP system will follow later in 2022."
Spacesaver isn't just innovating internally, however. The company is also bringing its resourceful thinking to projects throughout the country, including recent upgrades to the equipment hub at a major Division I sports facility.
"The current layout of the hub is inefficient and cluttered, creating several bottlenecks in the shipping and receiving process, and putting the security and safety of employees and equipment at risk," Stephanie tells us. "To help streamline operations, our local consultant conducted several walkthroughs with the university's equipment management team, identifying where an updated layout and our trusted solutions could provide a much-needed boost to their operational efficiency, morale, and equipment delivery practices. When installed, the system will support logistics for more than 15 teams, and a robust staff of equipment management professionals."
Not to be overlooked, the backbone of Spacesaver's success is its people. The company has been 100 percent employee-owned since 2018, a fact that is encapsulated in one of their core values: 'Run it like you own it – Because you do.' It's thanks to their dedication that Stephanie predicts a bright future for Spacesaver, in what is its 50th year of business.
"As we celebrate our major milestone this year, we're treating all employees and their families to a special company sponsored outing to a Milwaukee Brewers baseball game," she says. "It's the people within this business who make it a great place to work, and our culture team works hard to create fun events for everyone and keep people engaged.
"While challenging in many ways, the past two and a half years have only highlighted in the commitment and tenacity of the Spacesaver team," Stephanie concludes. "We're now focused on a successful 2022, and we're looking forward to the launch of impactful new products, engaging many new customers, and driving enhancements throughout our operations and supply chain."
Spacesaver
https://www.spacesaver.com
Services: Storage Solutionsr