The Lion Electric Company is driving vehicle electrification
In 2008, Lion Bus, as The Lion Electric Company (Lion) was formerly known until 2017, was founded by Marc Bédard and Camile Chartrand, former executives of Les Entreprises Michel Corbeil. Today, the business is leading the electric school bus segment in North America, after being the first to implement such vehicles back in 2016.
Coming from a bus manufacturing background, Marc made the decision, in 2010, to switch Lion's entire range of commercial vehicles to 100 percent electric. The company's portfolio includes a number of different school bus designs, and all-electric alternatives for class 5, 6, 8, and 8 tractor trucks, each of which are capable of eliminating up to 100 tons of greenhouse gases per year. In addition to providing the units, the organization offers a turnkey service to simplify fleet electrification for its customers.
Effective vision
"We currently have over 800 on the road, which have collectively covered over ten million miles so far," opens Jud Kenney, Senior Vice President of Procurement and Supply Chain. "To put it into perspective, in 2010, when Marc decided to go completely electric with Lion, very few knew about Tesla and the Nissan Leaf was yet to be released. Really, we have been doing this since 2008, and focused on controlled product releases and smaller volumes. With experience gained, we are expanding to larger markets where Electric Vehicles (EVs) make a lot of sense but have not been considered.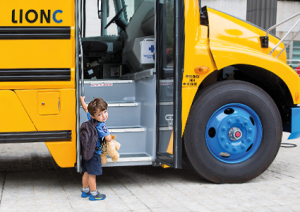 "The other difference between ourselves and our competitors, is that all our products have been designed to be fully electric, as opposed to being converted over from an internal combustion engine. It allows for far more innovative designs to be implemented, as the product is purpose built for EV components. Our primary facility is in Saint-Jérôme, Quebec, which is a suburb of Montreal, and we have recently opened a brand new Made-in-America plant in Joliet, Illinois, as well. Once this has fully ramped up, it's set to be the largest dedicated zero-emission, medium- and heavy-duty manufacturing facility in the U.S. With our current technology, the range of our buses is up to 155 miles and the trucks can reach 250, both on a single charge. We are planning to grow alongside this market and are certainly here for the long-haul."
Jud joined Lion in March 2022, bringing a simple yet effective vision, and an experience-driven passion for supply chain management, as he details: "For almost a year now, I have been employing the best industry practices in terms of procurement and managing our supply chains to battle the company's main obstacles. We are currently facing exponential growth in our production rates, facilities, and the expansion of our model lineup. The issue is prioritizing all these improvements with respect to the benefits that each of them bring."
"It's fantastic that we are constantly deploying vehicles, which utilize our proven technology. However, if a company was experiencing such growth in just one of these three avenues, either increasing our production rate, tripling the number of plants we manage, or increasing the number of platforms we produce, it would be a significant challenge, but all three at once is something else. Fortunately, I love operations and supply chain management with a burning passion, so really, it is exactly what I came here for. It's truly rewarding for me, having such an opportunity to do what I love."
Key relationships
Jud's team has recently been working to expand the capabilities of the company's existing supply chain, as a means to support its Saint-Jérôme vehicle production facility. The end-goal is to make the chains more repeatable and sustainable so that they are able to match the
increase in production rates that the plant is undertaking. They are also creating two new supply chains, one to support the Joliet location, and another to work alongside Lion's battery production facility in Mirabel, Quebec.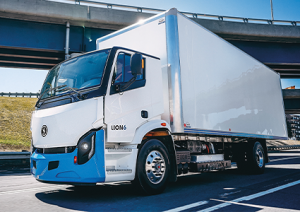 "We will soon be starting the production of several new models, with expedited timelines between certification and when we actually start to make them," Jud explains. "We have assigned dedicated teams for each of these challenges, all of which are operating simultaneously, and require a great level of synergy. We are striving to keep everyone aligned, to maintain coherence in both our strategy and the technologies being utilized.
"For 13 years, we have specialized in designing these vehicles, during which time we have built up key relationships in the industry. However, our supply chain is only as strong as our weakest link, so we need to ensure that our existing suppliers can grow with us and mirror our dimensions for capacity, quality, stability, and cost competitiveness. We want to see all these companies mature at the same rate as us, but if they cannot match it, then we may have to pursue others.
"Lion wholeheartedly believes in sourcing goods and components as locally as possible," Jud continues, "and we have been developing our relationships in Illinois and regionally for our Joliet plant. We have allied with several companies in the area already, as well as the local governments and chambers of commerce in nearby states. Veteran and automotive suppliers would be a great fit for us, but it takes a great deal of due diligence on our behalf to confirm these partnerships and the requisite contracts with these folks."
Move towards electric
In employing the necessary teams to prevail against these upcoming challenges, Lion has been building on its foundation of experience by recruiting supply chain veterans from a wide range of industries, but primarily those with backgrounds in manufacturing. "Our best recruits though, are members of society with a calling to manufacture products which will directly address the global climate crisis," Jud states. "We want to be a part of the global solution and, in my opinion, it's important to have a purpose that is more than just a job. Once people are onboard, it is about having fun and working together to progress towards furthering our best-in-class processes. Most of us have come from mature industries, so we have seen and operated through many different approaches, which brings a strong bank of knowledge.
"Lion has a great story, and I am very proud to be a part of this inflection point, and to be introducing the new plants and models that will continue to shape the company for years to come," Jud concludes. "2023 is going to be a big year for us with the forecasted exponential growth, and I can't wait to apply all my experience and education in establishing the foundations for the company's development going forward. We have worked through our earlier adopters, mostly in school districts around California, and have been in production long enough to be reaching the later side of the cycle. As we release the LionA and LionD school buses and the Lion5 and Lion8 tractor trucks this year, we are excited to see them succeed in the market, especially with the support of the Inflation Reduction Act. We believe that the funding available through the Act will motivate these later adopters into making the move towards electrification, benefiting not only Lion, but our planet as well."