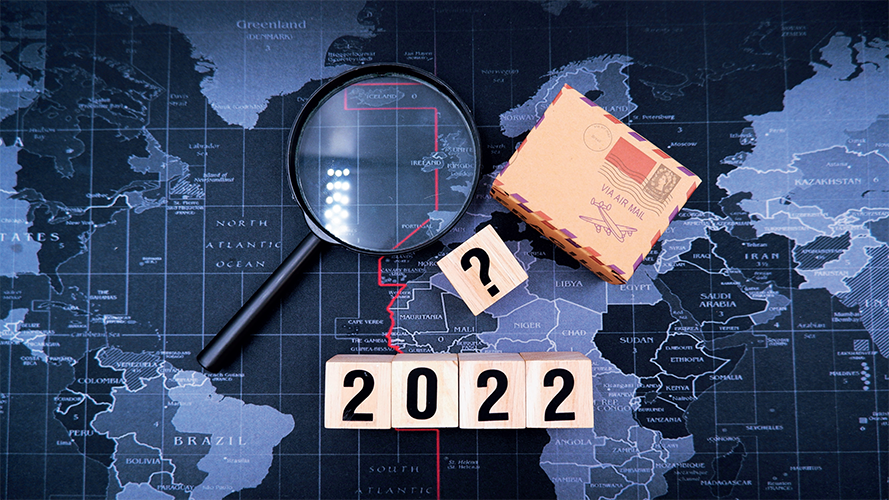 With all due respect to Mark Twain, predictions aren't difficult – even when they involve the future. You just need to be careful not to make sweeping statements about the things that ought to happen, but which can be derailed by what one British prime minister succinctly called "events, dear boy."
The last two years have provided an object lesson in the power of 'events' to throw all the carefully calibrated machinery of world trade into chaos. In early 2020 it was Covid and the associated worldwide lockdowns that played havoc with supply chains; in March 2021, it was the grounding of the Ever Given in the middle of the world's most strategic waterway.
My first prediction is therefore the easiest of the lot: there will be an event that comes entirely out of the blue and for which most manufacturers and suppliers will be completely unprepared. This event will further demonstrate the vulnerability of just-in-time supply chains – indeed, of the whole model of supply 'chains' in general, where any broken link sends ripples across the world.
Buyers and suppliers are increasingly aware that the models they have built over the last few decades are no longer fit for purpose; they realize that paradigmatic change is urgently needed to create the robust, resilient, agile supply chains of the future.
Prediction Two: Volatility – the new normal
Pre-pandemic, businesses prepared for local or at most regional disruption. Covid was an order of magnitude bigger than anything we'd prepared for: hardly anyone had war-gamed such a scenario or performed a stress test on this scale.
We'll be struggling to comprehend the impact of Covid for years to come, but we can predict one of the medium-term results, which is that volatility will remain a feature of global trade well into 2022. We're already starting to see this: Tradeshift's latest quarterly Index of Global Trade Health has revealed a significant fall in trade activity across our platform, with order volumes falling by 24 points, the biggest drop we've seen since the height of the first lockdown.
Lengthening delivery times, deepening bottlenecks, and rising commodity prices are beginning to weigh on buyer behaviors. With no compelling evidence that suppliers have started to cope with their order backlog, we can expect a bumpy ride for the foreseeable future.
Prediction Three: Technology will empower, not replace, humans
Numerous commentators have expressed fears that automation will drive unemployment, but it's actually happening the other way around. As the adoption of robots and artificial intelligence grows across the board, there will be a corresponding rise in demand for people to analyze and interpret the information they generate.
In 2022, businesses will find themselves in a race for talent unlike anything before. They will quickly realize that their biggest procurement challenge doesn't involve raw materials or components, but rather how to secure the expertise they need to innovate successfully and make smart, data-driven decisions to preserve the overall health, integrity and diversity of supplier relationships.
I will go further and say that the businesses that do this most successfully will not be those that simply manage to hire top talent, but those that can unlock the skills within their supplier network. Navigating the 'events' of the year to come – whether it is changing patterns of consumption, supply chain revolutions, or changing expectations in user experience – will require businesses to collaborate closely with their suppliers. They will need to pool resources, including the insight and analysis they generate, to create solutions that deliver results across the value chain.
The demand for these skills will in turn drive a 'people's revolution' everywhere from recruitment to education in the years to come, but its effects will be felt first in the supply chain – and it will undoubtedly be one of the defining narratives of the year ahead.
Prediction Four: Green it like you mean it
In one respect, 2022 will be like every year that's preceded it for decades: businesses will continue to trumpet their environmental and sustainable credentials and pay lip service to 'saving the planet.' These claims are often little more than hot air, with research earlier this year finding that 42 percent of enterprises' 'green' claims are false or misleading.
The next 12 months will be different. It's not just that consumers are more concerned about climate change, pollution and other green issues; they are increasingly intolerant of businesses that speak to sustainability without delivering real change and more skilled at spotting and publicizing greenwashing.
In 2022, businesses will find themselves under pressure to prove they are taking meaningful action on sustainability. There is no question that being provably green is in businesses' interests. The problem is, it's incredibly difficult to measure this across complex international value chains. Deloitte recently found that 65 percent of organizations have limited or no visibility below their tier one suppliers.
I predict that the most effective standards will not be drawn up at climate summits or in the corridors of power, but will evolve organically – the by-product of the ongoing drive for digitalization and transparency throughout the supply chain.
Prediction Five: The turn to technology
Digitalization can't fix global volatility, but it will give businesses the agility to respond effectively – but only if it's accompanied by a change in mindset. Instead of looking at each element of the supply chain as its own unique fiefdom, we need to step back and see it in the round. The businesses that turn this crisis to best advantage will be those that figure out how to connect buyers and suppliers more dynamically as part of a richer, digital-first ecosystem – a community where interconnectivity creates a network effect far stronger than any tech application.
Businesses are waking up to ways that technology can help create end-to-end resilience that protects not just their own interests, but the interests of the whole ecosystem. Innovation will accelerate in areas such as trade financing, which failed to provide sufficient support to suppliers through the pandemic. A new wave of digitized financing products are poised to fill this gap, providing faster access to working capital for suppliers which will incentivize them to replenish depleted inventory.
Use of B2B marketplaces will also continue to grow as procurement teams look to create more flexible and diverse supplier relationships. The curated marketplace model has a significant role to play in helping buyers and suppliers build resilience against disruption by intelligently pooling supplier capacity and matching it to areas of high demand.
For sources used in this feature, please contact the editor
Christian Lanng is CEO and Co-Founder of Tradeshift, a market leader in e-invoicing and accounts payable automation and an innovator in B2B marketplaces and providing access to supplier financing. Its cloud-based platform helps buyers and suppliers digitize invoice processing, automate accounts payable workflows and scale quickly. Headquartered in San Francisco, Tradeshift's vision is to connect every company in the world, creating economic opportunity for all. Today, the Tradeshift platform is home to a rapidly growing community of buyers and sellers operating in more than 190 countries.
www.tradeshift.com