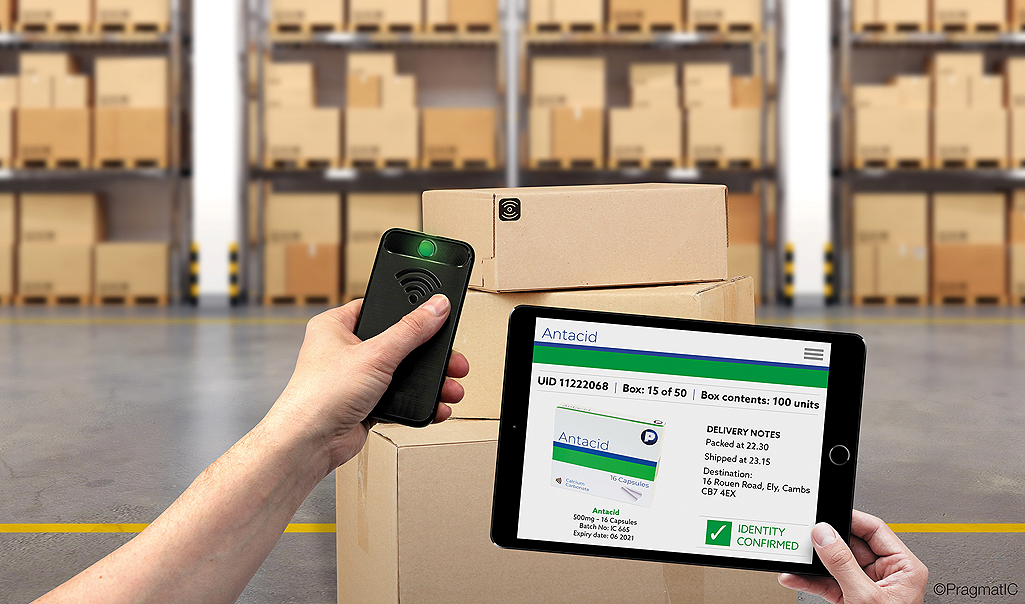 In today's challenging times retailers and brands are looking for even more innovative ways to boost business, improve supply chain efficiencies and engage with their consumers. Incorporating low-cost RFID (Radio Frequency IDentification) and novel flexible electronics technology into everyday objects could be a real game changer.
The retail industry has had an especially difficult time during the last 12 months. On the one hand, essential food shops have been incredibly busy and endured supply chain problems; whereas non-essential physical shops have been forced to close during lockdown periods and focus online, with more than a few failing to make things work. The widespread impact of the Covid-19 crisis has compelled retailers and brands to improve operational efficiencies and logistics, and to build stronger relationships with their consumers in order to survive. In many ways, it has accelerated a process that was already in motion before the pandemic, encouraging them to invest in technology that can help to improve supply chain processes and to connect with consumers more effectively.
RFID is not new. It has been around for some time and is widely used in the apparel sector for stock management. This leverages conventional electronics – silicon integrated circuits (ICs), but even though there have been cost reductions of over 50 per cent in the last ten years, the price remains far too high for the Fast Moving Consumer Goods (FMCG) sector, where items cost one or two pounds (or euros/dollars) and the packaging pennies. Plus, on the practical side, bulky, rigid silicon-based inlays (tags) can be felt under thin labels and are also susceptible to impact damage on high-speed packaging lines.
Low-cost RFID and novel flexible electronics offer an exciting alternative to conventional silicon-based solutions. These can be combined with blockchain and cloud-based services to monitor goods from the point of origin, through manufacturing and right up to the end of product life. This provides a range of benefits including provenance, authentication, supply chain tracking, stock control, and can even help to increase recycling rates.
The traditional method of identification on packages in the retail environment has been 2D or 3D barcodes. As these require no additional manufacturing resources these are simply printed along with the rest of the label. However, apart from some initial success in Asia, most consumers have not really engaged with these codes, even after smartphone camera apps were updated to automatically read them. In addition, these codes are limited to the SKU / product level, as conventional printing lines cannot generate unique item level codes. That would require digital printing, and/or double-pass printing (once through a traditional printer then a digital printer for the barcode), which would add extra costs. Barcodes are also visible and can be copied by counterfeiters quite easily.
Near Field Communication (NFC) is a type of RFID technology that operates over short distances and can be read by NFC-enabled smartphones. NFC can be added underneath the existing product label, so it does not take up valuable marketing real estate and could be used in both the supply chain and also by the end consumer, pre- and post-sale. A unique identifier can be associated with each item that can then be securely logged into a cloud database. By tracking and recording the item at each stage of the manufacturing and supply journey, it is possible to prove provenance and to reduce grey market activities (where goods are not counterfeit but are bought in a low-priced country and then sold in another for a much higher price).
Now is the ideal time for serious players in the retail industry to investigate and invest in technology innovations, such as smart packaging which leverages low-cost RFID and cutting-edge flexible electronics, in order to streamline supply chain operations and boost business. These forward-thinking retailers will be well rewarded.
Gillian Ewers is VP Marketing at PragmatIC Semiconductor. PragmatIC Semi manufactures ultra-low-cost, flexible electronics that are thinner than a human hair and each cost less than one cent to produce. The potential for PragmatIC's production technology is huge – with opportunities for introducing intelligence and interactivity to everyday items, enabling the potential for trillions of smart objects.
www.pragmaticsemi.com