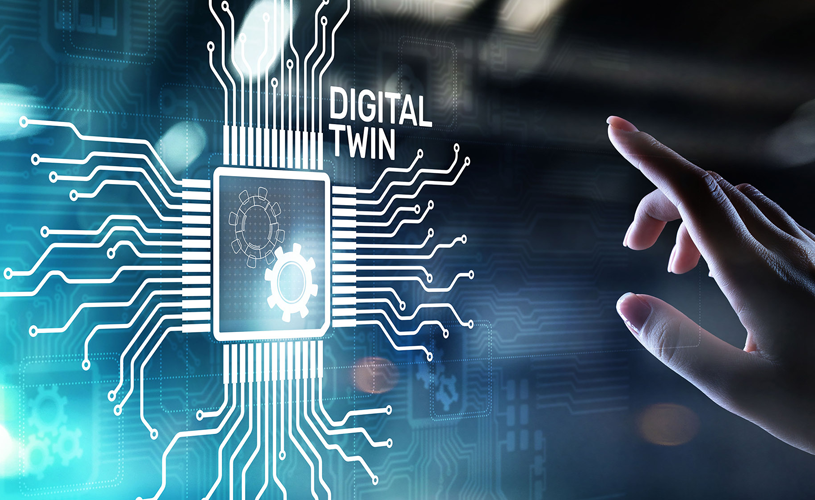 Visualization and control
Driven by real-time data capture, a digital twin offers a unique level of supply chain transparency that can enhance operational agility and reduce carbon expenditure, by enabling greater productivity, streamlining delivery processes, predicting maintenance downtime and reducing waste.
Having successfully integrated a digital twin platform at their flagship site for innovation and sustainability in Italy, leading global technology company, ABB, is well placed to offer advice on why and how digital twins in factory operations should be considered best practice for reducing carbon emissions.
Here, Andrea Menti, Operations Director for ABB's Electrification business area, shares how the addition of a digital twin platform is already benefiting their factory supply chain.
By definition, a digital twin is a virtual mirror of physical processes, created by the collection and processing of real time data streams from around a facility, or an entire supply chain. Brought together by cloud connectivity, these data streams produce an accurate, live digital replica of production, quality, maintenance and logistics processes in a platform that can be viewed on multiple devices in facilities up and down the supply chain.
In a very dynamic ecosystem, volatile and unpredictable, with the ambition to co-promote agility and productivity, smart manufacturing and digital twins are increasingly showing their potential.
In the management of supply chain-wide agility and energy efficiency, digital twins enable complete visualization and control over the entire production lifecycle in one common digital environment. In today's competitive environment with a firm focus on sustainability, having a digital twin of your supply chain is critical for continuous learning and to support business growth, providing instant access to data and the capability to unlock insight and value in real time.
ABB Frosinone – a best practice example
ABB Frosinone in Lazio, central Italy, produces in the region of four million circuit breakers each year for industrial processes, building infrastructures and utilities. It has been recognized by the Italian Government as a 'lighthouse facility', a term used to describe a manufacturing site that acts a beacon of innovation and sustainability for other companies to follow on their digital transformations and Industry 4.0 strategies.
The site is already delivering 30 percent energy savings using cloud-based energy management systems. The most recent addition to Frosinone's portfolio of state-of-the-art sustainability enhancements is the introduction of a digital supply chain twin, which was executed in two key phases.
First, we began collecting and processing data from sensors placed at critical points around our processing facility to enable the creation of a real-time digital twin of our processes, equipment and technology. This first stage allowed us to better control our energy usage, improve our productivity and facilitated improvements to the agility of processes, resourcing and time management.
Next, we began working closely with our global suppliers to integrate their facilities into the digital twin open ecosystem. At the same time, we added additional processes in the value chain with the ambition to connect key component manufacturing facilities via the cloud.
When referring to different dimensions of productivity, several key improvements were delivered including an overall Equipment Efficiency Improvement of 15-20 percent. In addition, Mean Time Between Failures increased by 25 percent and Requested on Time Delivery improved by 20 percent.
This level of connectivity has proved game changing for these types of productivity improvements, which in turn enables us, as a responsible supply chain, to drive down our energy consumption and related carbon expenditure by the same extent.
How a digital supply chain twin reduces carbon emissions
For ABB, the introduction of a digital supply chain twin has brought us even closer to our 2030 sustainability goals of making our operations net-zero, preserving resources and advancing social progress. The cleanest kilowatt is the one that isn't used. To deliver this notion, we used our digital supply chain twin to carefully monitor every stage of the planning, supply, production and delivery process to shorten production cycles, cut down on waste and therefore reduce the energy we use.
The process starts with the real-time monitoring of all the key components of our Overall Equipment Efficiency or ecosystem productivity including product quality, process capability, equipment availability, proper planning and material availability and problem-solving effectiveness.
We now have transparency on real time performances and any possible deviation we may have while executing our operations. This give us the possibility to react promptly and address any issue, tracking how effective and fast we are in the resolution. At the same time an enormous amount of valuable information is available to optimize the use of our resources, the enhancement of our capabilities and the design of our processes.
In addition to controlling the manufacturing of products at our Frosinone plant, the digital twin is also used to review, monitor and adjust the production of components in our supplier's factories potentially all over the world. As well as production quantity and demand management, we can monitor product quality at supplier sites no matter where they are located, making immediate corrections when required to save time and raw materials.
By integrating our digital twin platform with artificial intelligence and machine learning technologies we are also able to experiment with predictive outcome models. This enables us to look at newly designed production lines to dynamically adjust the setup to match at best the current product mix and the characteristics of the components in use. This results in minimal or no scraps and continuous equipment availability.
Transparency facilitates efficiency
With a virtual mirror image of physical processes up and down the supply chain, factories are afforded the transparency required to reduce error, plan for maintenance, digitize communication and make instant decisions on production and quality. This all translates to a more agile production flow, a reduction in waste and leaner logistical processes, which together lowers the carbon expenditure of our supply chain.
A digital twin should be considered best practice for supply chains looking to drive agility, productivity and environmental sustainability through digitalization.
ABB is a leading global technology company that energizes the transformation of society and industry to achieve a more productive, sustainable future. By connecting software to its electrification, robotics, automation and motion portfolio, ABB pushes the boundaries of technology to drive performance to new levels. With a history of excellence stretching back more than 130 years, ABB's success is driven by about 105,000 talented employees in over 100 countries.
www.abb.com | https://go.abb/electrification