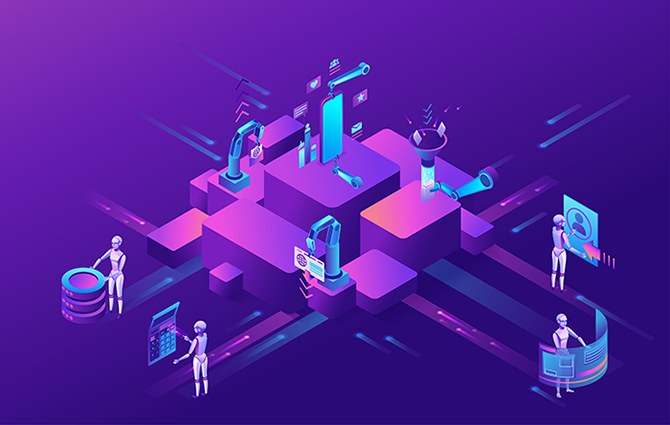 What is required to unlock the next stage of supply chain evolution? By Sateesh Seetharamiah
Unlimited possibilities
Fragmenting demand, rising supply chain complexities, and the need for resilience and responsiveness in the face of disruption are catalyzing a shift in the fabric of the global supply chain. The Covid-led disruption in 2020 was unprecedented for global supply chains, especially for retailers and consumer goods manufacturers; the stakes have altered considerably.
Surveys from several consulting firms show that the preference for online shopping is here to stay. This has led to an unparalleled fragmentation of demand where the demand signal comes from each customer's doorstep. Moreover, even next-day delivery comes too late in the age of instant gratification. For manufacturers, not clued into their real-time supply chains means frequent out-of-stock situations, losing business to competition, and suboptimal inventory management. For instance, during the Covid crisis, 72 percent of retailers experienced multiple stock-outs for fast-moving products. We all remember the toilet roll runs! Fittingly, the top priorities for supply chain digitalization have become demand planning (74 percent), supply planning (69 percent), and inventory optimization (58 percent).
The key to building faster, flexible, and traceable supply chains
While manufacturers are adapting to these shifts, Gartner found that 70 percent of supply chain leaders have not been able to align strategy with operational execution. One of the reasons is the lack of end-to-end visibility and intelligent solutions that help real-time action. To make effective decisions regarding product stocking, holding, recall, and other operations, you need to know what is happening at every point in your supply chain. That kind of granular visibility and traceability – beyond Tier 1 and Tier 2 suppliers – at the SKU level goes a long way in building resilience. According to a McKinsey survey, companies with end-to-end supply chain visibility were two times as likely to report having no challenges from 2022 disruptions.
It's also obviously good for business. For instance, by improving supply chain visibility, a premier international brewer was able to reduce stock-out scenarios at distributor locations by 15-20 percent. In another example, a global leader in confectionery, pet food, and food products was able to standardize its hold and release process with a unified view of its supply chain. Harmonizing data from multiple enterprise resource planning (ERP) and warehouse management systems, it could track where the finished goods were at any given moment and hold or recall them if needed.
Unfortunately, these success stories are outliers. Even today, despite accelerated digitalization efforts, a large part of supply chains, especially in the emerging markets, rely on antiquated tracking methods such as spreadsheets or disparate and disconnected systems. Mining and harmonizing data to glean insights from across the supply chain from these siloed collection methods is effort and cost intensive.
The industry needs a new approach that allows more visibility across the partner network and more collaboration that leads to order fulfillment. An approach that goes further than digitalization and uses integrated solutions to gather, extract, and share information with multiple stakeholders, creating a truly connected supply chain.
Achieve market dominance with a cognitive, connected supply chain
Supply chains can no longer afford to follow a linear model and must transform into connected multi-vendor ecosystems that are scalable, rapidly customizable, agile, and 'always-on'. Competitive differentiation depends on being able to leverage data collected from these connections in real time to coordinate and harmonize functions across people, processes, technology, and networks.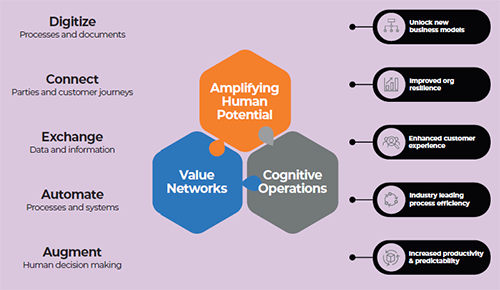 A connected supply chain rests on three pillars – building cognitive operations, exploiting the power of value networks, and amplifying human potential (see fig). This involves:
Digitizing processes and documents to unlock hidden insights faster
Connecting all supply chain stakeholders and facilitating an exchange of data and information in near real-time
Automating processes and systems to remove inefficiencies
Leveraging AI/ML to augment human decision making
By coupling high levels of AI, Automation and Machine Learning with seamless data visibility across the entire value chain, the connected systems get smarter as they scale. For instance, a global sports merchandise giant augmented its network with 325 new distributors using an intelligent supply chain platform with automated sales data acquisition. Access to this data across 32,000+ stores and 30+ countries increased its demand visibility by 60 percent, improving demand planning, speed to market, and customer engagement.
Committing to the next-gen supply chain
Today's massive, complex supply chains are living, breathing organisms. Keeping them alive is a concentrated effort of multiple, interconnected, interdependent systems that run seamlessly without the need for manual intervention. Building a connected supply chain is like creating a central nervous system for this organism. In this system, every tiny cell can send signals about what it needs to a control mechanism that activates appropriate responses to meet those needs. This level of connectivity, insight and intelligent automation will be essential in unlocking the next stage of supply chain evolution to drive hyper-personalization and true reconciliation of human-machine capabilities.
For a list of the sources used in this article, please contact the editor.
Sateesh Seetharamiah
www.edgeverve.com
Sateesh Seetharamiah is the CEO of Edge Platforms, EdgeVerve Systems Limited (An Infosys Company), and a board member and Whole-time Director at EdgeVerve. EdgeVerve Systems Limited, a wholly-owned subsidiary of Infosys, is a global leader in developing digital platforms, assisting clients to unlock unlimited possibilities in their digital transformation journey.