Winebow Fine Wine + Spirits
The home of fine wine and spirits
With leading international brands, Winebow brings the finest wines and spirits to customers across the US
Based in Virginia, Winebow is a national importer and distributor of fine wines and spirits. The company has a dynamic portfolio of offerings from around the world, which it delivers to customers with an exceptional quality of service. Built on the vision of inspiring a passion for fine wine and spirits across the nation, Winebow has seen enduring success throughout the United States.
Having recently celebrated its 40th anniversary, Winebow's history goes back to 1980's New York, where the company was founded. Coincidentally, the Country Vintner was established in Virginia around the same time, and almost 35 years later, the two companies would merge to become a major industry player in both the import and distribution sectors. As an importer, Winebow serves all US markets, and as a distributor, it operates in 18 states that collectively represent over 60 percent of US consumption.
Winebow's national import portfolio is comprised of leading wineries from around the world, including Argentina's Bodega Catena Zapata, Italy's Zenato, Chile's Casa Lapostolle, France's Chateau de Saint Cosme, Spain's Bodegas Borsao, Australia's Yalumba, and New Zealand's Villa Maria.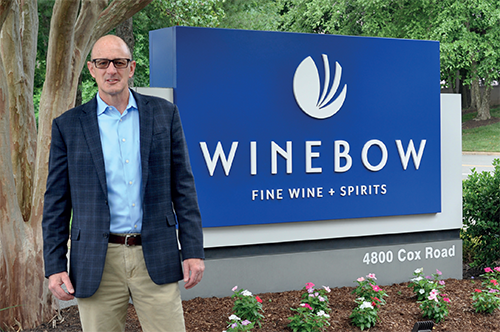 The company is always looking to elevate its product and service offerings, as Chief Executive Officer, Dean Ferrell, details: "In 2021, Winebow Imports partnered with Villa Maria to sell their industry leading New Zealand wines across the United States. This is a transformative relationship for both companies within the high growth category of Sauvignon Blanc.
"Additionally, we launched an omni-channel ecommerce platform consisting of both marketplace solutions and a website based B2B ecommerce store that will elevate the customer experience with enriched content, heightened engagement, and best-in-class service."
Making effective use of the latest technology sets Winebow apart from its competition. Over the past few years, the company has seen enduring success with the support of its advanced supply chain planning software. Winebow's Vice President of Supply Chain Management, Mike Donaldson, comments: "Prior to the pandemic, we made the decision to source an enterprise supply chain planning tool. We selected the Blue Ridge Supply Chain Planning software and launched the implementation project in 2019.
"The project required the creation of a master data management workflow process, and a data warehouse that could link our systems. Our IT, data governance, and supply chain teams worked to build the appropriate integrations to feed the necessary data into the Blue Ridge software, and ensure a successful implementation.
"In May of 2020, just as the pandemic was taking hold, we went live with the Blue Ridge Supply Chain Planning software. While the pandemic did not afford us the opportunity to have a 'normal' break in period with the software, we immediately leveraged it to adapt to the changes that were occurring in the marketplace, such as channel and product shifts resulting from the closure of restaurants; sales growth in retail sales, especially in chain retail; and increased volatility in production and lead time from our suppliers caused by the global supply chain disruptions. With the Blue Ridge software in place, we were able to pivot quickly and make systematic changes to our lead times and demand forecasts, helping to keep critical stock available for our customers."
Recent efforts toward supply chain optimization have placed Winebow in a strong strategic position, as Donaldson affirms: "Our supply chain leadership team has focused on supporting our day-to-day business, whilst also striving to continuously improve our tools, processes, and performance. One of our key objectives has been to transform the team from a purchasing function into a strategic supply chain management function. We have aligned job functions and accountabilities across all regions and provided our associates opportunities for training, career development, and progression.
"In parallel with making improvements to our systems and processes, we have worked to strengthen the partnership between our sales, portfolio, and supply chain departments through cross-department planning meetings. These forums are driving greater alignment and advanced planning on key programs. Similarly, we have established and streamlined our standard operating procedures for our logistics processes, and consolidated our freight business with key partners, meaning the company now has a more reliable support system."
The dedication of Winebow's people has been vital in carrying out these changes, Donaldson enthuses: "People are our most critical asset. They are the key to our success across every dimension of the business. We strive to create a culture of teamwork, learning, flexibility, and growth, which ultimately makes us the best partner for our customers and suppliers.
"At the company level, we have established several recognition programs, training modules, and award ceremonies to foster collaboration and a positive working environment. Within the supply chain team, we have instituted a set of core learning courses, conducted regular training sessions on Blue Ridge, and cultivated a coaching environment where we are all working to help each other learn and improve."
Proving itself an equally valuable asset is the company's trusted team of vendors and suppliers. "As a reseller, our relationships with our product suppliers, service vendors, and customers are critical to our success. We consider them all trusted partners that we work closely with to find solutions to business problems even in the most challenging of times. They have all been amazing, especially over the last few years as we have navigated the global supply chain disruption.
"With our trusted partners, we understand that each party needs to be efficient and profitable. We are focused on working with companies that provide consistent and reliable services at a fair price. We want to work with those partners that will be there with us in the toughest of times as well as in the good ones," Donaldson confirms.
As the Winebow brand continues to thrive, its team of supply chain experts keep the product flowing efficiently. "While our supply chain management team has made substantial contributions to the Winebow business over the past few years, we still have significant opportunities ahead of us.
"Supply chain management involves not just the team that is doing the forecasting, planning, and movement of product, but it is ultimately the vehicle that helps link and align sales, portfolio, operations, our suppliers, and the end customer, so that we can all thrive together. We look forward to continuing that journey," Donaldson concludes.
Winebow Fine Wine + Spirits
https://www.winebow.com
Services: National importer and distributor