The Guthrie Clinic Corporate Purchasing
Issue Vol8 Iss8
---
Healthy relationships
Managing supply chain in the healthcare environment can be extremely complex, but the corporate purchasing team at Guthrie is determined to create a supply chain model that can withstand any disruptions
Comprising four hospitals – including Guthrie Robert Packer Hospital in Sayre, PA (with a campus in Towanda, PA), Guthrie Corning Hospital in Corning, NY, Guthrie Troy Community Hospital in Troy, PA, and Guthrie Cortland Medical Center in Cortland, NY, as well as a research institute and home care/hospice – Guthrie is a non-profit integrated health system located in
north central Pennsylvania and upstate New York.
The organization's multi-specialty group practice consists of more than 365 physicians and 300 advanced practice providers, who offer 47 specialties through a regional office network providing primary and specialty care in 22 communities. In addition, Guthrie offers home medical equipment and respiratory therapy products at seven convenient Med Supply Depot locations and provides a wide range of services and programs to enhance the health and well-being of those it serves.
Serving patients from a 12-county service area creates a complex and multi-faceted supply chain, and the responsibility for managing this challenging and rewarding segment of its operations lies with the Supply Chain Division. Grace Jackson is VP Procurement – Supply Chain, and Supply Chain World (SCW) was fortunate to be given a fascinating insight into the workings of this department by Grace, as she told us more about how it works, and also a major new change that is underway.
Successful execution
"Supporting Guthrie in purchasing high quality, cost-effective products and services, the Supply Chain Division helps it to uphold its mission, vision, values, and strategic plan," she began. "Consisting of 49+ supply chain team members, it includes sourcing and contracting, value analysis, and supply and distribution teams, the department influences 100 percent of the organization's non-payroll expenditures, including all clinical and indirect supplies, purchased services, software, and capital across every line of business. It sets the strategic direction and guides all business activities across the organization to ensure successful execution of supply chain support on many integrated efforts."
Clearly critical to the running of Guthrie's operations, the 14-member Corporate Purchasing Department facilitates standardization of supplies, equipment and services through deployment of aggressive strategic sourcing, procurement, and value analysis programs. "The team leverages best-practice supply chain management tools and processes to achieve optimal combination of price, quality and service for purchased materials, goods and services across the health system," added Grace.
The tools to which Grace referred include some state-of-the-art technology solutions – in fact, a little over two years ago, Guthrie embarked on a journey to transform its operations by transitioning to Microsoft Office 365, an initiative that moved a significant portion of business communications and office productivity applications to the Cloud.
"This year (2021) Guthrie continues its transformation with Project Monarch, an initiative to implement Enterprise Resource Planning (ERP) Oracle Cloud by October 1, 2021. ERP Oracle Cloud will replace several legacy systems, including PeopleSoft, Cortland's MEDITECH, and MediTract Contract Management Systems."
Significant investment
Project Monarch represents an important enterprise business transformation for Guthrie. It will touch every employee and every major business process across HR, Finance and Supply Chain, bringing new modern workflows, intelligent automation, improved analytics, and standardized business processes.
Furthermore, Guthrie has also made significant investment in Syft technology. "Syft has deep PeopleSoft experience and 'they know cloud' which is important as Guthrie transitions from PeopleSoft to Oracle," explained Grace. "Syft is Oracle cloud certified and is the only Oracle cloud vendor/platform that is 100 percent healthcare focused. Some may think this doesn't matter but it absolutely does. The Syft Synergy platform gives supply chain and clinical staff visibility into products being used across the Guthrie system including perioperative, procedural areas and nursing units. Data intelligence and actionable insights enable Guthrie leaders to better understand supply spend, consumption, waste, and variance, resulting in standardization opportunities and surgical cost savings. Additionally, Syft provides procedural level decision support metrics on cost and variance which is linked to patient outcomes. This information provides the platform for surgeon benchmarking discussions leading to improved costs and efficiencies."
The savings and benefits that Grace and her team expect to see from the Syft implementation speak for themselves. Predicted to remove $7,000,000 of expenses, it will also improve net operating margin from 6.0 percent to 7.3 percent, with a total year one economic impact of 11 percent in the first full year of use. "We will also see a one-time benefit in the form of Inventory Level Optimization, with a value of $311,000," highlighted Grace. "This comes from the reduction/burn-off of excess supplies, primarily in the Perioperative environment, through par level optimization. Once this occurs, Syft will help maintain this more economic level."
Further significant dollar savings are also expected in the form of supply standardization ($2,332,000) expired, recalled supply management ($1,593,000) and cost per case capture ($110,000). "We will also get secondary benefits, too," continued Grace. These include labor efficiency from time freed up from current tasks, increased throughput thanks to improved efficiency, and higher surgeon and nurse satisfaction, which is achieved by decreasing the need to search for supplies.
Understandably, an implementation on this scale requires a very close working relationship, and increasing supplier collaboration is a top priority at Guthrie. Grace describes Syft as becoming a 'trusted advisor' for the business through collaborative engagements between Guthrie's supply chain/materials/clinical/leadership teams and Syft's product/clinical/professional services/leadership teams. "Together, the teams have meticulously planned and executed a multi-facility Syft Synergy implementation plan, successfully integrated with existing IT/clinical systems, and designed 'workflows that work' for the user," she said.
"Syft has developed a 'Voice of Customer' program that encourages users to submit new product ideas and participate in user groups and product testing. This open communication allows Guthrie to become an active participant in Syft Synergy product roadmap ideation/discussions," she added.
Evolving needs
Syft also provides continual user training and education, and because Syft Synergy is an enterprise/platform solution (not a niche solution that only addresses one-off needs) Guthrie can leverage the platform for all locations and add-on Syft Synergy modules as new use cases/needs are identified.
Grace gave some examples of how the Syft Synergy platform supports Guthrie's evolving needs, which she cleverly refers to as going from 'dock-to-doc'. "Starting with POU – Syft goes beyond warehouse and distribution to the point of use (POU). Syft's POU solutions streamline supply capture at the point of care and automate documentation into the ERP (and other clinical systems) so the hospitals can better manage patient charges and also capture supply consumption/usage, reduce waste, and reduce returns back to materials/SC teams," she said.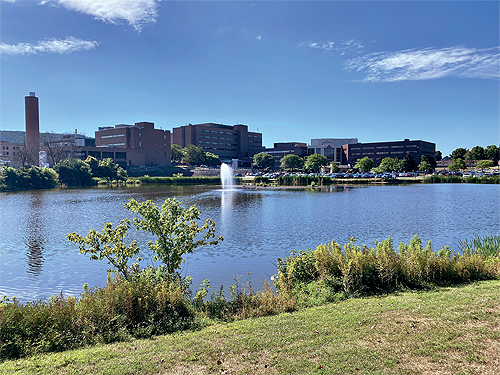 "Guthrie clinical teams are also really excited about the tray implant management feature, which is an important value-add. The implant tray solution eases supply capture and automates what has been a laborious, time-consuming manual process for clinicians."
The Analytics side of Syft Synergy such as preference card management, cost variance analysis, supply standardization recommendations, demand forecasting, and so on, help Guthrie business leaders identify areas of improvement, cost savings and new revenue opportunities in real-time. "Guthrie will also benefit from improved tissue tracking and lab supply management and these are good examples of solutions that improve workflows for supply chain AND clinical teams at the point of use," noted Grace.
Expected benefits
Earlier in our conversation, Grace referred to the 1st October 2021 as the date by which its Oracle ERP solution will be implemented, and this is also the deadline for its new contract lifecycle management (CLM) system. Designed to extend more capabilities and offerings and enhancing end user experience, the expected benefits include improved collaboration, workflow efficiency, an elimination of manual processes and increased customer satisfaction, to name a few.
The scale of Project Monarch is very impressive, and it is made more so given the fact that the transition to the new system has been underway at the same time as one of the world's biggest healthcare challenges – Covid-19. This had massive impacts, and as Grace noted, it revealed supply chain vulnerabilities and forced Guthrie to reassess how it does business. "Guthrie's decades-long focus on supply chain optimization to minimize costs, reduce inventories, and drive-up asset utilization removed the buffers and flexibility needed to absorb supply chain disruptions," she said. "The pandemic caused widespread problems due to high dependence on critical medical products from suppliers primarily based in China. That situation was compounded by distributors rationing supplies and not giving Guthrie the products to care for its patients. Naturally, panic ensued, and Guthrie had to rapidly set up off-site warehouse space to store an emergency stockpile of PPE/critical items," Grace added.
Guthrie now plans to leverage what it established into a full Consolidated Service Center (CSC) model to anticipate and meet future challenges. "We are currently engaging consulting and engineering services to complete a feasibility study to assess and develop a plan to enable the migration from the PPE warehouse into the future CSC."
To continue to manage volatility in the supply chain more successfully, Guthrie is also actively exploring and implementing new stocking and sourcing strategies to improve visibility, reduce complexity, and resist the shocks of disruption across the end-to-end supply chain.
While Covid-19 has caused a new set of challenges for the Supply Chain team, Grace pointed out that working in this area in a healthcare setting has also been very rewarding. "I am part of a team and contributing to something much larger than myself," she said. "In healthcare, we are in the business of saving and changing lives. As a supply chain leader, I touch every department directly and each patient indirectly, to deliver specific, tailored supply chain strategies and solutions that make a difference."
With so many plans for development and improvement on the table, the next few years promise to keep the Supply Chain team at Guthrie extremely busy. Nevertheless, the next five years look set to be very exciting as industry leaders move quickly to implement new capabilities, processes, and systems in order to create a more resilient, adaptable supply chain. "Looking ahead, I anticipate a future of change and progression," Grace predicted. Hopefully SCW will be able to report on the progress being made in 2022!
Working together
GHX is a healthcare business and data automation company, empowering healthcare organizations to enable better patient care and maximize industry savings using its world class cloud-based supply chain technology exchange platform, solutions, analytics and services.
Lumere, a GHX company, is proud to work with The Guthrie Clinic, and as Grace Jackson, VP Procurement-Supply Chain at Guthrie explained, solutions from the business have proved invaluable to its own success. She noted how the use of clinical evidence has impacted decision making in the supply chain. "Rather than merely looking at opportunities from a contract/pricing standpoint, accessing Lumere's unbiased clinical evidence research has allowed Guthrie to transition to a more clinically integrated supply chain. Because of limited resources, our staff depends on Lumere to provide consolidated information, including outcomes, safety, price, clinical equivalence, and appropriate product use. Without access to this valuable solution, the organization would undoubtedly introduce unwarranted variation at an additional expense," she said.
Grace also confirmed how access to clinical evidence has improved the supply chain's level of engagement with the organization's clinicians. "The ease of access to clinical evidence across the organization through Lumere's solutions has enhanced the partnership between Guthrie's clinicians, service lines, and supply chain. Active clinician involvement in value analysis committees and decision-making processes for evaluating and bringing products into the organization demonstrates a solid return on investment. We engage in unbiased discussions with clinicians rooted in clinical evidence resulting in decreased costs and improved quality and outcomes."
Without access to clinical evidence, the impacts on physician relationships and engagement would also be a challenge. The solutions from GHX have helped address this issue. "Lumere's clinical evidence library has improved the supply chain's credibility with our physicians," agreed Grace. "By providing objective, up-to-date information on efficacy, safety, and appropriate utilization, Lumere enables the supply chain team to present our clinicians and patients with choices of effective care based on the best available research evidence. Doing so debunks the myth that the supply chain only cares about cost."
The Guthrie Clinic Corporate Purchasing
www.guthrie.org
Services: Non-profit integrated health system located in north central Pennsylvania and upstate New York
---