Jackson Health System'
---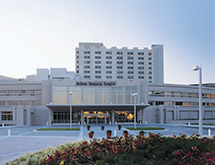 Jackson Health System's supply chain is continuously improving competency and adding staff with construction experience to prepare for $1.4 billion in capital projects over the next decade. "The opportunity is tremendous for us," Vice President and Chief Procurement Officer Rosa Costanzo says. "We developed a construction procurement team within our division and have teams training and providing informational expertise to make sure we are successful."
The Miami-based healthcare delivery network has been a central provider of medical services and healthcare leadership for residents of Miami-Dade County and beyond for nearly a century. Jackson Memorial Hospital, a world-class regional center of specialized care that functions as the primary teaching hospital for the University of Miami Leonard M. Miller School of Medicine, is the centerpiece of Jackson Health System.
Jackson Health System also includes two community hospitals, a children's hospital, a rehabilitation hospital, a behavioral health hospital, two long-term care nursing facilities, five correctional clinics and both primary and specialty care centers across Miami-Dade County.
Improvements to the supply chain began when Carlos Migoya took over as president and CEO of Jackson Health System in May 2011. In his first year, Migoya led a transformation that reversed years of massive losses, including an $82 million loss the year before, and produced a surplus of more than $8 million. "Our President and CEO Carlos Migoya came in to stimulate a financial turnaround because we were in a bad financial situation with deficit numbers," Costanzo says. "We in supply chain were tasked with bringing cost reductions, value analysis programs and improving our key performance indicators for greater efficiency." 
Supply and Demand
Jackson Health System's supply chain has implemented a fully integrated approach to procurement over the past four years by thoroughly analyzing cost, quality and patient outcomes. The supply chain division created a value engineering program last year to evaluate physician preference items and product demands. "Any need or want that is identified from any healthcare professional is evaluated to ensure it is financially viable and to determine its impact on patient care," Costanzo explains.
To manage its inventory, procurement and the supply chain team operate a just-in-time program, which relies on point-of-use automation and a user compliance to send out replenishment orders to medical distributors. "We have found we are more efficient by avoiding operating a warehouse with a large inventory," Costanzo says. "We closed our warehouse many years back and have been operating with a much smaller inventory and a low unit of measure just-in-time program."
Jackson Health System has a real-time location system for capital assets that allows it to track movable equipment and distribute those assets based on need and utilization, Costanzo says. "At any given time, for example, we know where our movable assets are, we have a large volume of infusion pumps, stretchers, etc.; it is key in an organization like ours to show and promote efficiency, improve outcomes and reduce cost," she adds. "I think we are ahead of many other organizations."
Key Improvements
The supply chain division's key performance indicators report card from April 2014 through March 2015 shows a number of drastic improvements, including $42.8 million in cost savings and a reduction in its average procurement process cycle time from 45 to 12 days. Procurement is tasked with bringing things to market quickly, which Costanzo says, is critical in the healthcare industry to stay competitive. "The average cycle time is critical," Costanzo says. "Our senior executive team wanted to avoid perceptions that the procurement process takes a long time, so we needed to come up with a measurable process to be transparent and get everything to execution or market faster." 
One way Jackson Health System's procurement division improved its speed to market was by increasing attention, tracking and measuring the process results. In 2012, changes to the procurement regulation created greater efficiencies. "We have different approval and process thresholds for what needs board approval," Director of Procurement Michelle Romano says. "As our board of trustees meets only once a month, it would take that long to get approval to award certain contracts. That is one thing we were able to streamline for larger competitive contracts." 
As a public entity in Miami-Dade County, Jackson Health System increased its threshold to $3 million only for competitive awards, Costanzo explains. "We promote competition and must publicly advertise our solicitations," she adds. "When competing at sourcing events, as long as that contract is $3 million or less, we are able to execute it based on approved delegated authority. This increases our key performance indicator levels and promotes the use of competition. Bid waivers $250,000 or greater require board approval."
Meeting the Challenge
All the new processes, software and team members the procurement and supply chain has added over the past four years have enabled it to be better prepared to tackle Jackson Health System's plan to spend $1.4 billion in capital improvements over the next 10 years. "We are prepared to complete competitive request for proposals and bids that will be critical to getting a plan in place," Costanzo notes. "We will make sure we are successful and reduce the risk for the organization." 
In November 2013, Migoya led a successful campaign where 65 percent of Miami-Dade voters approved an $830 million Jackson Miracle-Building Bond program – the cornerstone of a capital plan to renovate, modernize and expand Jackson Health System's facilities. "The $830 million bond was seed money for expanding our footprint into the community – we are the county's hospital," Costanzo adds. "The board decided we would take the $830 million as seed money and invest our profits. We are in our third year of registering a surplus, our second year of a $50-plus million surplus, on target for another profitable year and we are investing some of that into this capital plan. That's how you get to $1.4 billion." 
Jackson Health System's capital plan includes purchasing new medical and IT equipment, upgrading its systems and building a new rehabilitation hospital on the Jackson Memorial campus. The system also plans to expand its footprint around the county it serves, opening a network of urgent care centers and building Jackson West in the city of Doral, just west of Miami. That project is expected to come online in the next three years. "There are about 500,000 people who live in that community and an additional 100,000 who work there, who are five to six miles from the nearest emergency room in one of the area's fast-growing communities," Costanzo notes. "We are building an adult and pediatric emergency room, and children ambulatory pavilion there to serve that community." 
---