Ming Cheng Precision Co.
---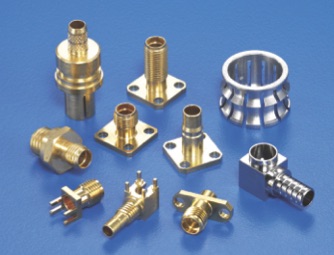 Ming Cheng Precision Co. has become known around the world for its high-quality CNC machining solutions. By Eric Slack
Over its more than three decades of operation, Ming Cheng Precision Co. has grown into a highly regarded manufacturer. Based in Taiwan, the company is a supplier and exporter of precision turned parts, precision auto parts, precision shafts, electronic parts and milling parts. Known for strong performance in the industry, Ming Cheng is a CNC automation machining company that believes technology and service have allowed it to build a well-earned reputation for success with its customers.
"We are a family company located in Taiwan," Sales Manager Anny Lee says. "Our owner, Mr. Lee Yu-Ching, founded this company in 1984, starting with $10,000 for three secondhand screw machines."
Determined to Serve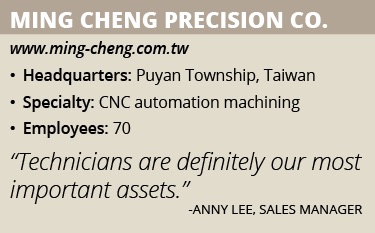 From its earliest days, hard work and commitment to excellence have defined Ming Cheng as an organization. This has allowed the company to become a leading industrial brand in Taiwan. The company constantly upgrades its products to meet international standards, and it has built a team of professionals devoted to on-time deliveries and high-quality products.
The company is not only dedicated to high-quality CNC machining but also to importing fully advanced Japanese processing technology and strict American testing equipment. Its goals are to manufacture high-quality products and adopt better production methodologies. Ming Cheng exports its products globally and is constantly looking for ways to innovate.
"We are focused on CNC machining and turning parts," Lee says. "We have worked with many top material suppliers and build very good relationships with them. That is why our prices are so competitive, which has allowed us to serve clients such as John Deere, Pentair, Rain Bird, Stryker and many others."
As for the quality of its products, it is controlled by statistical process controls for critical dimensions, process control plans, roundness testers, profile projectors, gauges and more. Additionally, the company has brought in skilled engineering and production professionals who have experience with leading manufacturers and field applications.
"All of our senior engineers have been working in our company for more than eight years, and the longest tenured is 10 years," Lee says. "Ming Cheng is also an ISO-9001 certified company, and one of our priorities now is to prepare for the TS 16949 audit as part of the certification."
The company identifies all parts by the part number used by the original manufacturer, or it can meet customer requirements per their drawings or specifications. It manufactures products using the same materials found in OEM specifications. Ming Cheng is determined to ensure that its products and services meet or exceed the needs defined by its customers.
Tools for Success
In terms of capabilities, Ming Cheng has invested in a wide array of precision machining equipment. This includes CNC lathes and CNC multi-axis lathes. The company has built robust systems for mechanical construction, and it has an excellent facility for cutting and manufacturing, including sideways cutting, sideways bore and tapping, sideways tread and backward cutting, backward bore and backward tread at the same time.
"We have a CNC program management system that provides standard CNC program controls and integrates with tools to create a highly efficient machine set-up and adjustment time," Lee says. "Our company has a budget of $330,000 every year to improve our machines and inspection equipment."
All of these investments and commitments allow Ming Cheng to excel as a manufacturer of precision turned parts and precision CNC parts. Its main products and offerings include precision metal parts, electronic components, RF connectors, metal machining and CNC milling.
Additionally, the company's offerings extend to precision shafts, precision auto parts, precision turning parts, lathe parts and lathe machining. Ming Cheng manufactures products for applications such as automotive components, medical components, sports equipment, special screw nuts, electronic parts and mechanical hardware. It can use materials such as stainless steel aluminum alloy, brass, free cutting steel, iron, copper, plastic and more.
Surface treatment is another area where the company stands out. Normally in the CNC turning market, zinc/nickel plating is a common surface treatment. But this treatment can cause heavy metals pollution. Ming Cheng works with plating vendors to provide PVD coating options.
"We've tried some samples, and the results perform well," Lee says. "The thickness is around 0.5~1 micrometres, and it performs well in a salt spray test for 120 hours at least. The technology will help reduce heavy metal pollution if more people are aware of it."
Forever Evolving
As it has always done, Ming Cheng is looking for ways to make sure it can adapt. For example, the length of the workday in Taiwan recently changed to eight hours per day. Previously, it was eight-and-a-half hours each day.
"Because of this change, we have invested in mechanical arms for some long-term products," Lee says. "This will reduce some costs, shorten the process time and reduce NPL ratio. That way, we can keep a better lead time for our customers."
Beyond that, the company has invested in image measurement systems. These systems provide a high rate of measurement speed and highly accurate measurements. "This will help us to meet customer requirements, especially for automotive parts," Lee says.
Ultimately, Ming Cheng strives to be a high-quality CNC automatic lathe, TNC connector and precision pipe fittings manufacturer. It can tailor its services to meet customer demands, and its global reach can accommodate international requirements on custom technical mechanical components.
"The major challenge that we see is that the younger generation is not as willing to study CNC technology," Lee says. "This skill gap is becoming a serious problem for our industry. Fortunately, we provide an excellent training program for CNC operators to learn and understand the skills they need as their learning progresses. These technicians are definitely our most important assets."
---