ValuePoint Material Solutions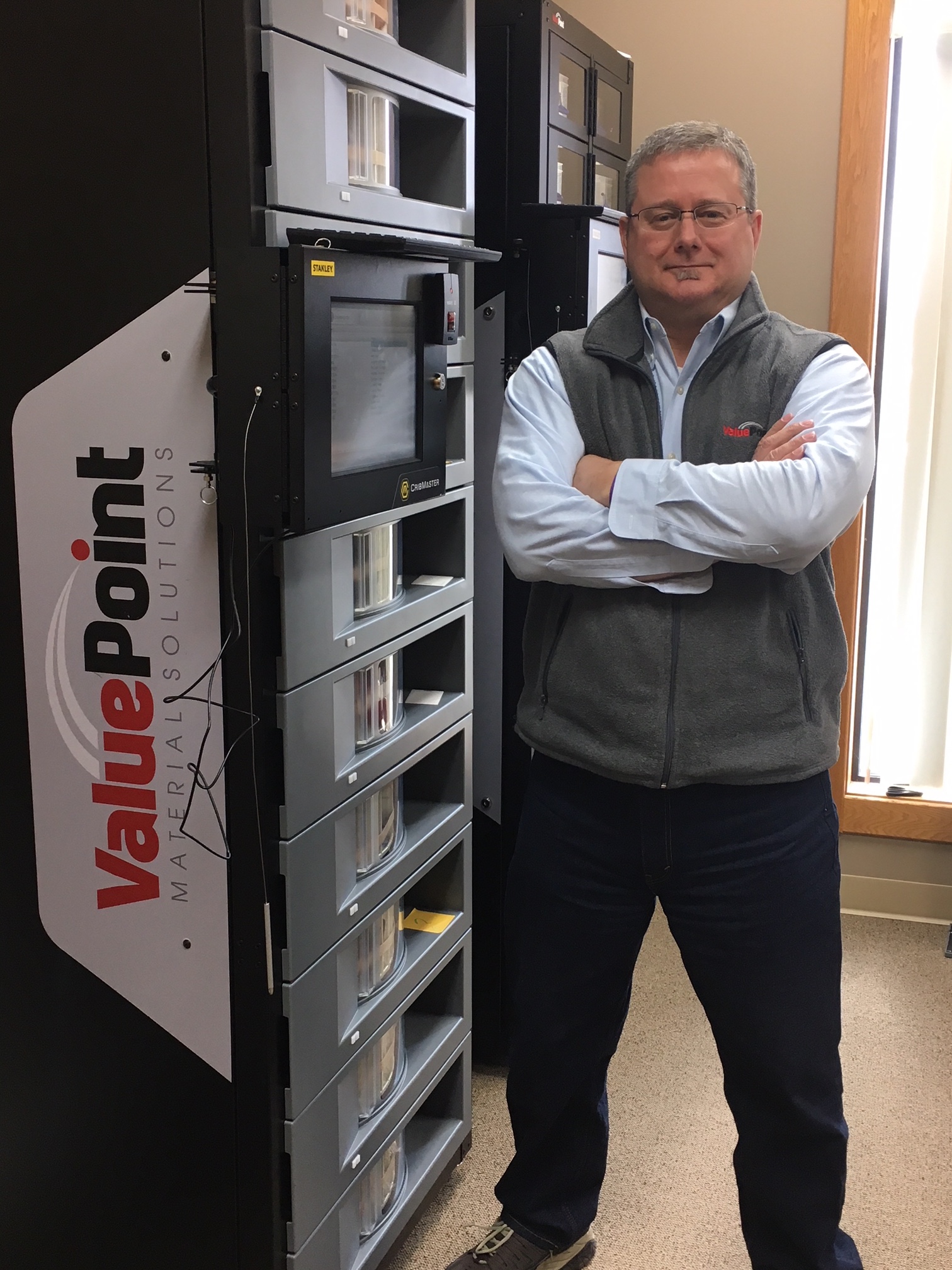 Because it is neither a manufacturer nor distributor, ValuePoint Material Solutions can manage its clients' indirect spend free from outside influences.
By Tim O'Connor, Senior Editor at Knighthouse Media
For decades, companies viewed supply chains and procurement as a necessary expense. But in recent years, as businesses have looked for ways to become more operationally efficient, more have begun recognizing that their indirect management impacts both profit and performance. To improve that area, companies are turning to outside service providers such as ValuePoint Material Solutions to manage vendor relationships, procurement, inventory, warranty and repair on their behalf.
Business Development Manager Spence Webb says ValuePoint has reacted to the trend by helping clients better manage their category spend on indirect materials.
ValuePoint's services cover the entire supply chain, from purchasing to inventory management, invoicing, reporting and structure. The indirect materials the company specializes in include janitorial supplies and equipment; office supplies; spare parts for machines; electrical supplies; maintenance, repair and operations (MRO); and most anything else that does not bolt onto or create the product actually being manufactured. Customers come from a wide range of manufacturing industries as well as hospitals, government run facilities, municipalities and schools from all over the continental United States.
Clients rely on ValuePoint to handle those indirect materials because they historically have not focused on that category spend and lack the expertise and resources to do so efficiently. "Their core competency is manufacturing the product," Webb says. "Our core competency is paying attention to the things they don't."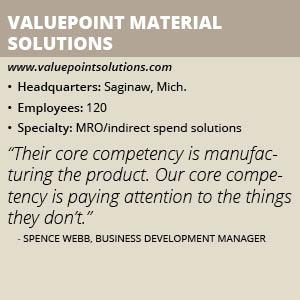 By taking over those functions, ValuePoint enables customers to free up their resources so they can concentrate more on activities related directly to their business. "They don't have to have their employees working on something that doesn't add value to the product they produced," Webb says. "That's what we do."
ValuePoint goes so far as to embed its own people at its customers' facilities. That physical presence breaks down barriers to communication and allows ValuePoint to work alongside its clients' supply chain teams to better understand their needs and requirements while reducing response times. "Oftentimes we take over the management of their employees and we work to the agreed-upon letter of the contract," Webb states. "We're that one throat to choke. When there's a discussion on indirect material or MRO spend, we're the people they have the conversation with."
Product Agnostic
In administering those indirect spend functions and recommending products or services to the client, ValuePoint prides itself on being a truly independent voice. "The difference between ValuePoint and other potential competitors is that ValuePoint is an independent service provider," Webb explains. "We're not a distributor or a manufacturer. We don't also provide this service. The service we provide is our core competency."
Because the company does not make its own products or sign distribution agreements, it is not influenced to push specific supplies or equipment brands on its customers to meet sales quotas. Instead, ValuePoint can be completely agnostic in its recommendations. "They get the best product at the best price and best performance," Webb notes.
ValuePoint backs up that commitment to providing the best products with a broad selection. The company maintains relationships with more than 7,000 vendors and has about $400 million in managed inventory. "Any product available around the world we have the capability of providing to the client," Webb says.
With such a large spend, ValuePoint can drive better deals to reduce costs for its customers. "When we have over $400 million in inventory there's a lot of opportunity to take advantage of," Webb notes. Since its founding in 1998, the company has delivered an average year-over-year savings of 12.5 percent to clients.
Even existing customers that have already realized the initial benefit of switching to ValuePoint still see annual cost reductions thanks to the company's drive to continuously find new products and suppliers that can replace more costly options. But cost savings does not only come from finding less expensive products and services. ValuePoint has myriad of other methods to reduce spend, such as managing warranty & repairs. "Those types of processes are mainstream and integral to the cost savings we are required to provide our clients," Webb says.
Data Driven
Because it has direct control over its customers' indirect materials spend, ValuePoint generates a tremendous amount of information. Over the last few years, the company has invested in an offsite data center to better capture insights on the materials and services it procures.
Using that data, ValuePoint has created a Plan for Every Part (PFEP), a spreadsheet that details the entire lifecycle for every SKU in its system. The PFEP includes information on how much the products cost, the volume of usage at every location and a dozen other data points that collectively give ValuePoint a pulse on what it needs to keep on hand and what lead times it can expect.
"We review that information on a day-to-day basis so we have an updated view of every single SKU in the system," Webb says. By using the PFEP, ValuePoint ensures it always has the right amount of product on its shelves for the client while eliminating excess orders and obsolete items.
ValuePoint's biggest challenge is to educate clients about how technology such PFEP and other processes targeting indirect spend will make their entire businesses operate more smoothly. To overcome that hurdle, the company recently purchased a mobile training trailer that it can take to potential clients' sites to demonstrate how its systems work. "We let the client actually put their hands on our system and see how it works," Webb says.
Within that trailer, clients can see first hand how ValuePoint's ERP systems, vending solutions, reporting structure and point-of-use solutions will function within their own storerooms. By providing a real-world demonstration, ValuePoint hopes to not only showcase its solutions, but to explain why businesses should pay more attention to their indirect spend in the first place.
"Right now, of the entire 100 percent of all the potential clients our there that can use our services, we're impacting about 5 percent of them," Webb says. "There is 95 percent out there that have yet to identify that the indirect spend category is out of control and they need a third party to come in and reestablish the controls that are necessary to keep them from the rogue spending they do not even know about."