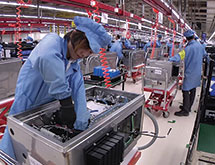 James Golden and Bill Morean founded Jabil Circuit Inc. in 1966, merging their first names to create "Jabil." Today, it is one of the largest global electronics manufacturing services organizations and employs more than 121,000.
"It started in 1966 in Bill Morean Sr.'s house," says Joe McBeth, global supply chain vice president. "The first big customer was in the auto industry and we've grown from there on the path to $18 billion in revenue per year."
Jabil served as the manufacturing partner for multiple automotive customers including Johnson Controls, Webasto and General Motors Co. In subsequent years, it accelerated its growth by attracting and capitalizing on the emergence of multiple industries. Jabil was a major provider of PCs, communications and Internet infrastructure in the 1990s. 
Although the dramatic opportunity for growth in those industries was enjoyed, the inevitable slowdowns were painful. These dramatic swings in business were one of the major drivers towards its current strategy of a diversified customer and industry profile. Jabil currently supports both manufacturing and supply chain solutions for the largest and best OEM brands in industrial, healthcare and medical devices, McBeth explains.
A Company Within a Company 
Jabil operates 60 sites in 33 nations, and is headquartered in St. Petersburg, Fla. Jabil describes itself as a manufacturing and supply chain solutions company, offering customers a menu of end-to-end capabilities starting with product design through configuration, direct fulfillment and repair. 
Although Jabil has an extensive history in designing and building electronics, there are significant revenue dollars generated from solutions with zero electronic content. As a service company, Jabil optimizes its offerings around its customers to provide both advantages from scale, and industry requirements. 
A recent reorganization to a divisional structure has accelerated change in how the supply chain is managed. From regulated industries such as healthcare and defense, through high-volume time-to-market consumer products, Jabil has built a solution that allows this highly complex set of supply chains to be managed. 
If its solutions were simply electronics there would be significant overlap. But Jabil provides full products and full product solutions and this creates the need for managing complex solutions and broad sets of global and local suppliers. 
In response to this diversification of requirements and scale, an intense amount of data is required for success. Jabil has continually invested both in software and the human capital that makes smart decisions from that data. As the third-largest manufacturing services provider in the world, its customer needs are ever changing both in product and geography. Its infrastructure has been created to be able to absorb that change without major business impacts.
Organizationally, its divisional approach cascades throughout the division and each customer has a dedicated team to support them. "We call those workcells and these workcells provide incredible focus, and have been a cornerstone of our success.  Divisions and workcells of business teams create the ability to easily set priority and investment. This gives us an incredible level of focus," McBeth says. Essentially, the teams are companies within the company devoted to specific customers.
This helps separate Jabil from its peers. "It works well," McBeth says. "The teams have the voice of the customer as their driver and they optimize cost as investment is aligned to both division and customer requirements. We can't produce an average output for our customers products and this approach allows the customization and effective use of capital to support the necessary solutions and not tie up cost in the unnecessary."  
Jabil offers the ability to help bring suppliers into Asia. In a recent case, Jabil helped solve a customer problem by launching business in a new region of the world and developing a new supply chain. This development included bringing suppliers from the U.S. to Asia and finding local alternatives as well. This activity allowed a global customer to capitalize on a significant change in its market. It went from zero supply chain to shipping 120,000 fully assembled products ready for shipment to end users in a regulated industry in six months. 
"Without the divisional approach and our workcells, this simply does not happen. There is no room for wasted efforts or unclear priorities," McBeth says. 
Jabil's supply chain services include electronic sourcing, virtual/vertical mechanics, logistics, supply chain management, advanced planning, quality, standardized global systems and supply chain solutions and business analytics. Examples of the company's supply chain and logistics management were on display during the 2011 Tohoku earthquake and tsunami in Japan. 
"When the tsunami hit, everyone in electronics was impacted," McBeth notes. 
When supply chains were disrupted, Jabil rerouted supply from alternative sources, prioritized production to maximize most efficient outputs for customers and their distribution channels, specified quality alternative parts and called on existing suppliers to help reduce the impact of the disruptions.  
While many others in the electronics market were struggling to get data and produce product, Jabil supplied customers both with dynamic data feeds that allowed customers a quicker recovery.
Managing Complexity
McBeth says many business people underestimate the complexity of supply chain management and are unaware of how much is outsourced. There is one approved manufacturer listed but there are many components of that which may be outsourced.
McBeth oversees global supply chain management operations, inventory control, strategic sourcing, supplier development and supply chain creation, for the Nypro Division within Jabil. He is focused on demand-driven supply chains as well as statistical modeling for optimal use of inventory, cash and profit realization.  McBeth is generating a great deal of success with network optimization tools, as well.  
The recent launch of the "inControl" business analytics solution has been met with rave reviews from customers, he says. 
"In the last month alone I have demonstrated our ability to show end to end management of our customers supply chains to four of our major customers. This enhancement to our supply chain solution is helping our customers make decisions on where to place their business. It is an incredibly exciting time to be doing business with Jabil and be on the supply chain team." ­­­