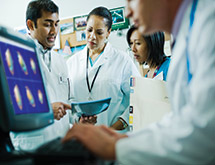 In the healthcare industry, having a better supply chain doesn't simply mean reduced costs, increased efficiency and improvements to the bottom line – it also can have a direct impact on improving patients' quality of life.
Healthcare reform has contributed to a very interesting industry landscape. The Affordable Care Act and other new policies are contributing to the need for healthcare providers to evaluate more value-based supply chain models. With demand for healthcare high, and continuing cost pressures, the industry is on the brink of a major revolution. But in order to overcome the unique challenges facing the industry – drug shortages, evolving reimbursement processes, patient safety, security breaches and drug counterfeiting – all industry players are going to need to collaborate for a next generation solution. The best place to start: the supply chain. 
Strategic View
To make a difference in the healthcare marketplace, businesses need to view procurement as a strategic area for innovation and business growth and assess their supply chains end to end for new ways to cut costs, while simultaneously improving the quality of the care they're giving. Here are four strategies companies and healthcare facilities can implement to unlock their full procurement potential:
1. Follow the money. While it's not wise to focus solely on cutting costs, it's important to understand where money is going overall and by category, and how that is impacting quality of care. Integrated data analytics — analyzing spend, patient data, physician preferences, and how you are billing, paying physicians, pricing procedures, and determining the quality of care — can uncover opportunities for improvement. Having the platform to analyze all the data and gain visibility into supply chain activities helps healthcare facilities reduce costs while improving the quality of patient care.
2. Be more agile. As markets become more volatile and supply chains get even longer, ramping up supply chain responsiveness can help meet supply shifts and demands and accommodate different types of products more easily. Leveraging new distribution channels helps reach customers in new markets and get vital resources to more patients more quickly. Integrated delivery networks, for example, are considering self-distributing the products they purchase to hedge against distribution costs and recapture the margins healthcare reform is eating at. Exploring all distribution models and options can help prioritize risk management and ensure business continuity in a global marketplace, making sure healthcare facilities don't experience supply hiccups and patients get the treatments and medications they need. 
3. Collaborate often. The modern supply chain is too complex for any one company to face on its own, and in the healthcare sector, everyone is on the same team. Collaboration with manufacturers, distributors, group and regional purchasing organizations, clinicians, physicians and patients can open you up to a trusted network of experienced and reliable partners to help you better respond to market demands and pressures. Finding more ways to collaborate up, down and across the industry will give deeper visibility into market needs, insight into key pain points, and where you can combine efforts for mutual benefit and support. 
4. Differentiate. There's no one size fits all supply chain. Healthcare products differ greatly in demand and criticality to patients. Forcing all products through one chain is inefficient and will contribute to unnecessary high inventories for some products, and shortages for others. Segmenting the supply chain according to product characteristics and customer requirements is the best way to ensure reliable and efficient delivery, while avoiding strained resources. 
Raise the Bar
The bar is rising for procurement – supply chains are going global, and healthcare companies are expanding their product portfolios in order to meet the needs of changing markets. As the business landscape changes, it's the perfect time to act on untapped opportunities in the healthcare space, and reconsider the impact you can have.