S & B Engineers and Constructors Ltd.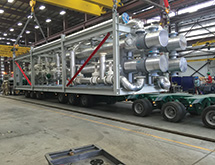 For S & B Engineers and Constructors Ltd., having an alliance with suppliers means more than just giving them an opportunity to bid on projects the company works on. "On lump-sum projects, we will always utilize our alliance suppliers. "We've had many long-term partnerships, some for more than 15 years and many for at least the past six to seven years," says Kent Malone, vice president of procurement and materials for the Houston-based engineering, procurement and construction (EPC) contractor. "Over time with our suppliers, we've developed an innate ability to sense each other's needs and act proactively rather than reactively as needs arise. 
"We know that utilizing our alliance suppliers brings exceptional value to our projects," he adds.
S & B aligns its engineering designs around the manufacturing practices of its suppliers, and has standardized the designs of the gas fractionation plants it builds for clients in the natural gas processing industry. The company has completed more than 15 of these plants – in which natural gas liquids are separated into ethane, propane, butane and other gas liquids – during the past six years.
The gas fractionation plants differ in size and name plate design, but are basically the same when it comes to the process the company and its suppliers use to construct them.
"We have a model that works well for us and our suppliers," Malone says. "Our suppliers inherently know what we're looking for when we call them for a project. They know roughly how much production space to allot in their facilities for this work, so they can plan around it in their production schedules several months in advance." 
The company's procurement and supply chain department is responsible for acquiring and shipping the materials needed for its projects. "S & B, more so than any other EPC I've been involved with, has the mentality that construction is the end-customer, and we have to do everything we can to make sure they are successful," Malone says. "Our procurement team works closely with the construction side of our business to make sure we have the right products at the right time and in the right order."
Under One Roof
The standardization of plant designs is one way the company has improved its supply chain operations in recent years. Additionally, the company combined several formerly fragmented departments including materials management, purchasing, expediting, source inspection, traffic and subcontracts under one supply chain umbrella.
The "under one roof" model has significantly improved communication and alignment between the departments. "We ensure all stakeholders are fully engaged, with our primary customer being the construction department," Malone says. 
Another improvement was the shift to an all-electronic document transmittal and approval system. The company's computer system also enables it to track all items through material management, purchasing, expediting, inspection, traffic and receiving. "We continue to streamline our processes to be able to take advantage of the quantum leap in computer capabilities over the last decade," he adds.
New Offerings
S & B's alliance suppliers enable it to live up to its corporate motto of "Managing with Certainty®" on not only gas fractionation plants, but other facilities the company completes for the refining, petrochemical, chemical, midstream, power, infrastructure and pulp and paper industries.
Midstream natural gas-related projects in particular are a significant growth area for the company, which performs the majority of its work along the Gulf Coast, including in Texas and Louisiana. "All of the shale gas that has been coming out of places like the Eagle Ford, Bakken and Marcellus shales has created opportunities for us," Malone says. "We happened to be in the right place at the right time to take advantage of these developments and have done very well in this market."
The natural gas market has remained steady for the company in recent years, as natural gas is relatively unaffected by changes in oil prices. Within the past two years, the company has further increased its number of natural gas liquid projects as a result of the United States allowing exports of natural gas products. The company last year built a propane and butane export facility in Nederland, Texas, and is currently working on an ethane export facility along the Houston ship channel. "That is a brand-new product line for us that we hadn't had previously," Malone says. 
The company further expanded its capabilities in June, 2014, when it completed a new module-fabrication facility on a 54-acre site in Baytown, Texas. S & B Modular Operations provides modularized equipment and process modules for gas and other petrochemical and power facilities. The facility is located adjacent to Cedar Bayou and the modules can ship via barge, truck and rail. S & B uses these modules in its own projects and the facility has proven to be an attractive option to other clients, as well. 
Safety First
The packages made in the modular facility enable the company and its clients to be more efficient in their projects and also reduce field time. "As far as I'm concerned, S & B is the safest contractor in our industry," Malone says. "This is a way to take man hours out of the field and put them into a more controlled environment."
S & B's safety record is a major point of pride for Malone, who says the company has not had a lost-time accident in more than two-and-a-half years. "We want to ensure everyone goes home in the same manner in which they showed up to work," he adds. 
Malone attributes the company's outstanding safety record and comprehensive safety policies to its family ownership. "Our owners feel everyone in the company is a part of the family, and they don't want any of their family members to be hurt," he adds. 
In addition to safety training and meetings during each project, the company maintains an internal "Zero to Sixty" program that requires employees to report any unexpected incident within an hour of its occurrence. 
"We don't do this for punitive reasons," Malone says of the policy. "We do this so everyone can be aware of the situation and learn from it. We're trying to get ahead of any accident that we possibly can and put preventative measures into place before something serious happens. Keeping everyone safe is just another phase of 'Managing with Certainty®.'"