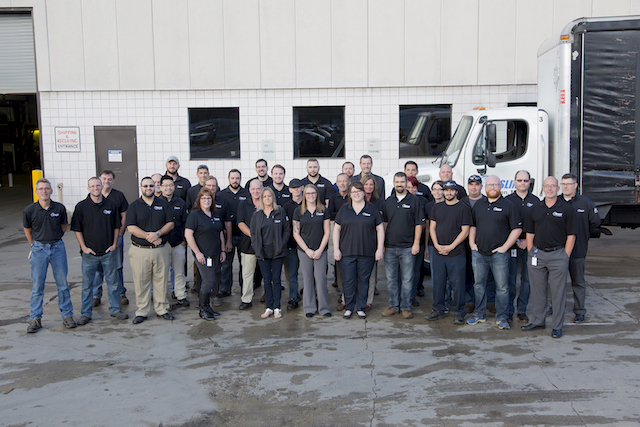 Paslin's supply chain staff plays a critical role in the automation integrator's success.
By Jim Harris
Paslin's supply chain professionals play a critical role in the company's success. "We have a great group of professionals who have a passion for the business and embrace teamwork and strategic thinking," says Jason Hardy, executive vice president of supply chain management and information technology. "They win as a team."
The supply chain team utilizes a number of best practices that make it a highly effective partner to its customers and suppliers.
"Everything here revolves about being proactive and planning accordingly as well as understanding key milestones, market conditions and constraints and developing a plan around those," he adds. "Our supply chain team is very methodical and strategic and predicates itself on having great relationships with our supply base to meet the needs of our business and that of our customers."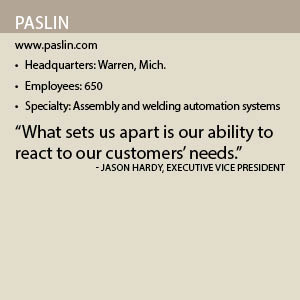 The Warren, Mich.-based company is a full-service turnkey manufacturer of complex automated assembly and welding systems used by automotive OEMs and their Tier 1 suppliers. The supply chain organization handles procurement, planning and processing of raw materials as well as outbound shipping and system installation.
The company operates three locations in Warren, one location in Shelby Township, Mich., and a location in Mexico.
Global Expansion
Paslin recently celebrated its 80th anniversary. Founders Daniel Pasque and Donald McFarlin started the company in 1937 as a small stamping facility. Over time, the company grew its technology in welding application systems for the automotive industry.
Wanfeng Technology, a robotic manufacturer and a global leader in the aluminum wheel and magnesium component industries based in Xinchang, China, acquired the company in 2016. Wanfeng Technology has more than $3 billion in revenue and employs 12,000 people in the auto parts manufacturing, robotics, aviation, financial services and industrial sectors.
"Their strategy is to learn more about automation equipment for manufacturing and bring different elements related to that to their portfolio to complement what they've already had a great deal of success in," Hardy says of Paslin's new owner.
Paslin's acquisition by Wanfeng gives the company a global footprint. "What sets us apart is our ability to react to our customers' needs," Hardy says. "We have a good, flexible strategy to overcome timeline challenges on our projects. Our new global footprint and the ability to build our capacity in China allows us to react faster."
Close Planning
Paslin's systems are designed to each customer's specific manufacturing needs. As such, the company works closely with its customers and suppliers to understand those needs and plan accordingly.
"We work closely with engineering ahead of time before loading our ERP system," Hardy says. "We understand our supply base and lead times and make sure we protect those by working with our project team and engineering to be sure of what we need and when we need it."
The company engages its suppliers early during its projects. "Developing tighter relationships with our suppliers and pulling them into the strategic challenges we face with our projects gives us more of an opportunity to be successful, as opposed to calling them at the last minute and demanding something we know is impossible," he adds. "Bringing suppliers in earlier and using them for strategic projects makes us more efficient and more innovative."
Paslin tracks a number of key performance indicators related to its suppliers' work. "We make sure they're providing the best product for the best price by the date required," Hardy says.
The company's supply chain planning and forecasting processes allow it to keep a balanced inventory. "Inventory is obviously a cost factor that we have to monitor and make sure it turns quickly," he adds. "The better we understand the timing of materials we receive from our suppliers and the better we're able to forecast, the less inventory we'll need."
Training Programs
Paslin continues to enhance its knowledge base by providing extensive training to supply chain employees. Employees are cross-trained to ensure they understand Paslin's product lifecycle and business from front to back, Hardy says.
"We believe in rotating our supply chain employees and giving them the experience from start to finish," he adds. "It helps with their knowledge and of the material flow through the process."
The company also has key relationships with local high schools and colleges, Hardy adds. "We invest in intern programs, sponsoring students who strive to be the up-and-comers and give them the opportunity to be hands-on within this industry," he says.