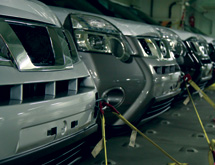 Most people never think about it, but their cars travel hundreds if not thousands of miles before the odometer rolls over one digit. Auto manufacturing is a global business today, with American cars and foreign-made cars passing each other on the shipping lanes. As would be expected, the vessels that have to carry these vehicles across the oceans need to be well-built and reliable. That's where Höegh Autoliners has made its name over the past four decades, and where the company continues to build a strong reputation for quality and service to its auto manufacturing customers worldwide.
Head of Region Americas Steinar Lovdal says Höegh Autoliners has been successful in part because of the stability at its core. The company is owned by Norwegian and Danish shipping giants Höegh and AP Moller Maersk, majors name in the global maritime transportation sector. Höegh started its dedicated vehicle transportation services division about 40 years ago, but it was helping to ship vehicles around the world before then. "In a way, we've been part of this industry since its inception," Lovdal says.
According to Lovdal, the strength and stability at the company's core, along with its dedication to quality, all add up to make Höegh Autoliners a leader in its sector. As long as the company remains true to its values and strengths, he adds, it should continue to hold onto its leadership position for many years to come.
Market Master
Lovdal explains that Höegh Autoliners is active in three main cargo segments. The first and largest is factory-new cars and light vehicles. The company carries new cars around the world for manufacturers including GM, Nissan, Ford, BMW and Mercedes-Benz. The next-largest segment is used cars, which Lovdal says has become a very robust segment over the years. Primarily, the company's services in this arena revolve around transporting used cars from the United States to developing markets such as the Middle East and West Africa. The third and most specialized market Höegh Autoliners serves is high-end heavy machinery, which mainly consists of trucks, buses and construction equipment for manufacturers such as Caterpillar, as well as a wide range of breakbulk and project cargoes.
Competition in most of these areas is fairly consolidated, Lovdal says, with about a half-dozen major global players competing directly with Höegh Autoliners. Many of these are major Japanese and Korean shipping firms, but the used car sector is more fragmented with many smaller players all jostling for position. There are also a number or smaller, more regional carriers that do not have the global reach of the largest players, but who are very active in their selected trade routes. Höegh is among the major global players, with a fleet of close to 50 pure car and truck carriers and a network of 30 branch offices serving four distinct regions. In 2012 alone, Höegh Autoliners carried approximately 2.5 million vehicles and made nearly 4,000 port calls, according to the company.
Strong Reputation
The size and stability Höegh Autoliners brings to the marketplace certainly play an important role in its success, but Lovdal says there's more to it than that. Specifically, he says the company's dedication to customer service has been one of the key differentiators for the company over the years. "I hope that over time, we have managed to build a strong reputation in the marketplace as a quality operator, and as an operator that works with our customers," he says.
Part of what makes Höegh Autoliners an ideal partner for its customers is its size, Lovdal explains. The company is large enough to be a true global operator, and yet it is not so large that it can't react quickly to customers' needs and emerging trends. Lovdal says the company works very closely with its customers to anticipate changes in shipping lanes and other important areas before they disrupt operations, and will add ports or relocate them to suit customers' needs.
Lovdal says the company tries to be as accommodating as it can to all of its customers, but builds up its trade systems around its largest customers and helps its smaller clientele adjust to the systems in the way that makes the most sense to them. "What we focus a lot on is working in close contact with those customers that are very important to us," Lovdal says.
No matter how Höegh Autoliners serves its customers, however, Lovdal says the most important thing is making sure they feel like they're in good hands. This comes back to the company's longevity and stability, he says. "Having a professional organization around the world is key to stand out in the competition."
Meeting Challenges
The professionalism and experience of Höegh Autoliners have served the company well, especially in light of some major challenges that have developed over the past several years. First and foremost is the fact that currency fluctuations have caused greater instability in the global auto manufacturing industry, as manufacturers relocate operations and shipping lanes to take advantage of lower production costs.
For example, the high value of the yen took away much of the profits made on Japan-to-North America routes, so many Japanese manufacturers are moving manufacturing for the U.S. market to Mexico. "So it's much harder to forecast how your operations will look in a particular trade lane two years out, three years out, four years out," Lovdal says.
Keeping costs contained is another significant challenge for Höegh Autoliners and its competitors. The rising cost of fuel has had a substantial impact on the company's bottom line, especially when you consider that one of its car carriers burns 40 to 60 tons of fuel each day. "It makes a huge difference," Lovdal says.
To help address this trend, Höegh Autoliners is turning to technology. The company is continually investing in new ship designs that are larger and more mobile to carry more vehicles to more locations, while at the same time using more fuel-efficient engine technology. According to the company, Höegh Autoliners has an environmental program that is reviewed annually as part of its goal-setting process. One of the company's guidelines in determining this process is to "promote a proactive approach towards our customers related to environmental matters and work together with them to explore and develop technological/operational solutions contributing to minimizing the environmental footprint of our activities," it says.
The good news for Höegh Autoliners is that conditions are much more favorable for these types of capital investments today than they were a few years ago. Lovdal says the start of the global recession hit the company hard, but with the economy starting to trend upward again, Höegh Autoliners is in a better position to make the kinds of investments required to meet its customers' needs in the near future and beyond. "We've recently started investing again," he says.
It's a good thing that Höegh Autoliners is ready to invest again, too, as its customers are asking for more export out of places the company has never been before. Lovdal says the company is preparing to establish more infrastructure in developing areas such as South America, India and China over the coming years to better serve its customers' needs going forward.
Another recent initiative has Höegh Autoliners branching out into new territory. It recently entered into a joint venture to supply three purpose-built vessels to transport aircraft components and subassemblies in Europe for Airbus. With new initiatives constantly being developed and the core strengths it has relied on for nearly four decades, Höegh Autoliners stands in good position to be an industry leader for years to come.
"Höegh Autoliners' corporate aim is to be a truly global, cost-efficient operator providing port-to-port transportation services that consistently meet the requirements of our customers," the company says.  ­­­